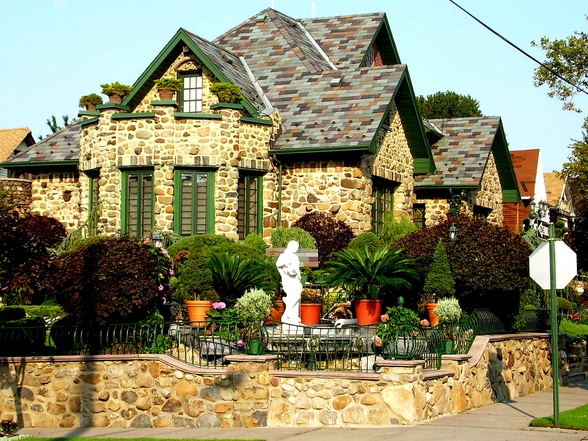 Dyker Heights, Brooklyn
by nabewise
Infomation
Dyker Heights is a neighborhood famous for its lovely detached homes and its beautiful winter Christmas light displays. Many of the homes in the area have four or more bedrooms and sit on larger plots of land compared to neighboring parts of Brooklyn. The nabe is attractive to car owners as subway access is only available in neighboring Bay Ridge. For more dining and nightlife options, residents can visit neighboringBensonhurst.
Top Votes – Score out of 100
Pet friendly 88
Conservatives 63
Community 50
Public Schools 50
Green space 50
Lowest – Score out of 100
Families 45
Empty nesters 31
Seniors 29
Income 10
Singles 0
Top Reviews from Travel Rentals Neighborhoods
Golf Course, nice houses, and community.

It's nice here. lt's quiet and safe and our house is beautiful. We got it for a steal too. Don't come looking for a good time down here because you won't find it, but if you're looking for a nice park, a gorgeous house and a golf course you'll be in the right place.

http://www.americangolf.com/ny/brooklyn-dyker-beach-golf-course

A. M.
I just went down to Dyker Heights to check out the Christmas lights and you would not believe how crazy it is down there. The houses are beautiful all the time I'm sure but my God do they love Christmas. The suburban style neighborhood with its large homes was very elaborately decorated. Neighborhood-wise it was really quiet and when we went looking for dinner we had to kick over to Bensonhurst.Amy N.