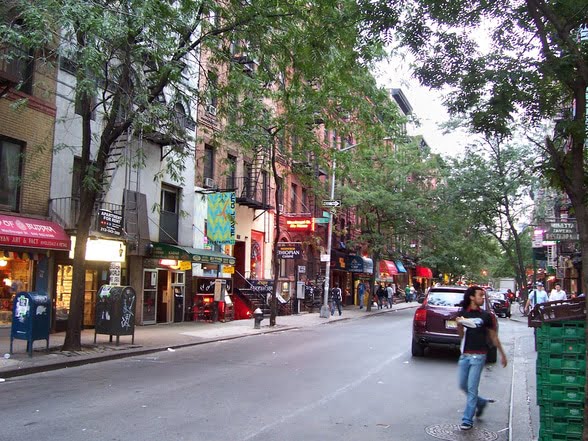 Greenwich Village
By Nabewise
Infomation
Once renowned as a center for counterculture, Greenwich Village is now dominated by the urbane life of its residents and the ever-developing New York University. Expanding around Washington Square Park and its iconic arch, Greenwich Village provides the pleasant mix of a bustling college campus, historic preservation district, and a cozy professional community–minus the edge of other nearby downtown neighborhoods like the East Village. Due to its central location and more than 15 subway lines, Greenwich Village is one of the most convenient nabes in New York City.
Top Votes – Score out of 100
Singles 94
Public Transportation 94
Public Schools 93
Nightlife 84
Gays/Lesbians 84
Lowest – Score out of 100
Families 48
Community 46
Quiet 44
Seniors 31
Parking 27
Top Reviews from Travel Rentals Neighborhoods
A fine place to live, but not worth hanging around at night. I used to spend a lot of time here when I first moved to New York, then I discovered the West and East Village, Soho, and the LES. Washington Square is nice on a warm day, but most of the bars and restaurants south of it, though they look really interesting at first, are basically for NYU kids, tourist traps, or famous spots still banking on past glory. A few highlights are the jazz clubs like the Blue Note and Village Vanguard, if you're into that sort of thing. If it wasn't for rent stabilization, I'd probably be living further downtown.Enrique M.
Wicked Willy's is the Best Bar in the Area!

I always visit Wicked Willy's when I'm in town. The bar has great specials every day, awesome bartenders, and attracts a fun crowd. The pirate memorabilia is so cool to look at while playing beer pong and hanging out with friends. Make sure to pay a visit!

What's awesome

What's not so awesome

Sarah P.
More Settled

Famous for Washington Square Park, where you are still bound to find one (or many) interesting street performers, Greenwich Village has undergone great changes in recent years.

As it once was a popular neighborhood for young people, Greenwich Village is beginning to appeal to older crowds, and those looking to settle down.

You won't find many highrise office buildings here, as this nabe shares the feel of SoHo and the West Village, but you will find some cute brownstones and residential buildings.

Greenwich Village has always been a popular nabe, but the focus audience has slightly shifted as of recent. You'll still find a big student community though – NYUis just around the corner.

Richard H.
Downtown Escape

Greenwich Village is not the stereotypical setting when one thinks of New York City. In this small community of Manhattan, one can escape the hustle and bustle of the uptown lifestyle and engage in great food and live music. As it is a community so close to

NYU

, there is a college town feel in the area- a feeling unknown to the rest of the metropolis. One can relax in Washington Square Park or hit up one of NYU's known munchie food stops called Macaroni Macaroni; a company that has invested themselves into making designer macaroni and cheese with multiple creations and forms of the traditional classic. This village is the perfect escape to the craze of the rest of New York City.

What's awesome

sense of community in greenwich

meagan o.
the changing vibe of the Village and NYC

To review the Village I have to start off with Bleecker Street. Originally Bleecker Street extended only as far west as Sixth Avenue. In 1829 it was joined with Herring Street, extending Bleecker Street northwest to Abingdon Square. Some of the land marks of Bleecker street are Bayard-Condict Building Bleecker Street Cinemas, closed in 1991 and Our Lady of Pompeii Church, Carmine Street. Famous eateries are Bleecker Street Pizza John's of Bleecker Street and Pasticceria Rocco – Rocco's Pastry Shop.
http://www.yelp.com/biz/pasticceria-rocco-new-york#hrid:p6HikLL90wV8coBnE—hMg/src:self
Bleecker Street has been mentioned in numerous videos, TV shows, and movies. It has a rich history all by itself. I do not like the changes I see around here. Clones are trying to make it like any town USA with their dreaded chains and have stripped it of it's NYC flavor. In the Village there used to be quite a few Italian coffee and pastry shops on the corner of Bleecker and MacDougal. Reaching out to all of the ole schools who remember Carpo's and Figaro's. Now they have been replaced by dreaded chains and stripped the neighborhood of it's magical NYC flavor. Everyone used to go out for dinner on the same block either at Olive Tree or Song a great Vietnamese restaurant that used to be there then go for dessert for Italian pastries and coffee. (it would be 5 stars for sure if it were around now)
There are a few restaurants that are old school from back in the day. They are Olive Tree (though their menu has changed for the worst not offering Shawarma any more or the hand cut fries they used to have) http://www.yelp.com/biz/olive-tree-cafe-new-york
And La Lanterna which is still so old school that I am pleasantly surprised that hipsters and newbies have embraced it. . http://www.yelp.com/biz/la-lanterna-di-vittorio-new-york
There is so much I could say about Bleecker street but I will move onto the rest of The Village.
First Gay Pride Parade organized from the apartment of march founder Craig Rodwell at 350 Bleecker Street, Apt 3V
Greenwich Village was known in the late 19th to mid 20th centuries as the bohemian capital and the East Coast birthplace of the Beat movement. What provided the initial attractive character of the community eventually contributed to its gentrification and commercialization.
The oldest house remaining in Greenwich Village is the Isaacs-Hendricks House, at 77 Bedford Street built in 1799. When the Church of St. Luke in the Fields was founded in 1820 it stood in fields south of the road (now Christopher Street) that led from Greenwich Lane (now Greenwich Avenue) down to a landing on the North River. The famous Washington Square Park was once a Potter's Field.http://www.yelp.com/biz/washington-square-park-new-york
In the 1960s, Margot Gayle led a group of citizens to preserve the Jefferson Market Courthouse (later reused as Jefferson Market Library). Across the street was the original Balducci's where I worked as a teenager as they hired mostly dance students but I quit due to the fact that I spent my entire pay check shopping in the store and on my minimum wage salary I could not afford to shop there. http://en.wikipedia.org/wiki/Balducci%27s
There are no more stores like it left in the city. The gourmet markets of today are just cleaned up versions of grocery stores. But the original Balducci's had exotic fruits, meat and fish as well as coffees that were only found in other countries. It was expensive because they imported foods that nobody else had! Grace's on the upper East Side was started by a member of the Balducci family. http://www.gracesmarketplace.com/gmp.html
I have shopped there and it is a great market but still does not come close to the original Balducci's. They did open a store on the upper West side that was not even a ghost of the Village store and it soon closed. http://www.yelp.com/biz/balduccis-new-york-2
There is a now a chain but it is not like the original in The Village. http://www.balduccis.com/locations
http://en.wikipedia.org/wiki/Balducci%27s
The Village was home to the Oscar Wild book store. http://oscarwildebooks.com/Home.html But it closed. http://www.yelp.com/biz/oscar-wilde-bookshop-new-york
Greenwich Village is a landmark land marked by the New York City land marks preservation committee.
I can't even begin to talk about the rich history of music because there is too much to talk about so I will just post links. There are books and TV shows about it. http://artsandmusicpa.com/NYC/village1.htm


The same goes for art history in The Village. http://www.arthistoryclub.com/art_history/Greenwich_Village
There is a rich history of NYC night life here as well as dance and as well as gay rights. http://www.gvshp.org/lesbianandgayhistory.htm
There was also a strong movement of experimental theater. http://www.gvshp.org/_gvshp/resources/history.htm
The Village has lost some of it's flavor over the years and can be read about in books, libraries and at different web sites. http://greenwichvillagehistory.wordpress.com/
I feel privileged to have been a partaker of it to some extent when now all you can do is read about it.
Much of the Village and even NYC changed after 911 as rents dropped dramatically temporarily and NYC became humanized to the world and many New Yorkers moved out taking their tastes and originality with them as well as many restaurants and stores and then chains opened up and sadly were embraced by the new residents. Never the less no visit to NYC would be complete without a visit to Greenwich Village! There are numerous walking tours of the Village that I suggest to tourists and transplants alike. http://www.villagewalkingtours.com/
The Village was always one of my favorite neighborhoods and one of the most famous neighborhoods in the entire US. I do not give it 5 stars because of the sad changes of having chains move in and original coffee shops, bakeries and mom and pop shops move out making it lose some of the originality that made it famous.The commercialization of The Village and NYC is a sad reality.

Pinky P.
My life's journey in New York-my young adulthood in "The Village"

When I moved out of Brooklyn and Queens into Greenwich Village, I actually only lived there for a month while my soon-to-be roommate and I looked for a place, but then moved to 98 Charlton Street, a tiny apartment building in that neighborhood that, at least then, seemed to be a no man's land sandwiched between the West Village, Soho and Tribeca. But being the bohemian I was at the time, I spent most of it in Greenwich Village, in Washington Square Park. I was actually disappointed by the run-down feel of this place but loved the life nonetheless. There were many pseudo-hip, classic rock type shops popping up surrounding the park but the unforgettable clubs like The Bitter End and The Other End were featuring artists of the day with the same groove I had long for from days gone by by then but never experienced. Of course, The Bottom Line was another favorite hang-out of mine and my friends. Actually memorable was the Italian character of the neighborhood which made it feel very much like community. It was like 2 or 3 neighborhoods in one and I weaved in and out of all of them. MacDougal Street's falafel joints were an unforgettable experience of my life back then. I'm sure it has changed much but have dined at some great places on Carmine recently. It always had an interesting character, especially in those little nooks and turns, like Minetta Lane and Cornelia Street (home of the famous Cornelia Street cafe). (I also had my first date dinner with my now wife at an unmemorable place somewhere off of 7th Avenue). I also highly recommend Integral Yoga Natural Foods for people to shop between 7th and 8th Avenues, 13th and 14th Streets, which I frequented. I think it's better than Whole Foods. More original. Which is what New York was all about.

Marc G.
Greenwich Village still has remnants of what it was back in the '60s and '70s. Very bohemian, helped out by NYU's major presence and the college-kid lifestyle there. As a result has some neat bars and restaurants, although it is an expensive place to live.bbb
Among the much-desired areas in New York, Greenwich Village is probably one of the most famous. It is immortalized in music, film, literature and television. Greenwich Village can be two places; a non-stop party or a place to walk around and enjoy the history, architecture and tree-lined streets. For some a major complaint about the neighborhood is New York University's domination. Much of the real estate is NYU-owned and so the area is riddled with students. During the day this is not much of an issue but Thursday-Saturday nights can be a bit rowdy around Washington Square Park.Beverly W.
This is a great place to live. It has the respectability of uptown and the access to downtown. I know my bakery guy, cheese guy, and dry cleaner by name, and there are good little grocery stores and markets for organic produce and meat. The specialty shops can get expensive so you might want to trek up to the Farmer's Market at Union Square on the weekends. Though the tourists and b&t visitors on a night out can be overwhelming, some parts of this neighborhood look so beautiful, you'll feel like you are living in a movie. I love exploring NYC neighborhoods, and this is the place i chose to live so that says something!!! :)Rick N.