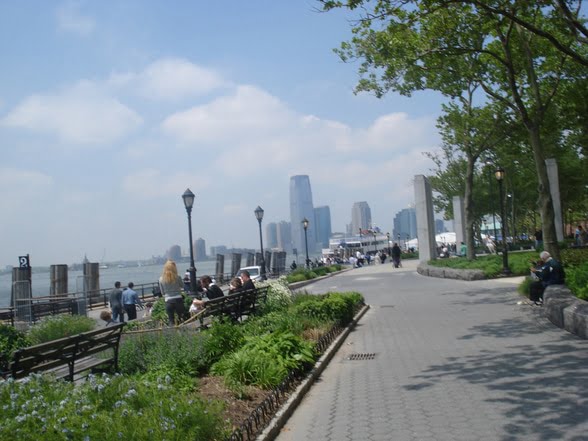 Battery Park City
By Nabewise
Infomation
Battery Park City is a planned neighborhood on the southern tip of Manhattan and to the west of the Financial District. Built over filled-in land, the area is known as a suburban oasis because of its expansive greenery, kid-friendly parks, and quieter vibe. The Esplanade, running 1.2 miles along Manhattan's West side, makes it easy to stay fit in this downtown neighborhood. River views and views of the Financial District make this nabe desirable as well. Battery Park City consists mostly of high-rise luxury apartments, whose residents predominantly work in the Financial District nearby.
Top Votes – Score out of 100
Public Schools 100
Safety 100
Clean 98
Families 98
Quiet 97
Lowest – Score out of 100
Nightlife 39
Dining 33
Parking 29
Seniors 25
Shopping 25
Top Reviews from Travel Rentals Neighborhoods
We moved here 2 yrs ago and the area is perfect for us since we both work downtown. A lot of our friends from work live here and its great for families. The neighborhood is incredibly safe and has all of the benefits of living in Manhattan without the hectic lifestyle! There's a lot of outdoor space, trees and bike lanes, there's even a little mall… The only problem with Battery Park is that it's hard to get to the rest of Manhattan by subway but its worth it for the QUIET!Margie H.
Quiet, Green, Scenic, Windy

Battery Park City has a very non-Manhattan feel, which some people love and some people hate. It has a fleet of modern residential buildings including several newly built abodes such as condominiums 1 Rector Park and The Visionaire and rentals The Verdesian and Liberty Green. In general, BPC offers its residents very spacious apartments, many with harbor or river views, set in a pristine park on the waterfront. There are few options for dining and shopping, especially late and on the weekends, but this is beginning to change. There is a nice movie theater and it is only a short walk to TriBeCa, which has a much hipper restaurant, bar, and gallery scene happening. BPC has some of the best public schools in Manhattan including Stuyvesant High School and the shiny new PS 276 serving its Southern half.

What's awesome

The views, new buildings like The Visionaire and 1 Rector Park, clean, recreation options, short walk to subway

What's not so awesome

Not many restaurants, not much grocery options, windy

Christopher M.
I got a job downtown and wanted to live close to my work so Battery Park seemed like the best idea. It's great here… its quiet and there's lots of outdoor areas and I can go running along the water. The only problem is that there is NO singles scene or nightlife… I usually head to Tribeca at night. I'm not sure how long I'll stay here since I don't really feel like I'm living in Manhattan, -why im on this site. But if you want a quiet/safe neighborhood then Battery Park is probably the right place for you.paul
I like Battery Park! I have great memories from being a kid and playing at the playground there, with all these great bronze sculptures. The views alongside the waterfront are really beautiful in the summer, and there's a lot of light in the streets since the buildings aren't as tall in that neighborhood. It's still easy to get to the rest of Tribeca and Civic Center, but it is slightly removed from the bustle of downtown, which gives a relaxed feeling to itdanny
Clean, quiet, and dull

Battery Park basically shuts down at about 6:00 pm every day when the Wall Streeters head home. The dining options and drinking options are poor and really is just an extension of the financial district that caters to temporary corporate apartment living for those constantly on the move and a few families.

Because of this, the community is extremely quiet, safe, and relatively cheap. You will also get a run of tourists visiting the park and the Statue of Liberty which can become quite annoying. It's never easy getting a cab in Battery Park or convincing a cab driver to take you there late at night as it's considered too far away from any hip or cool Manhattan scene. The waterfront does provide excellent views, but those will dull quickly in a place with no vibrancy or diversity. Recommend to those staying for a short period of time in NY or for those wanting to not be consumed by the city life of New York.

a.c.
The Corner of Manhattan

A lot of the area in and around Battery Park City is known to be a heavy financial district, but Battery Park City has developed into more than that.

It is a luxurious spot where families have settled down. Because of the great parks, (duh Battery Park and more!) and awesome waterfront views of the Hudson a living space here is gonna cost you, but it is well worth it.

The area is private, but not without accessibility. You'll find modern built apartment buildings as well as smaller more modest buildings.

Either way BPC is a great location. You're at the center of the earth, without all the fuss!

What's awesome

Richard H.
Favorite Manhattan Waterfront

I don't come here much, but I know a few families that live here. They enjoy it immensely, and there are still relative deals to be had on apartments. I definitely think it's the best area in Manhattan to get close to the water. The development is relatively new, so it avoids the post-industrial or shipping feel of lots of Manhattan waterfront. When the weather is nice and I'm down here, I often try to squeeze in a walk or some reading time in the park along the water. To be honest though, I can't imagine living here unless I worked in the financial district, had a family, or somehow found the perfect place.

NYC
Nice waterfront, quiet neighborhood

Life in Battery Park City is focused around the waterfront. from Statue of Liberty views to the 1.2-mile park that runs along the bank of Manhattan. Planned communities look out onto the water, which include condos, restaurants, grocery stores and easy access to subways and the Staten Island Ferry. If you're a young, 20-something this neighborhood probably is not for you. It caters more to a settled, somewhat 'boring' crowd. It is definitely a well-taken care of community but is more akin to a suburban development rather than a New York neighborhood. Couples, families and retirees appreciate the quiet, security and stability of Battery Park City

Beverly W.