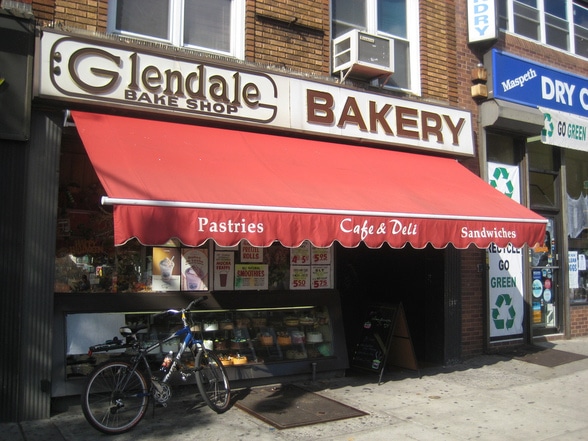 Maspeth, Queens
by nabewise
Infomation
Maspeth is a small and quaint Queens nabe right next to the Brooklyn borderline. Maspeth boasts two/three family homes and row houses, small shops, and an excellent view of the Manhattan skyline. Since no subway lines serve this nabe, Maspeth is a bit isolated from the rest of the city. Residents can easily access the Brooklyn-Queens Expressway and the Long Island Rail Road though.
Top Votes – Score out of 100
Safety 80
Quiet 78
Pet friendly 63
Nightlife 60
Community 60
Lowest – Score out of 100
Dining 35
Families 32
Public Transportation 20
Singles 10
Income 8
Top Reviews from Travel Rentals Neighborhoods
I love living here!

I moved to Maspeth from Brooklyn and transitioned easily to an area without nearby subways (>1 mile walk to station) because I was so easily charmed by the neighborhood's quaint, suburban feel. The tone of the area is generally quiet and low-key.

Once I bought a car I found the area to be very convenient to Manhattan (Harlem, Midtown, Downtown, LES), Brooklyn, the Bronx and Long Island. Within 10-15 minutes lies super easy access to: Triboro Br, Midtown Tunnel, WillyB Bridge, Bklyn Br, Manhattan Br, Battery Tunnel, LIE,LAG airport, JFK, and the QB Br.It's a great area for drivers with good street parking and no alternate side regulations. There are a few standout businesses such as Iavarone Bros., Classic Deli on 69th st,as well as many parks like Frontera and Maurice Park.The downside to living in Maspeth is the high cost of living. Rents are higher than other parts of Queens, and so are the cost of goods and services. However, you get what you pay for- friendly shopkeepers and business owners who know you by name, neighbors who keep the sidewalks clean, and peace of mind. If you can afford to live somewhere very convenient to drivers, then Maspeth is a wonderful option.

What's awesome

Hills offer beautiful views and awesome running options.

What's not so awesome

I need an organic market closer than Trader Joes on Woodhaven Blvd.
The truck traffic sucks in the morning and in general.
The walk to the subway (either the 7 or M) is uphill and LONG.
Narrow streets.

Caroline S.
Maspeth has great quality of life for residence of any age

Maspeth is a quaint place to live. It is super close to Manhattan and borders Brooklyn, yet it maintains it's charmful and peaceful environment. The subways are easy enough to get to and the area is great for anyone who drives since there isn't any alternate side street parking regulations. The area also maintains a suburban small town feel while being located in the middle of the busiest areas. It is a tight knit community and residence really make sure that the area remains safe and peaceful. I have been living here for a while and I really don't see any better options since you can get the best of both worlds, small town feel located to big city action.

What's awesome

Community events, parking, clean streets, low crime, quality people.

What's not so awesome

Iva P.
"Old-School" Queens

Due to some desolate industrial areas and a lack of any substantial mass transit, rental prices have stayed down. But Masbeth's streets are packed with two-family homes and a substantial commercial strip on Grand Ave has lots of homey bars, ethnic delis and shops. Situated on a plateau, this safe nabe has fantastic views ofMidtown.

Nina B.