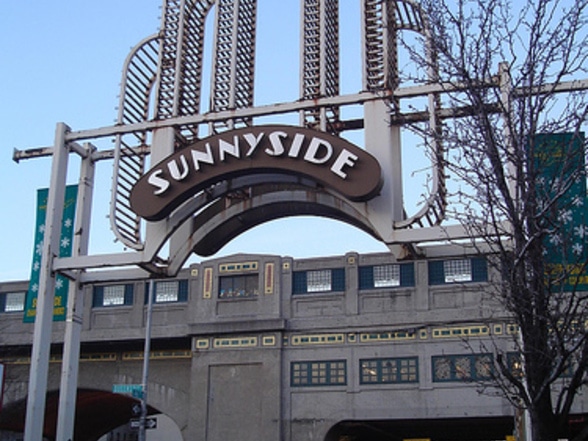 Sunnyside, Queens
by nabewise
Infomation
This vibrant Queens nabe sits directly across the East River from Manhattan. The nabe is home to Sunnyside Gardens, one of the country's first planned communities. At the heart of the Gardens is Sunnyside Park, a three-acre haven of green open to members of the Gardens. Greenpoint Avenue is this nabe's main commercial stretch, filled with a whirl of shops and eateries. Residents also enjoy a bustling nightlife scene around Queens Boulevard.
Top Votes – Score out of 100
Safety 90
Families 82
Quiet 75
Green space 70
Pet friendly 67
Lowest – Score out of 100
Seniors 53
Nightlife 46
Singles 45
Shopping 41
Income 7
Top Reviews from Travel Rentals Neighborhoods
A Split Personality

Queens Boulevard and the elevated 7 train divide Sunnyside into two halves, both delightful in their own way. The south side feels urban, has much more visible diversity, and offers excellent ethnic food (such as Mexican restaurant De Mole) and discount stores (like South Pole). The north side is more quaint, with its shady tree-lined streets, historic row houses with colorful gardens, and even secret pedestrian alleyways that you can use to cut across blocks.

Whichever side you live on, you'll be a quick ride away from Manhattan and have access to a farmer's market and CSA, vintage shops (Stray and Belle D'epoque), laid back bars (Claret and the Gaslight), and even a little movie theater. Despite all its favorable qualities, Sunnyside hasn't become a "scene"; it's still just a simple place to live. And you know you're in Queens because you don't have to get dolled up or don your ironic glasses to go out.

Joanna E.
Within Sunnyside lies the coveted residential development of Sunnyside Gardens, a private garden/barbecue/playground area that includes tennis courts, baseball fields and a wading pool, utilized only by the owners of the surrounding homes. However, unlike Gramercy Park (the only other private park in New York City), anyone willing to pay a couple hundred bucks a year and complete 12 hours of volunteer work may become a member. Built in the early 1920s, this model allowed for denser living opportunities, while also providing ample green space and outdoor amenities. The cozy two-story houses of Sunnyside Gardens were landmarked as historical property in 2007.Nina B.
Great place -recommend

Museum culture in Queens is really something. PS1, MoMA Queens, definitely something to check out. It gives a cool trendy vibe to the whole place. Hipsters and college kids flock here in droves, it's dirt cheap and hasn't been taken over by the 20somethings quite like Williamsburg.

Ryan O.