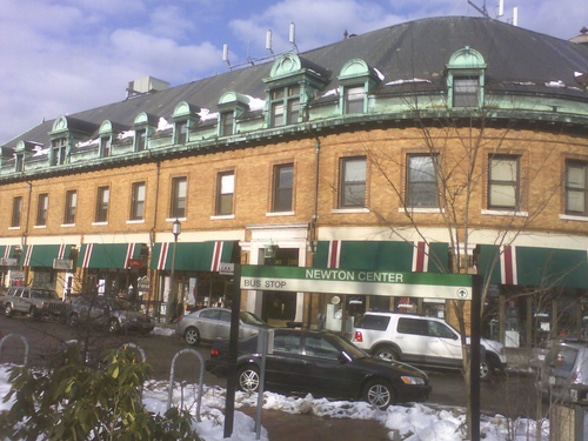 Newton Centre
by nabewise
Newton Centre is the largest downtown area among all the villages of Newton, and serves as an upscale commercial destination for western Boston suburbs. Within Newton Centre, you'll find beautiful parks and playgrounds and large, single family homes belonging to folks that work Downtown. Some area college students live in 2 and 3 family homes and apartments in this nabe as well. Dining and shopping options are numerous in Newton Centre, and faraway options are easily accessed by the Green Line T.
Newton Centre Data
Public Transportation

8.3
Lowest Attributes
Newton Centre Articles and Reviews
Best Not a Suburb, Suburb!
I recently drove through Newton Centre and was pleasantly surprised at what a lovely nabe it is! I had only visited friends who lived in less, umm, clean and affluent let's say, parts of Newton. The commercial center has several businesses to boast, including some locally owned options which are always a bonus. The houses were much larger and fancier than I expected, and not large and fancy in a tacky way, rather, they were tasteful and charming, many of them maintaing historical foundations and lines (i'm a nerd) Near the commercial center, the homes are somewhat close together, or "neighborly" as i like to say but they still have tidy picket fences and green lawns. As you leave the center, the houses have lawns and winding driveways-what a treat!
This is a beautiful nabe, but the prices are high. You do get what you pay for, however, which in Newton Centre is a safe, beautiful nabe with lovely homes and a charming commercial center and one of the easiest commutes to Boston you'll find from a suburb-like community.
Mallory C.
Not So Suburbia
Newton Centre is a charming city complete with a perfect blend of the friendly small town feel but close enough to Boston to get the spice of city atmosphere. Walking through the center you will see the quaint Johnny's diner, with the back to back booths and faded frames of class photos from the seventies, neighboring National Jean Company, a trendy boutique brought straight from streets of New York and LA. The Boston area ice cream parlor, J.P. Licks will have clumps of teens from the two high schools, Newton North and Newton South, socializing outside and in the parking lot and greens nearby. Whether searching for quick Chinese takeout or an elegant dinner meal, Newton Centre will have several options to choose from- whether it be thai, Mexican, Italian, or Russian cuisine. As for nightlife, you won't find many bars in this area, but Brookline and Boston are a ten minute drive away. In walking a street over you will find "the T", a metro that will conveniently take you the Boston and it's surrounding areas. A bus is accessible from Newton Centre and there is plenty of space for parking a car.
The Newton Centre area is relatively more expensive than surrounding parts of Newton but this accounts for the great education offered by the Newton public schools and for the safety of the town. Newton Centre is very family oriented and in exploring the area you will find a blend of old and young. The Newton Centre area is known for its significant Jewish population although this population is definitely not over dominating as the area is pretty diverse. Although Newton is a relatively large city, it is split into thirteen parts, and each manages to maintain the neighborhood feeling of running into someone you know in doing your daily errands.
Ellie
Everything you'd want, even time for a relaxing ice cream cone
Newton Centre is the diverse, central business and retail district in the middle of an equally diverse suburb. It's clean, urban, and busy, but surrounded by quiet, safe neighborhoods and has a laid back feel. Johnny's Diner and J.P. Licks Ice Cream are the two hotspots, which are surrounded by fashion stores, fancy cafés and even Mexican food.
The area is served directly by the green line subway's Newton Centre stop, which brings in both businesspeople and high school students. Parking is easy because of the enormous metered lot off Beacon Street, which is surrounded in every direction by the shops.
While it's not as big as other nearby shopping centers, Newton Centre's laid back atmosphere is its biggest draw. It's a great place to relax, eat an ice cream cone outside, and watch people pass between shops, tiny parks, and public transportation.
Peter H.
Newton Center: A Safe, Clean, Commuter's Dream
Newton Center is the largest commercial and downtown area of all of Newton's boroughs. Still part of Newton, the affluent (some might say economically homogeneous) suburb of Boston, Newton Center is a clean, safe neighborhood boasting top-notch schools and excellent community services.
Several colleges, including Boston College's Law School, add cultural capital to Newton Center, and many residents make use of talks and events sponsored by local institutes of higher learning. In addition, Newton Center's official cultural events calendar is jam packed with art, music, theater, environmental talks that are open to all.
Homes in Newton Center are mostly large, with yard and garden space; many are listed on the National Register of Historic Places. However, affordable housing does exist in the form of apartments and two and three family homes interspersed throughout Newton Center's commercial hubs of Beacon and Center Streets.
Newton Center is served by the Green Line "T." and several bus lines.
caite m.