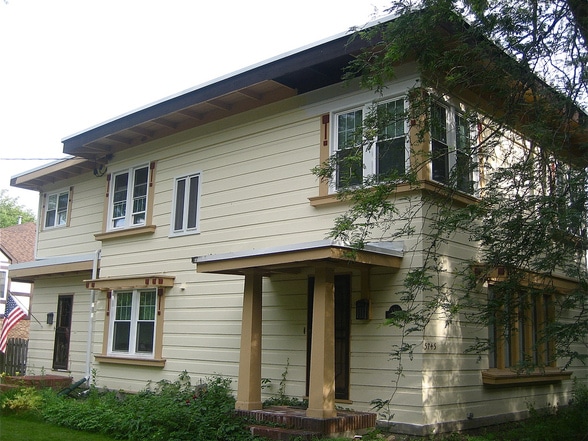 Travel just about as north as you can while staying inside Chicago city limits, and you'll find yourself in Norwood Park. This residential nabe is composed of many smaller neighborhoods: Big Oaks, Oriole Park, Union Ridge, and Old Norwood Park. One of the most desirable elements of Norwood Park is its pleasantly curving streets, a distinct departure from the grid system most of the city follows. Norwood Park is ideal for strolling: enjoy views of some of Chicago's oldest and most elegant homes, and make the nabe's namesake 14 acre park your destination. Transit into the city or out of Chicago itself is a breeze as well–O'Hare International Airport is only a few minutes away.
Norwood Park Data
Lowest Attributes
Norwood Park Articles and Reviews
Great Food, Great Neighbors, Great Location
If you are married with kids, and want to live in a safe(er) neighborhood where people speak to each other and actually expect you to participate, you'll love the Northwest Side (Jefferson Park, Gladstone Park, Norwood Park). If you are younger (20's) and single, you probably won't love Norwood Park unless you happen to be married with kids. Pre-marriage/kids, I lived in Wrigleyville, Bucktown and Logan Square, and I had a ball. But I am so happy to have found a great place to live (hopefully until I'm pushing up daisies) in Norwood Park. It's a different (but great) kind of fun if you're past the drinking, partying, see-and-be-seen stage in your life. Although there are a few great Irish bars around here. 🙂 Also, if you're Catholic, there are two parishes here: St.Tarcissus and St. Thecla, both of which have grade-schools. If you prefer a public school, Onahan and Hitch both have pretty good reputations. Overall, I'm really happy that Norwood Park is so low-profile compared to many other neighborhoods in the city. It's our little secret.
What's awesome
Awesome Food: Within walking distance of my house is: Tanzitaro (Mexican/Guatemalan), Phil's Pizza (Italian), Cafe Marbella (tapas), SmakTak (Polish), Mom's Old Recipe (Mexican), Pasta D'Arte (Italian) and Saigon Grill (Vietnamese/Chinese). Also Dominick's grocery store, Produce Center, Andy's Deli, and Harringtons. Within a mile are myriad restaurants (high- and low-end) of all persuasions in Niles and Park Ridge, as well as Whole Foods on Peterson (which I think is considered Sauganash).
Awesome Parking: The homes here are mostly single-family houses with garages. Which makes street parking a breeze.
Awesome Kid Stuff: LOTS of kid-related activities here. The Forest Preserve, with its many bike trails and a full-on water-park have served us well this year. Add to that a few neighborhood parks (Gladstone, Norwood, Rosedale, etc.) each with their own sports teams/activities, as well as indoor gyms (Jump Zone, Lil Kickers) and the Leaning Tower Y (all about a mile away in Niles), as well as public libraries on Northwest Hwy and Devon (considered Edgebrook) and you've got a bunch of great reasons to like Norwood Park if you have kiddos.
Awesome Neighbors: There are lots of Chicago Police and Chicago Firefighters here. I guess you'll either love that or hate that, depending upon your perspective and stage of life. I love it. Everyone really does look out for each other, and everyone is super-observant about what goes on in our neighborhood. You'll find people mowing their next-door neighbor's yard, or shoveling snow all the way down the sidewalk, sharing their housekeys (in case of emergencies), and helping each other bring in the groceries. It's beyond nice if you've spent the last 10+ years in the heart of the city (I have).
Awesome Location: Proximity to Niles, Park Ridge and Glenview means access to all kinds of restaurants, parks, activities, libraries, doctors, dentists, etc. There are three Metra stops in my general vicinity, as well as the Blue Line El. Need a taxi? You'll probably have to call for one, but you won't have to wait more than a couple minutes for it to appear.
What's not so awesome
I do wish there were more shopping opportunities here. As in, places to buy things like: shoes, scarves, upscale clothing, upscale household goods, gifts, etc. I purchase nearly everything in life on Amazon, but I would love to support local businesses if only there were local businesses (besides restaurants/bars) here to support.
Michelle O.
Norwood Park
I try to visit family in Norwood Park whenever I can. I find it difficult to commute from my neighborhood of Rogers Park to Norwood Park. Norwood Park is a food desert. There are some interesting little shops including a metal detector business, some antique stores, a hobby/doll shop and a few used car lots, but mostly, residents are bound to the overpriced 7-11 for food and household needs.
I visited the Alderman's office to a response of "Your pretty far away from home". I visited the Norwood Park Chamber of Commerce and Industry and after being invited to a the annual "Circle Run" event, was asked to call for an appointment before returning.
If your a walker, you can walk down Northwest Hwy a bit to Park Ridge for a movie at the Pickwick Theater or a nice dinner.
What's awesome
There is a local bar along a side street that looks like a late 1800's wooden house. The bar owner is the bar tender and the regulars are friendly.
What's not so awesome
The neighborhood is a food desert.
Bill Morton
Get your superdog and then… take a tour of the airport! Don't mean to beat up on a fine residential neighborhood, but it's old and flat and settled and zzzzzzzzzzzzzzzzzzzzzzzzzzzzzzzzzzzzz.
Karyn
The makeup of Norwood Park tends to lean toward families that settle down in the area for the long haul, but that doesn't mean it's as exclusive as a typically well-to-do suburb. A great strand of restaurants a few Irish bars along N Milwaukee Ave are open to motorists until past midnight, and, driving down the road, one couldn't help but notice the two hot dog people above a small, black, cubic place called "Superdawg Drive-In." This mecca for Chicagoan hot dog enthusiasts has served up bountiful boxes of ornate wieners and fries for six decades, and it's still going strong. I would say that the folks in Norwood Park enjoy a sense of homogeneity, centered around family life, and that they don't take it too far.
Tom W.
Where the Republicans Have Been Hiding
Well, you knew there was going to be one of them! Norwood Park is known as one of Chicago's only Republican-majority nabes. Complete with large homes, super-green super-groomed lawns, a tight-knit family oriented community, and a W sighting (the ex-pres visited this place back in 2001), Norwood Park is about as conservative as Chicago goes.
Deb E