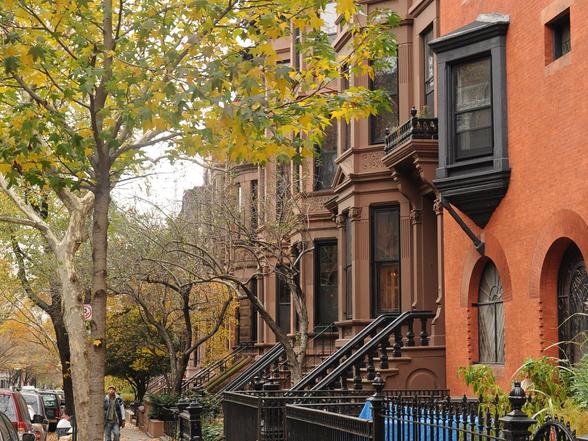 Park Slope, Brooklyn
by nabewise
Infomation
Park Slope is a brownstone neighborhood extending west down a hill from Prospect Park. Residents are quite proud of its status as the creme de la creme of gentrified Brooklyn. Resident families and professionals are typically savvy, progressive, and eco-friendly big city dwellers with a neighborly sensibility. Shops, restaurants, and bars tailored to serve this crowd line the streets of Fifth and Seventh Avenues, which connect the neighborhood toProspect Heights and South Slope.
Top Votes – Score out of 100
Families 100
Green space 96
Pet friendly 83
Dining 89
Safety 85
Lowest – Score out of 100
Quiet 67
Singles 63
Seniors 49
Parking 29
Income 23
Top Reviews from Travel Rentals Neighborhoods
Not for the young (or young-at-heart)

If you're young and new to the city, I would recommend strolling through Park Slope on a sunny Saturday afternoon, rather than moving there.

Unless, of course, being around hordes of rich young parents of the granola variety is your cup of tea.

Park Slope is arguably one of the prettiest neighborhoods in Brooklyn — the charm of Burlington, VT mixed with New York City edge — great food and shopping (you can't beat Beacon's Closet (www.beaconscloset.com) for thrift and originality.) Prospect Park boasts a zoo, world-renowned landscaping, and an array of festivals and activities like horseback riding and boating, all within a relatively speedy train ride from midtown Manhattan (the express Q can get you there in about 20 minutes.)

But the neighborhood's distinctly suburban, small-town vibe may not be sufficiently electric for those young and adventurous enough to live in one of Manhattan's or Brooklyn's similarly priced 'hoods that don't stop til 6 in the morning.

Every time I'm in Park Slope I remark on how beautiful and quaint it is — that is, until I find myself in the midst of a 6 year old's birthday party at Yogomonster and realize I would much rather be surrounded by Manhattan's grit than a group of sticky-faced children.

kristin m.
Perfect compliment to the Manhattan workday

If you're okay hopping on the train for the nights when you want a trendier vibe and can remind yourself to steer clear of kid-friendly spots right before nap time, Park Slope is a fantastic place to live and visit.

Sure, (young) locals have their grievances, and they're well-documented by the commenters below, but suffices to say that with yuppy stroller families come a lot of great coffeeshops, restaurants, pubs, and shopping.

And there's nothing better than coming back to the neighborhood after a Manhattan workday, or waking up early (read: before noon) on a Saturday to stroll down Fifth Avenue before everyone starts stirring. Park Slope's laid-back feel extends nicely to the nightlife: there's bound to be a wood-paneled bar on the nearest corner offering regional microbrews on tap alongside other domestic and imported offerings, and most likely accompanied by an organic hotdog or locally-sourced slider.

In any case, if you feel stifled by this kid-centric prototype there's always a slew of neighborhoods within walking distance with equally promising accolades: Boerum Hill,Fort Greene, and Prospect Heights have a lot of the same charm and relaxed vibe.

Eden
A little bit past family friendly

Park Slope's a truly beautiful Brooklyn nabe. It's def. a place for families over singles, and while I like visiting this area for its boutiques, restaurants, and cute little food shops, I don't think I'd choose to raise kids here. Is it possible this nabe is too family friendly? Many years' experience babysitting have opened my eyes to the world of park slope parenting, and I feel it's a bit too involved. This is a place where other parents are intently observing how you choose to handle your child on the street. If you do something particularly scandalous (ex: give child non-organic fruit), you may end up in a blog post. There's def. a big parental support system here, but I think there's such a thing as too much support.

Katie P.
Park Slope

I grew up hearing about Park Slope.

As a kid attending YMCA Summer Camp in upstate NY, the camp population was split into three cities within the Tri-State area: Montclair, NJ (my hometown), Newark, NJ, and Park Slope, BK. Therefore at least a third of my friends were Jewish kids who were born and raised in Park Slope. My impression then of Park Slope was that it was an edgy, dangerous, exotic city, which produced street-wise kids who knew all about sex and fashion trends before me and all my loser-suburban-New Jersey-friends had kissed a boy or tried on Nikes.

As an adult (though with only slightly more knowledge about sex and still no fashion sense) I can see Park Slope for what it really is: a family neighborhood. Sure, some hipsters have moved in at the bottom of the slope, where they belong (kidding. sort of.), but mostly it's a neighborhood of families. The street are lined with beautiful, classic, brownstones, in the summer there are block parties, and there are consistently strollers outside every restuarant.

It's very liberal, with the small white signs for Therapists Offices peppered intermittently amid the Yoga studios and organic food stores, but also pretty Causcasian – at least from about 4th avenue and above.

There are some great bars in Park Slope – but they are far away from one another, so do not plan to have your bar crawl here (though something tells me if you're planning a bar crawl, you'll be looking in Hoboken anyway). Some examples of great bars are the Rock Shop and Mission Dolores, both of which have incredible outdoor space. Some other favorites are Sheep Station and Park Slope Ale House, which are lesser known but some of my personal favorites, and then there's Union Hall which undoubtedly every twenty-something New Yorker who would ever actually go to Park Slope has been too and loved.

Restaurants in Park Slope are also amazing because this is New York and we are amazing at food. Everything is good so I have but one recommendation –APPLEWOOD. Go and thank me later – with your mind, since you don't me.

Subways are good – Atlantic Terminal being close for all those who live near the bottom of the slope, and the 2,3 or F trains at the top. Nowadays of course with theMTA being horrible and all, weekends in Brooklyn are tougher commuting-wise than they once were (I hear, since I didn't live in BK then and don't know what I'm talking about).

All in all, Park Slope is an incredible neighborhood. Safe, beautiful, convenient, and affordable overall. Oh, also, there's an enormous park if you didn't catch that in the name. There are free concerts held there all summer, and it's where I've spent some of the best days and nights as a New Yorker, and as a human being.

Margaret E.
Park Slope's Taste for Pickles

Having worked at a specialty foods shop in this neighborhood for roughly a year, my job of serving cheeses and other European products has brought me fairly close to a number of colorful Park Slopers. Many of them are successful, in terms of education and income, and enjoy the pleasure of starting young families. The gist of what brings Slopers together centers around these two things.

Most of the people coming to the shop enjoy taking the time on weekends to learn about the goods they're about to eat, which tends to roll far outside the allowance of most New Yorkers. A popular trend revolves around the locavore movement of purchasing foods raised or produced nearby. This brings the price up in a big way, making it closer to a charity donation than a cause. For example, paying for Brooklyn pickles in Park Slope runs 12 dollars, whereas a jar of government brand won't top five. This comes out to paying more than twice what's necessary for vegetables aged in vinegar.

It's more than a potshot to try and describe Slopers by their appetite for locally brined pickles. But the lofty variety is there for those who can afford it, crusades included, and becoming a resident entails joining a community of parents serious about raising their children.

If you go, be sure to enjoy some of the best Italian cuisine in the city. Reserve a table for the evening at Scotadito on Union Street. Its traditional menu comes paired with drinks served up by a standout mixologist—the whiskey sours actually incorporate egg whites! And to cool off during the summer, take a stroll past elegant brownstones and chapels to Prospect Park, designed after Central Park by Frederick Law Olmstead. Just come with enough savings to get the most from what this area has to offer.

Gray H.
Breath of Fresh $600 Strollers

I love visiting here, absolutely. The neighborhood is really beautiful, and both the old timers and the new arrivals are pretty relaxed. The drinking and dining on Seventh and Fifth Aves are varied and high quality. The crowd veers towards the young professional in those places. It is a yuppy baby haven, though. It's almost cliche to mention it, it's so true. So be prepared to yield before a toddler-bearing designer stroller, lest mommy dearest pushing it hit you upside the head with a canvas totebag full of organic field greens.

NYC L.
You will get run over by a stroller

I almost did and that's what made me decide to move out the area.

Don't get me wrong — it's definitely an AMAZING area filled with clothing shops galore, restaurants (not as great as everyone makes them out to be), and everything else you can ever need. I would definitely recommend this area for families but as young people, go elsewhere. Go to Crown Heights or something.

I lived here for about 5 years and I LOVED it when I got there but by the end, I was ready to run. But of course if I ran, I would somehow run into a stroller or gasp (a double stroller).

It's definitely pricy. I was lucky to get an amazing deal but I wouldn't consider this the place to go if you are looking to get the most bang for your buck.

What's awesome

All the options for the stores

What's not so awesome

Pamela K.
Rapidly changing community

I've lived in Park Slope all my life, and let me tell you, this community has changed a lot. There's a ridiculous amount of children here (when I was kid the playgrounds used to be half-empty), with plenty of parents to boot. But watch out, when those kids get out on weekdays and weekends, do not expect the parents to watch what their kids are doing. There will be children running into your path and knocking into who don't have the manners to apologize (neither do their parents).

The new residents of Park Slope have some really strange ways about them. Most don't even have manners and dress shoddily— not a community for the fashionable. There's a gentrified Manhattan-ish feel to the place, reflected in the cost of living here and the store turnover rate. Very hard to park here, good for the occasional quiet date, but not a good place for singles. Despite the few bars in the neighborhood, Park Slope on the whole is pretty tame.

Hipsters are present here, and slowly some nicer dressed ones are starting to show up. Avoiding the hipsters is simple, stay away from Tea Lounge or any other coffee house you find.

The pros of Park Slope include the many meal options available, the major train lines close by, R, Q, B, 2, 3, 4, F, G, and that the neighborhood makes for a very pleasant afternoon stroll. There's farmer's market on Saturdays near Grand Army Plaza and in front of the playground on 5th Avenue between 3rd and 4th Street. For cheaper meal options, I suggest staying off 7th Avenue in favor of 5th Avenue. Fifth Avenue Diner has awesome cheap eats and stays open 24/7 (5th Ave. between 8th and 9th Street). If you'd like to see what the neighborhood used to be like, go past 15th Street and you'll be in old, mainly Latino, Park Slope.

Elizabeth O.
Great neighborhood to live in, if you're over 30

Park Slope is a very well-rounded, gentrified centerpiece to Brooklyn. I lived here for a while after living in the East Village. The housing prices are about the same, if not higher, here in Park Slope.

The area is safe with lots of schoolchildren and organic groceries on every corner. This might be a welcoming sight to 30-some parents looking to move in, but for me it simply means that everything closes by 10pm and I have to walk three blocks to the closest bodega that's still open at 11:30. The dining options are great (Bonnie's grill on 5th, about a million brunch places around), but they're all just as expensive as the designer strollers you see on the street corner. I've managed to find only a couple places that sell a solid meal for under $10 (i.e. Song on 5th ave).

The F train runs often, and takes around 25-30 minutes to get to 14th-23rd St in Manhattan. The G is convenient as well for going out to Williamsburg.

If you're interested in crowds and roof parties still pumping at 2am, this neighborhood is not for you. East Village, Williamsburg, and nabes around Houston Street would definitely be the better choices. However, if you're past that stage of your life, like a quiet, kid-friendly area, and can afford to live here, I'd recommend it. There are Farmer's Markets every weekend, random community events throughout the year, and a plethora of family-friendly things to do.

Olex P.
My life's journey in New York-venturing out into real adulthood and the boroughs in the '80s

When I moved to my first post-college residence in New York after college in 1982, the neighborhood I moved into didn't at all feel like Park Slope. It was 2nd Street between 4th and 5th Avenues. But because I would take a lot of walks up the few blocks to 7th Avenue, where creative crafts lined the streets and a unique welcoming air was present, I developed a wonderful feeling about this unique borough where buildings were much smaller and houses seemed closer together. Because my block was really in a tougher, more run-down neighborhood, I did not stay there long, as I got into a tiff with my landlord when mice appeared and didn't want to pay the rent. So there's not much to say. But I felt the presence more of a down-home kind of community that was Brooklyn. I would ride my bike from where I lived all the way to Coney Island and fell in love with this most diverse of boroughs. It has always remained uppermost in my loves among the 5 boroughs.

Recently, I was able to come back to Park Slope through having a friend in an apartment at Grand Army Plaza. It's still a beautiful neighborhood—definitely a lot more upscale, a lot less homey (which I miss), a different kind of artistic now than then but definitely very present, and with a hopping and thriving community and nightlife. In many ways, more attractive than when I moved in, with the surrounding neighborhoods and park very exciting and inviting. At least to me.

Marc G.
strollers 🙁

Stroller moms will be the death of me. It's one thing to navigate through the hordes on Seventh Ave, but if I get kicked out of another coffee shop by another mothers' group, I'm gone. The cafes are cool, but beware if you are here in the middle of the day.

Sam B.
small town, big city

I have spent most of my life in Park Slope, having moved here at the cusp of its popularity and trendiness, and more than anything else it is like living in a small town in the middle of the biggest city in the world. It has two main streets, the family-centered 7th Avenue, and the more bar and restaurant centric 5th Avenue, and between them you can find just about anything you'd ever want. The park is the real reason to live here, though: several great playgrounds for the kids, a satisfying loop for the exercise-oriented, and just a beautiful place to go for a walk.

Julie S.
When my husband and I decided to have children, we decided to move to the Slope. We couldn't have made a better choice! The park is lovely, there are several fantastic schools to choose from, both public and private, and there are plenty of kids of all ages, not to mention many new parents like us. A favorite activity is a walk in the park, and then a get-together with some other moms in any of the absolutely marvelous little cafes dotting Seventh Avenue. And don't forget to sign up for a shift and the power to shop at the Food Co-op!Anne B.
Park Slope is a great neighborhood through and through. I was raised here, and I feel that I've been really lucky. My apartment building has a courtyard, which was like growing up with a park in your house. How many places in NYC can you find with something like that, and has lots of other kids your age. Not the mention Prospect Park, which defines the neighborhood on a deep level. Everyone loves the park, and it has drawn a great, vibrant community around itself.Danny L.
Park Slope is more of a suburb than a neighborhood of Brooklyn, and an incredibly affluent one. The strip of restaurants, boutique clothing stores, coffee shops and more along Seventh Avenue is comparable to those in high-class neighborhoods outside of the city. The majority of residents live in full townhouses or apartments within a townhouse. It is an ideal neighborhood to raise a family and it hosts one of New York's best private schools, Berkeley Carroll. There is also direct access to Prospect Park.Beverly W.
love the idea of Park Slope

I am in love with the idea of Park Slope. It seems like a tight little community of nice shops and stuff but it might end up boring me. I hit the movies in Park Slope regularly and a nice walk through the Slope afterwards is the tops. 7th avenue has the sort of small town Main Street feel I love too.

Nick G.