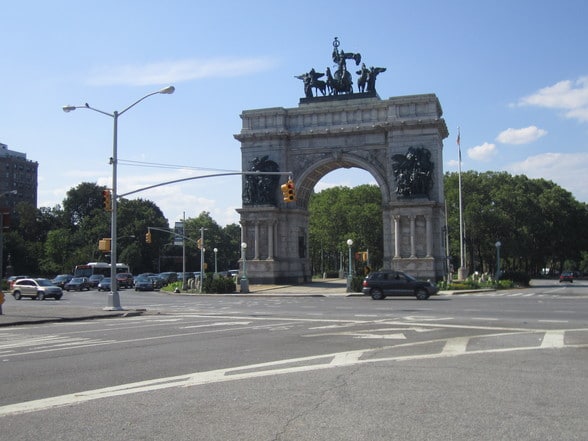 Prospect Heights, Brooklyn
by nabewise
Infomation
Prospect Heights is a neighborhood noted for its cultural diversity. It is home to Brooklyn's equivalent to Museum Mile, featuring the Brooklyn Museum, the Botanic Gardens, and the enormous central branch of the Brooklyn Public Library. With easy access to public transportation, cheaper rents, and a burgeoning commercial center, Prospect Heights has become a great alternative to nearby Park Slope. Vanderbilt Avenue is Prospect Heights' main drag, known for a number of restaurants and casual-to-hip nightspots with the "come as you are" vibe of contemporary north Brooklyn.
Top Votes – Score out of 100
Gentrifying 94
Green space 89
Pet friendly 88
Dining 69
Quiet 67
Lowest – Score out of 100
Empty nesters 46
Seniors 45
Shopping 29
Income 16
Parking 14
Top Reviews from Travel Rentals Neighborhoods
A Little Bit of Crown Heights, A Little Bit of Park Slope

Prospect Heights was the first neighborhood I lived in when I decided to permanently settle in Brooklyn. I didn't know anything about it, only having visited Williamsburg and Bushwick in prior visits to the borough. I had an extended stay with a friend right across the street from the Brooklyn Museum to help me get on my feet when I decided to move to New York, and it quickly became one of my favorite Brooklyn neighborhoods.

Directly to the north of Prospect Park, Prospect Heights is a great compromise to living in either not-very-gentrified Crown Heights to the east, or very gentrified Park Slope to the west. While it is gentrifying quickly, you're not fighting for sidewalk space with the strollers like in Park Slope, and you're not going to have as much trouble finding a decent restaurant or coffee shop like in Crown Heights. Its the perfect middle-ground of pre-21st century Brooklyn neighborhoodieness (If that's a word) and the business-friendly environment and economic revitalization thats made it a place much more worth living.

It's fairly quiet, with lots of families in beautiful brownstones and enormous apartment buildings. Vanderbilt Avenue has seen increased development with a modernized street design and surge in new bars and restaurants over the past few years. Every time I visit I see a new place I want to check out. With many young professionals moving to the area, it almost feels like a more mature (and certainly more attractive) Williamsburg. The proximity to Prospect Park adds to the attractiveness. The Atlantic Center, with its subways and shopping center, is a fairly easy walk, and there are several subway lines that are even closer.

If you own a car, good luck trying to find parking- any time of day. I remember some nights I drove around for 45 minutes trying to find a spot. Occasionally, I just gave up and factored in the ticket I would surely get the next day into my monthly expenses. Often people just double park on the other side of the street during cleaning hours. However, this is only possible if you have two hours twice a week to wait around so you don't get a ticket. I'm not sure how everyone does it. With such easy access to subways, a car is more of a nuisance than an asset here.

Rent is getting more expensive, but still not what you would pay for the same kind of place in Park Slope. Shopping on Flatbush Avenue is plentiful and varied. There is something available whatever your need.

Prospect Heights is a fabulous neighborhood. I'm sure in another 15 years it will be indistinguishable from Park Slope, so now is no better time to take advantage of living in such a charming and comfortable nabe.

What's awesome

What's not so awesome

Justin N
A nice mix of gentrified Park Slope and "Real" Crown Heights!

I've worked at a cafe in nearby Park Slope for over a year, and moved to an apartment in Prospect Heights May of 2011. At first, I was a bit disconcerted by the gritty edges near Crown Heights, but I've come to love the authenticity of the neighborhood.

Park Slope is lovely, but a bit too gentrified, and Crown Heights is homely but still a tad dangerous at times—Prospect Heights is the "just right" mix stuck in between! It's well served by the B/Q 7th Ave stop and the 2/3 Grand Army Plaza stop. The Atlantic Center is at the northern end (the Target there is great for shopping) and the beautiful Prospect Park is at its southern side, with the Brooklyn Museum and Central Brooklyn Library right next to Grand Army Plaza! There are a few decent bars, friendly corner stores, and lots of different restaurants. A must-try is Cheryl's, which has arguably the best pancakes in Brooklyn.

There's also a nice mix of young families and yuppies alongside older, longtime residents. Everyone gets along politely. Lastly, if you're a dog lover, this is the place for you! Dogs trot these streets regularly, and dog owners are a very friendly bunch—easy way to make new friends!

What's awesome

Atlantic Center, Blue Marble Ice Cream, Cheryl's, Brooklyn Library, Brooklyn Museum, Prospect Park

What's not so awesome

It's not fully gentrified, with all the good and the bad that entails.

Carlos A.
Brooklyn charm with a little less fluff and tons of character

Prospect Heights is one of my favorite neighborhoods in Brooklyn—great public transit, access to the most magnificent cultural parts of Brooklyn (Brooklyn Library, Brooklyn Museum of Art, Prospect Park, Botanic Gardens), buzzing strolls along Eastern Parkway (something about this wide, apartment-lined street feels European!), amazing eats on Vanderbuilt Ave., and an all-around down to earth vibe, charming vibe.

To make some comparisons: Prospect Heights is like a grown up, classier version of Crown Heights: more expensive gourmet restaurants, higher rent, and also a bit safer. It's also like Park Slope's cool rebellious Aunt that never had children (in other words, the food/nightlife's just as good here, but you won't have to deal with the whole babies in bars thing)

This is a great spot to live and a great place to take visitors—it has a tendency to change people's minds about Brooklyn.

What's awesome

affordable rent, great restaurants

What's not so awesome

some crime issues bleeding in from other neighborhoods, this area also suffers a bit from Atlantic Yards noise pollution

Katie P
My Favorite Neighborhood

Brooklyn's best landmarks, my favorite park, great food, incredible commute.

What's awesome

Prospect Park, Brooklyn Museum, Botanic Gardens, Grand Army Plaza, Subway convenience
Being in Prospect Heights is like taking Prospect Park and its qualities from a different angle. More centered on Flatbush and Eastern Parkway, Prospect Heights has access to most of the cultural institutions in the area such as the central location of the Brooklyn Public Library, as well as the Brooklyn Botanic Gardens, the Brooklyn Museum and the Prospect Park Zoo. Still easy to get around, but more focused on Flatbush as the main commercial center.Danny
Prospect Heights has a neat neighborhood vibe to it. Having been here for just a few months, I've found that it has a kind of small-town feeling to it even though it's right in the heart of Brooklyn. I say hi to my neighbors, chat with the owner of the store under my apartment, and generally feel pretty happy here. Plus, I'm only five minutes away from Park Slope for all my shopping and bar needs!Ricky C
All of the apartments I've hung out at around here are really nice! Generally good lighting, big rooms, and since my friends around these parts are twenty-somethings in the worst possible way, nothing can be all that expensive. I'd like to move here when my lease runs out.Jilly