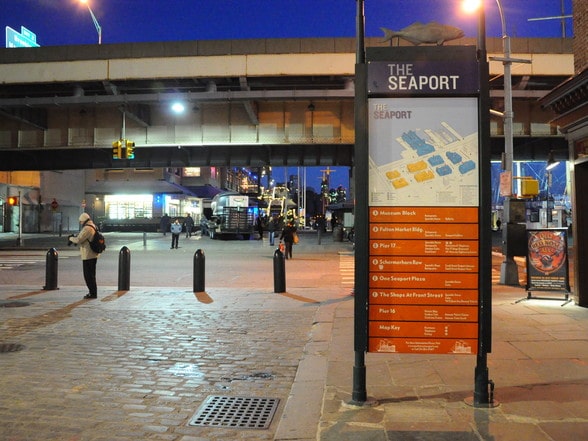 Seaport / Fulton
By Nabewise
Infomation
South Street Seaport is centered around the historic area between Fulton Street and the East River. Here converted 19th century mercantile buildings and the floating Pier 17 are home to chain stores found in most American malls, along with Seaport restaurants and exhibition spaces. Visitors (read, "tourists) flock to the Seaport for views of the Manhattan and Brooklyn Bridges and restored ships, while residents of the district's high-rises savor an oasis of old-time New York right near their Wall Street offices.
Top Votes – Score out of 100
Shopping 63
Safety 61
Tourists 55
Dining 50
Green space 50
Lowest – Score out of 100
Community 25
Parking 25
Seniors 25
Income 20
Singles 0
Top Reviews from Travel Rentals Neighborhoods
Great Day Spot

The Seaport is a great place for a day trip in New York. You'll find some tourists here, but it will be a younger crowd, and there is lots of fun to be had.

There are great sea views at the port, and you can sit and eat at restaurants while looking out to the water.

There are many places to shop and good places to eat around here.

What's awesome

Richard H.
I visited Seaport this past August and I thought it was fun. I went with a friend for the shopping and the food while we were in NY (we're from NH) and it was kind of like going to Faneuil Hal in boston, if that makes sense? There were tourists everywhere but it was crazy easy to get to because seemingly every train runs through Fulton St. Bring your friends and family for a nice time.Dave H.
When I pack my camera for a day of shooting I like to head to the Seaport early in the morning. I prefer there to be fewer people where I shoot and before the tourists wake up and hustle on down to Pier 17 I get to take some beautiful pictures of the Brooklyn Bridge.ben
The Seaport is pretty much a mall, but there are some cool things. I don't think of it as a residenttial neighborhood at all, and if it is, then it's real expensive. However, during the summer there are a lot of great events that take place around there, and the New Amsterdam Market takes place at the old fish market year-round. A nice place to spend a weekend afternoon.Danny L.
[/vc_tta_section]