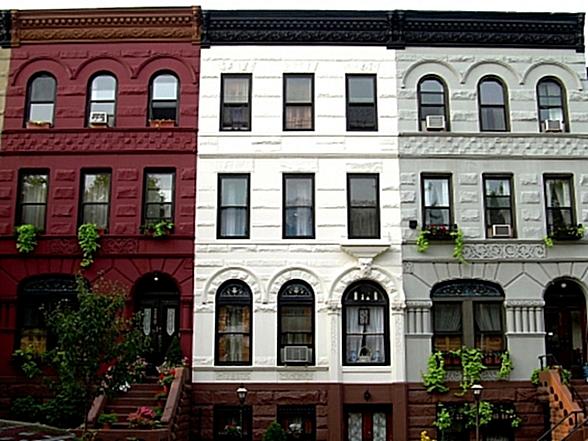 Stuyvesant Heights , Brooklyn
by nabewise
Infomation
Stuyvesant Heights is one of the four neighborhoods which comprise the Bedford-Stuyvesant area of Brooklyn. A designated historic district, Stuyvesant Heights is an attractive neighborhood home to impressive older apartment buildings and large brownstones. This nabe is also served by both the A, C, J, M, and Z trains, making commute around Brooklyn or into Manhattan a breeze.
Top Votes – Score out of 100
Gentrifying
88%
Gentrifying 88
Public Transportation 85
Community 80
Charming 80
Families 77
Lowest – Score out of 100
Income
3%
Green space 50
Nightlife 45
Shopping 45
Singles 45
Income 3
Top Reviews from Travel Rentals Neighborhoods
Breathe taking architecture…
Currently the solo landmarked district of Bedford Stuyvesant, Stuyvesant Heights has the one of the richest architectural heritages in Brooklyn. With some of the most beautiful churchs in Brooklyn to boot, you will regularly hear the soul of the gospel choir drifting threw the air on Sunday. The Neb, is currently undergoing petition to the Landmarks Preservation Commission to extend the Stuyvesant Heights Historic District by more than double. One things for sure it is not short on awe inspiring blocks and tree lined streets.
Some of the best restaurants, cafes and boutiques in the neighborhood you will find along Lewis and Stuyvesant Avenues, with standouts Bread Stuy, Peaches, and Sarangina. The express A train station Utica Avenue is one of the cleanest and grandiose stops in the entire Subway system. It opens upon the quaint yet beautiful Fulton Park and visitors can exit the subway walk through the park and meander along historic Stuyvesant Ave. Grab a coffee at Bread Stuy and try not to in-hail the pure Italian Neapolitan pizza at Saragina, or grab some excellent southern creole ribs, grits and goodness at Peaches. It's all happening right here in Stuy Heights.
E F
A hidden gem of a Neighborhood!
I just came out to Peaches Restaurant! Fantastic Southern food, wow really knock your sox off, ribs, shrimp and grids, sweet tea, yum this is one of the best southern joints in NYC. A must for any transplanted southern! The neighborhood has quiet side streets, a great handful of restaurants, bars and cafes, beautiful brownstones, friendly people, all seems to be improving for the better. Took the A Train to Utica ave one of the nicest subways stops in NYC! And that's saying a lot! Clean, double height space, inviting with public art all around. I walked up Stuyvesant Ave a beautiful walk through the Fulton Street Park across Brainbridge to Lewis Ave. Fantastic gem of a neighborhood.
John W.
I just saw a place in Stuyvesant Heights that was lovely. There were some really nice-looking shops around for coffee and such and the people were nice. I've heard some negative things about Bed-Stuy, like that crime was high and it was unsafe, but it seemed just grand where I was. It's relatively easy to get to, the community is diverse, and like I said the brownstone I was looking at was incredible.
jb t.
I was living in Stuyvesant Heights before the recession hit and then my house went into foreclosure. I've had to move since and I miss it. The culture there was nice and the area was really on the up and up with all of the gentrification. Some cute little specialty stores were opening up and then there was always Fulton St. for everything else. I miss it and I hope I can get back there soon.
Paige A.
NEARBY NABES
South Williamsburg
Highland Park
East New York
Bedford Stuyvesant
Bushwick
Crown Heights
Ocean Hill
Brownsville