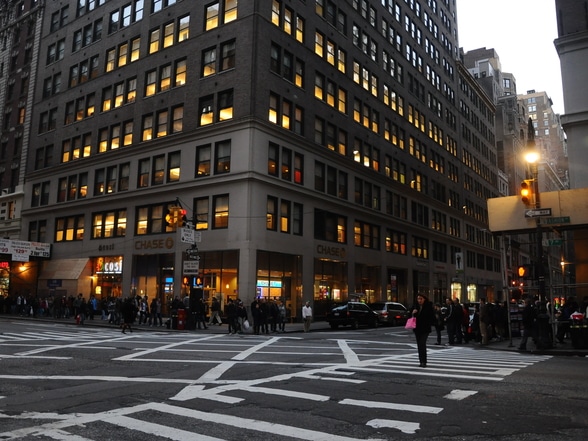 Garment District
by nabewise
Infomation
New York's Garment District–located in downtownMidtown between the Flatiron district and Times Square–was named after the early 20th century clothing and fashion industry that called it home. While the local industry has waned, the Garment District is still a center for distribution, storage, and small cutting and sewing operations. With much of the industrial space converted to offices and the occasional residential loft, the nabe is mostly limited to basic businesses for workers and residents, with the exception of a few standout hotels and restaurants. Thanks to its central location, the area has very convenient access to public transportation.
Top Votes – Score out of 100
Public Transportation 94
Tourists 75
Safety 58
Shopping 55
Public Schools 50
Lowest – Score out of 100
Community 25
Seniors 15
Green space 14
Empty nesters 13
Quiet 9
Top Reviews from Travel Rentals Neighborhoods
Great for fashionistas

Hands down the best place to find the best variety of beads and threading for your next jewelry project. If you're a budding fashion entrepreneur and you want work at the nexus of the creative retail world, there's really no better place to source your inspiration than amidst the other dozens of designing heavyweights who choose to create, brainstorm, and showcase their latest and greatest in the Fashion District. Oscar de la Renta, Calvin Klein, Liz Claiborne, and Nicole Miller all call the District both a home and a headquarter and a loyal number of young fashionistas are still setting up shop here as opposed to places like Chelsea and Soho due to the fact that so many wholesale and direct vendors are willing to sell yards of fabric and supply on a budget. This is also a great area to browse around for anything you might need for a pet project – I've found stores where a handful of gorgeous turquoise shiners go for under $6. And did I mention that besides Canal Street, the Garment District might be the second-best place to scope out knockoff's and designer samples?

But while the area might come with some great commercial perks, it's not a great place to live unless you want to be confronted with half a dozen sidewalk vendors trying to sell the "real" Burberry scarf to you for $15 on your morning walk to the subway. The streets do have quite a bit of grime and noise simply because so many people pass through them in a typical day. Not to mention too, tourists who arrive in the city often pass through the Garment District on their way to snap pictures in Times Square – this is pretty much a fact of life and there really aren't many hours in the day when you'll get any peace and quiet here.

But, it is a great place to grow a business (especially a fashion gig), and the world-famous Macy's store is always just around the corner.

Betty J.
It is what it is -touristy, loud, and full of traffic

I don't think any New Yorkers are in love with this neighborhood. I come here all the time because a friend of mine works in the neighborhood and we meet up for coffee a lot. Heres the deal:

The garment district, includes the 34th st. Macy's, and leads up to Times Square and the empire State building is a block away. So this area is super convenient -lots of trains, centrally located, and Macy's has everything you could want b/c it's MASSIVE, but the area is also super congested and super touristy. It's hilarious when you get off the train at 34th st -you have to allow an extra 5 minutes to navigate past the swarms of people outside Macy's.

So then, there's the food issue. There are just NO good places to eat or meet up -no good coffee shops, nothing. My friends whole office complains about this -since they have to eat lunch here every day. Maybe the offices pay a touch less in rent. I suspect as much.

So the vibe is really tall buildings, lots of office space -I don't think anyone lives here, super loud, super trafficy -both foot traffic and people traffic, central, but convenient b/c every subway in the city is right here, or a couple blocks away.

Anns
Nothing to see here, keep moving…

I used to work around here. The Garment industry is barely present here anymore, besides a few family enterprises. It's more of distribution center. The area pretty much shuts down at night. There are some hotels around here that are a good base for walking the entire city, if you're a visitor. The draw for this area is basically it's central location and relatively affordable office space.

Ronnie G.
I just walked through this place and I have to tell you it seemed dirty and stressful and I, for some ungodly reason, was expecting an attractive, bustling center of industry. You couldn't pay me to live here.john p.