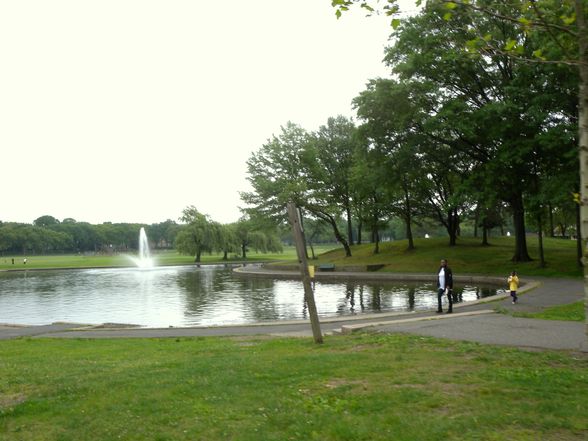 West Side, Northern NJ
by nabewise
Infomation
This West Side is a dynamic nabe bordered by the Hackensack River. You will find some of the best shopping along West Side Avenue and some of the best outdoor recreation in Lincoln Park. Dignified Victorian homes sit on quaint residential blocks, and a variety of other housing options huddle in between. Traffic tends to flow easily, and public transit is a breeze thanks to a Hudson-Bergen Light Rail stop.
Top Votes – Score out of 100
Parking 56
Public Transportation 56
Singles 56
Shopping 56
Dining 56
Lowest – Score out of 100
Green space 50
Empty nesters 47
Safety 44
Families 38
Income 4
Top Reviews from Travel Rentals Neighborhoods
Stay close to Lincoln Park

What I said about the Western Slope applies to the West Side, but more so: In general Jersey City is being developed in a wave of investment that flows from east to west, so the West Side hasn't seen a ton of it. Lincoln Park could use some work, and most of the waterfront above it is brownfield waste in need of redevelopment. Plenty of opportunity for the large-scale developer to come in here and create some sparks, but if you're just looking for a place to live I would stick close to Lincoln Park – and even then I would be careful.

steve L.
Potential

Lots of potential here. A big plus is that the HBLR ends here, so transportation is often better than more trendy spots stuck on the PATH.

Coco P.
Worth a look

I think the West Side has something for everyone. Lincoln Park is HUGE and offers every kind of sport you could want – even a driving range, which you don't often see. There are all kinds of houses, from huge mansions to little apartments and everything in between. And there are all kinds of restaurants and stores on West Side Avenue – pretty much anything you could want. People knock it because PARTS of it are sketchy, but not all of it is this way. Do some research before moving here but it's totally possible.

Stacey A.