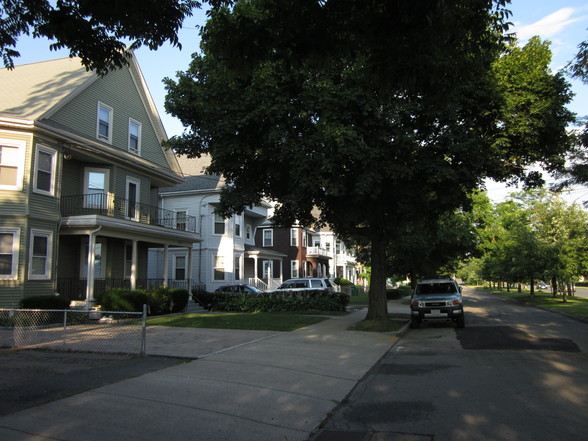 Auburndale, just south of the Charles, remains one of Newton's quieter villages. Little has changed in Auburndale in comparison to neighboring Waban and West Newton, which have become a bit ritzy and urban recently. The residents of this nabe enjoy all the foliage and space available to them in parks and front yards. In fact, a former trolley park on the north end has closed and some of it has turned into a public space for people and their pets. This nabe is also a haven for commuters, who can make it to Downtown Boston in 35 minutes by bus or on the Framingham/Worcester Commuter Line.
Auburndale Data
Lowest Attributes
Public Transportation

5.0
Auburndale Articles and Reviews
Cozy away from the City
For anyone just passing through, Auburndale is a typical Boston suburb; beautiful New England homes line the streets, traffic is light, trees are strategically planted. It's a comfortable, easy atmosphere.
Auburndale appears to be a really family-friendly neighborhood and I'd agree that it most certainly is. But it's also home of Lasell College so there's quite a few students walking around once you're closer to campus.
A quick ride on the green line and you'll be in Newton Centre where you can find lots of unique shopping and restaurants.
What's awesome
The 'Ice Cream Club' and Charles River Canoe & Kayak.
What's not so awesome
It's a good hour or so travel on the T to get into the center of Boston.
Erika B.
Peace in Auburndale
Auburndale, another one of Newton's villages, lies near the Charles and is bordered by nearby town Waltham and three other Newton villages. It's not as country club chic as other parts of Newton, but that doesn't mean it's any less suburban safe or adorable. It's got history too—it's the home of Norumbega Park, which had a zoo and the Totem Pole Ballroom, a nationally famous big band venue.
Besides being chockful of history, Auburndale is also a commuter haven because it's a stop on the Framingham-Worcester line. This also draws families and perhaps slightly city-averse folk. All in all, a nice nabe to live in.
Heather V.
A hoppin' spot for historical homes
Auburndale may strike you initially as a bit of a boring place to be, but for history and architecture buffs, it's actually pretty cool: Auburndale has an abundance of historical landmarks (mostly homes) within its borders. Take a day trip here and tour around!
Auburndale is also home to Lasell College, which gives this neighborhood a bit more of an academic mood and provides residents with opportunities to indulge in lectures and open space the college has to offer.
Amanda M.
The Vikings of Auburndale
According to local myth, the area along the Charles River may once have been an ancient Viking city around 1000 AD called Norumbega—a trolley park took the name for itself, which shut up shop in the 60s. A tower in nearby Waltham stands as a monument to this supposed settlement of Leif Ericson, the intrepid Norse explorer.
All this was devised by Eben Norton Horsford, who tried to convince the Boston Brahmin that the New World was discovered by someone other than Christopher Columbus, a Mediterranean Catholic. With iffy archaeological data and invented Norse etymologies for Algonquin place-names, Horsford was able to sway important Puritains in Boston to take his side on the preeminence of Vikings in the city before anyone else from Europe.
Because of Horsford, a statue of Leif Ericson stands on Commonwealth Ave in Boston and Viking iconography can be found on plenty of architecture throughout the city.
Vikings may or may not have dwelled in Auburndale one millenium ago, but the story at least makes for interesting landmarks and a drummed-up folklore.
Gray H.