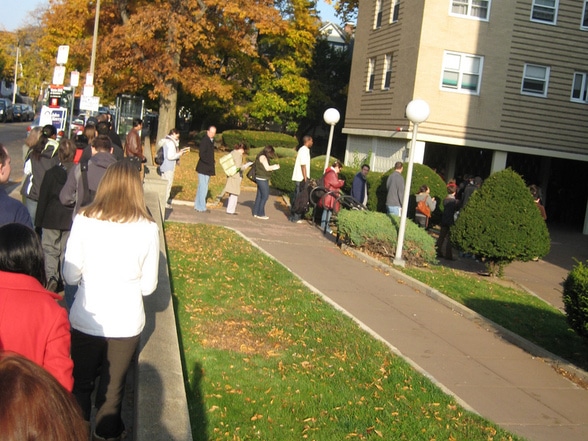 Wedged between Allston and Newton, Brighton is a lively little nabe that many of Boston's brightest call home. Not quite the student mecca that Allston is, or the hilly, suburban locale of Newton, Brighton seems to take the best of both worlds: residential and busy at the same time. The tidy sidewalks are lined with rambling Victorians and quaint apartment buildings alike, and charming Brighton Village offers a wide selection of eateries and pubs. Brighton is the transition nabe for those ready to leave Allston behind but not quite ready for suburbia. Brighton is served by several Green Line T stops.
Brighton Data
Public Transportation

6.3
Lowest Attributes
Brighton Articles and Reviews
Quieter and cleaner than Allston, but just as cheap
Brighton is Allston's older, more mature friend, who's cleaned up a bit and gotten over the whole dirty hippie/hipster stage. The rent is still very affordable, the apartments are pretty spacious and there are still plenty of neighborhood restaurants and bars. What strikes me about Brighton though, is how much quieter it is than Allston, especially once you're off the main roads. The constant soundtrack of sirens and drunken shenanigans is mostly absent here.
The Chestnut Hill Reservoir near Cleveland Circle is a favorite of runners, speed walkers and their dogs. The baseball fields nearby are also great for pick-up games of softball and football or just throwing down a towel and tanning with friends.
Depending on where you're going, a lot of Brighton is located on the dreaded B line, with its umpteen-hundred stops. But there are plenty of buses and you can probably walk to the faster C or D lines, if you hate the B line as much as most Boston residents.
Brighton also has Allston beat in terms of BBQ, an important deciding factor in any neighborhood—Smoken Joe's on Washington Street has beautiful brisket, sweet potato fries and mac & cheese.
Overall, a nice place to live if you want cheaper rent, a more residential neighborhood, but still want fun places to eat and go out.
What's awesome
What's not so awesome
Heather V.
Brighton beats out Allston
Allston may be the more popular of the Allston-Brighton combo, but my vote is for Brighton. Party neighborhoods are tons of fun, but know what's even better than living in one of those places? Living right next door—you're walking distance to all the nuts and fun, but there's less crap on your lawn on a Sunday morning. I think the crowd here has a bit more variety, too—different ages of people (a lot of young people, but also some families and older folks) which i think is cool.
Amanda M.
Allston's Mature Older Sister
Like the description said, this nabe is for those who need a happy medium between Allston and suburbia but still have that annoying requirement for low rent. When you're not ready to move out to the burbs and you can't afford Back Bay and Beacon Hill rent (who can?), this is the nabe to choose. While it still has a bit of the grit and grime of Allston and several of Brighton's streets are so close to Allston that they still have that, er, student feel, Brighton is definitely on its way up while Allston is staying just where it is. Although they are often referred to as Allston-Brighton, their similarities stop after a couple of blocks. Yes, the line gets fuzzy in some places but you'll know when you're actually out of Allston and into Brighton proper.
Brighton Village actually has a charming main street lined with pubs and restaurants. And these aren't the PBR slinging (but yes, they still have PBR) dive bars of Allston, these are more, how shall I say, upscale pubs. While Brighton is by no means Brookline, it does have that more mature feel that Allston lacks. It's residents are primarily Allston, I mean, college, graduates who are working downtown. The rent is still cheap and the feel is still young but instead of staying up all night every night of the week, residents only do that on Friday and Saturday, they do after all, have those pesky things called jobs now. Unlike classes, you can't sleep through those.
Mallory C.