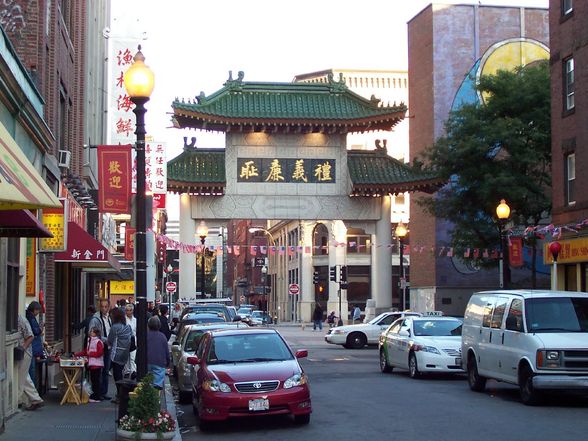 Chinatown is one of Boston's oldest and most dynamic nabes. Its history, food, traditions, and people make up a rich and ever-changing culture. Located next to Tufts Medical Center and Downtown Crossing, Chinatown is in the thick of downtown action. During the day, eclectic market produce and wares overflow onto the street, adding to the frenetic feel of the place. In the evening, crowds descend upon Chinatown's many restaurants, and the pass through the streets becomes a bit precarious. Chinatown is served by the Orange line T and several bus lines
Chinatown Data
Public Transportation

7.5
Lowest Attributes
Chinatown Articles and Reviews
Expanding cultural horizons
I used to find Chinatown intimidating. It's right off of downtown Boston and South Station, but feels like an entirely different world, as is expected in most Chinatowns. It's very loud, busy, often a bit stinky and most signs are in another language, but you learn to love it, once you come often enough and know where to go.
You can find lofts and fairly cheap and spacious apartments here, if you don't mind the smell and the noise. The location—right near Boston Common, Downtown Crossing and the South End—is what many would dish out thousands for.
Chinatown also knows how to party. They have the best ethnic festivals in Boston like Chinese New Year and the August Moon Festival, with parades, elaborate costumes and dancing.
Boston's Chinatown is not on the same par as Los Angeles, San Francisco or New York, but it is perfect for a close by cultural escape.
What's awesome
What's not so awesome
Heather V.
Mini Chinatown
So many cities offer amazing Chinatowns-London, San Francisco, New York but don't come to Boston expecting one of these. That being said, Chinatown is our own little cultural enclave that all Bostonians love. It does have yummy dim sum and there is a really fun Chinese New Year celebration but it's a small nabe and often considered secondary to some of Boston's more well known nabes (think: Back Bay, Government Center etc)
In terms of real estate, apartments are fairly cheap to buy and many young professionals and couples are opting to buy here for starter apartments. The nabe is definitely a bit grubby, quite noisy sometimes and I wouldn't recommend walking around by yourself late at night. The location can't be beat, however, particularly if you work in downtown and hey, you can always get good chinese food.
Mallory C
Chinatown is one of Boston's oldest, but most dynamic nabes. Its history, food, traditions, and people make up a rich, yet ever changing culture. Chinatown was established more than a century ago when Chinese workers came from a North Hampton shoe factory and set up tents and makeshift markets on what is now known as Ping On Alley. Today the ally is indistinguishable from others just like it, but a plaque hangs on its entrance to commemorate its founders.
Chinatown is positioned next to Tufts Medical center and Downtown crossing, making it an ideal location for folks looking to live close to where they spend most of their daytime, working hours. Evidence of the broad range of workers passing through Chinatown each day can be seen in the clientele at Ding Ho Fast Food Restaurant. Customers wearing hospital scrubs, fine suits, and street clothes duck into corner store for a quick, cheap, and satisfying stir fry or fried chicken lunch.
Other dining options abound in Chinatown, but if you're looking to try your hand at Asian cuisine, hit up C-Mart Supermarket on Washington Street where you can load up on fresh seafood, noodles of all kinds and lychee fruit. There's even a gift shop selling Chinese herbal cures for everything from gingivitis to sterility, and, (why not?) cancer.
Chinatown is in the thick of the action in downtown Boston. While during the day, it is a-bustle with activity, Chinatown is certainly not the safest place to be at night—it's best not to walk alone anywhere near Ping On Alley as you're likely to happen upon a drug deal or some other shady dealings. So take this into consideration if you're considering a move to this nabe.
It has its own "T" stop on the Orangeline, but can be accessed by foot or bus from various downtown points.
caite m