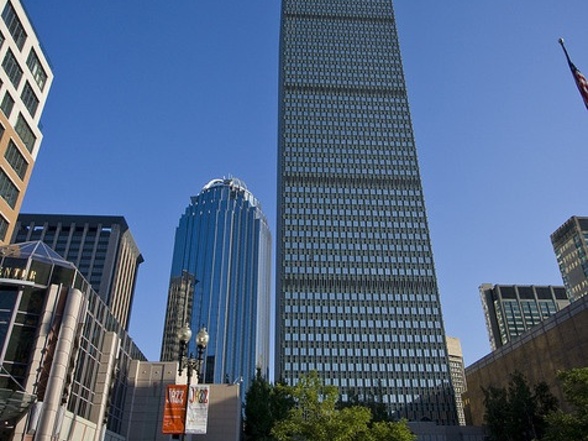 Prudential is widely known as a shopaholic's paradise. The Prudential Cente is home to a giant mall with everything from a male bathing suit store to an award-winning chowder house. But there's more to the nabe than the mall. A stone's throw away from Symphony Hall and other top notch music venues, Prudential attracts people with discerning taste–in music, fashion, and food. Some of the best restaurants in Boston call this nabe home, and residents pay a pretty penny to live along the South West Corridor or within walking distance of the architecturally impressive Christian Scientists' "Mother Church," and Copley's high end boutiques. Prudential has its own stop on the Green Line T.
Prudential Data
Public Transportation

9.5
Lowest Attributes
Prudential Articles and Reviews
More than a mall
While the Citgo Sign is known as the North Star to BU students, the Prudential building is the landmark that has often guided me home, or at least steered me in the right direction. Along with the Hancock Tower, it's the most recognizable skyscraper in Boston and the area surrounding it is equally distinct.
The Prudential Center mall is massive, filled mostly with high-end shops and boutiques, and it has the best mall food court I've ever seen (the huge, warm chocolate chip cookies are essential eats). There's also a nice courtyard where they hold outdoor concerts during the summer. The Cheesecake Factory and California Pizza Kitchen are also frequent stops for pre-Symphony Hall concert goers. Duck Tours leave from here and you can also visit the Skywalk for outstanding views of the city.
Besides the mall, the area around the Prudential Building is always bustling with pedestrians and taxis. There are a few T stops nearby and bus lines too, for when you're done lightening your wallet from shopping.
What's awesome
Heather V.
Big City Views from the Pru
Bustling with every imaginable consumer's delight, the Prudential neighborhood is an archetype of big city commercialism. The heart of this neighborhood is the Prudential Center itself—a towering architectural spectacle housing office buildings, dining, and shopping for visitors. The Pru (as locals call it) is so large that those lost in Boston's mazelike streets often use it as a guiding point around the city. Aside from shopping and good eats, the Pru's also known for its observation deck, where visitors can view all of Boston and its ant-like residents from high-up above… it'll cost you to get up there, though. A local secret: if the splendor of the observation deck and a brief Boston history aren't important to you, just tell the Pru's front desk that you're going to the top of the hub—you'll get the same view for free. The Pru's parking garage also makes this neighborhood one of the easiest to visit in a car.
Amanda M.
The Pru Has Everything For You: A Tour of Prudential Boston
I was lost in Boston and did not know where to go to find any sort of solace from the busy streets and noisy calamity that is in any city. I was found in Prudential, that first stop on Green Line "E", and it was the first stop to many as I realized that this place has everything one needs for comfort.
For for all you tourists who love a good view, shoot up 50 floors and 800 feet to the Skywalk Observatory. Up there you can take a tour with your eyes around the beauty that is downtown Boston. See those tiny little ants and the toy cars bustling around while you enjoy this god-like sensation.
Within walking distance are a ton of things to do with the family. Want to take the famous Boston Duck Tours and quack it up around the city, visiting all the sites? Or you can be patriotic and experience the American Revolution on a two and a half mile red-brick walking tour that visits 16 historic sites. This area in Boston is unique, it stands out from all the other places because it gives you a mix of everything.
Personally, what saved me from losing all interest in things worthwhile, was the food. Dining in the Prudential area is great, simply because there are is so much variety to choose from! My favorite is the California Pizza Kitchen. Walking in you feel at ease and comfortable, like being in California except you are still on the east coast, this place has got what you need to satisfy that hunger, try everything from chicken-fajita fettucine to BBQ chicken pizza to a healthy salad. For a more formal restaurant, there is L'Espalier. Voted best romantic restaurant by Boston Magazine, this is a superb dining experience, bringing France to New England.
There is a reason that the Prudential is the heart of the Back Bay, it beats life into the city. The main arteries flow in and out of here, two lines the green and orange stop here. Amtrak and the fast train Acela make it possible to see enough of Boston and hop on a train to New York City. The Prudential is where the action is.
Conveniences are no stranger to this place either. A salon for men, a car wash, banks and ATM's, a rent-a-car, a U.S. Post Office are all their to please you. But what pleased me was a place to go that is a sanctuary from all the shopping and consuming. The St. Francis Chapel offers you peace, silence, and time to reflect on life.
I visit the Prudential regularly and as much as I can, it is what I love about Boston. The sites, shops, food, and spiritual life that flows from it make it worth the trip from anywhere to visit.
Sean W.