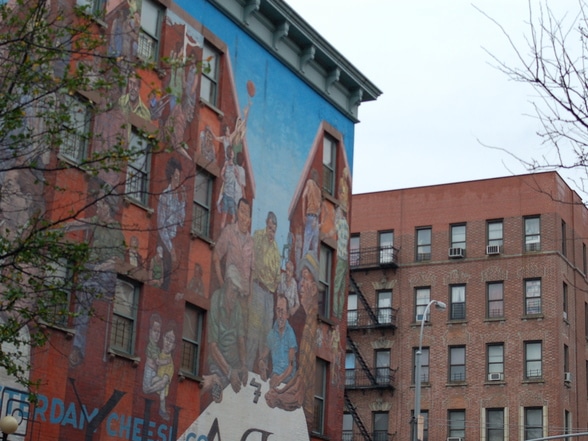 Infomation
East Harlem, the eastern part of Harlem, is a tight-knit neighborhood, with deep traditions and a strong community. East Harlem is alternately known as Spanish Harlem, or El Barrio. In recent years property values and rents have begun to rise, and new luxury condominiums and co-ops have appeared around the neighborhood. East Harlem has easy access to the 4/5/6 Subway line and lies north of Yorkville, Carnegie Hill, and the Upper East Side.
Top Votes – Score out of 100
Gentrifying 98
Public Transportation 88
Dining 80
Pet friendly 75
Green space 67
Lowest – Score out of 100
Clean 54
Safety 49
Seniors 47
Singles 42
Income 5
Top Reviews from Travel Rentals Neighborhoods
"Wolfie"

Moved into upper East Harlem the beginning of the summer. I like the diversity of people here and the energy that comes with the gentrification of a neighborhood.

What's awesome

The access to all the trains 2/3, 4/5/6, Metro North. The character and energy of the neighborhood.

What's not so awesome

Need more restaurants, grocery stores, wine shops and liquor stores, butchers, dry cleaners, etc but they are coming.

Jerry W.
This Nabe Gets a Bad Rap, but

it is a bustling urban center by day, with an upcoming amount of passionate museums and positive entities.

I have worked in Harlem, as a counselor at the Association to Benefit Children and have never felt unsafe watching over a group of appx. 40 children. I did witness one mugging though, on the way back from the park one afternoon.

There are great local restaurants, and you will be satisfied by the food quality. You can get lunch that is well worth what you dish for it.

There are plenty of blue and white collar folk in the Harlem area, construction workers & office men often ride side by side on the subway.

It isn't hard to find an experience that is strongly engulfing into the nature of Harlem. There are street musicians, all types of cuisines, and lots of differently dressed people.

What's awesome

What's not so awesome

packed, not where you want to be alone at night

Richard H.
"food desert"

I'd like to move up to El Barrio, but I've searched around and apparently a lot of people refer to it as a "food desert." As a foodie, I have trouble with the idea of moving to a neighborhood where there's not even a supermarket, let alone somewhere that I can pick up my organic goodies.

sam B
It's not SpaHa. It's not Upper Yorkville. It's not the Upper-Upper East Side. It's El Barrio. Or Spanish Harlem. If you call it one of the first three things, you are not welcome there.Ed C.
I moved up here recently because of the relatively cheaper rent than where I was living downtown, and although I like it, there is a certain amount of hostility towards newcomers around here, especially if you are perceived as helping along gentrification. There is a lot of community pride here, and I respect that enormously. It is also difficult to get basic fruits and veggies up here. The grocery options can be somewhat limited.Victor M.