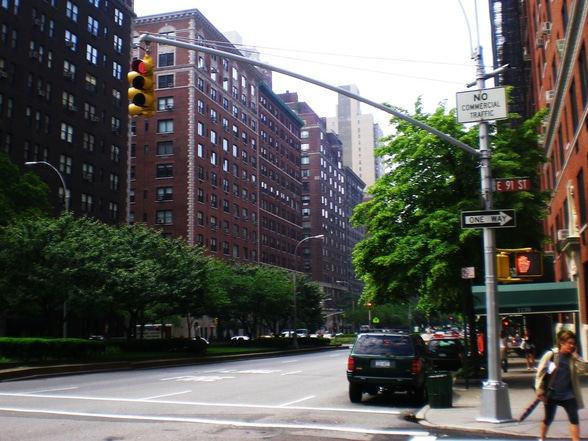 Carnegie Hill
by nabewise
Infomation
Carnegie Hill is an elegant Upper East Side nabe with beautiful old-world townhouses, well-preserved brownstones, and manicured, tree-lined streets. Named after Andrew Carnegie, Carnegie Hill boasts Museum Mile, home to ten world class museums including the Guggenheim and The Met, as well as a few very well-known private schools. The nabe is mostly residential and borders the east side of Central Park. The 4 and 6 train are right on the edge of the neighborhood.
Top Votes – Score out of 100
Wealthy 100
Public Schools 100
Families 99
Safety 96
Green space 95
Lowest – Score out of 100
Public Transportation 56
Shopping 50
Nightlife 31
Parking 25
Singles 17
Top Rentals Reviews from Neighborhoods
New York's Finest

Think Gossip Girl. Think New York in the Springtime when the sidewalk trees are in bloom in Carnegie Hill (the most beautiful time to be here). Carnegie Hill is one of the most elegant and charming nabes in New York. Everything is clean, the large brownstones (often single family homes) are reminiscent of 19th and early 20th Century New York, and yummy mummies run to and from yoga and pilates with the nanny tripping behind with baby 1 and 2.
The museums here are also among the world's most famous: The Met, the Guggenheim and several lesser known, smaller museums such as The Frick and the Cooper Hewitt, both smaller house museums with phenomenal collections. If you can't afford to live here, which most of us can't, visit for the museums but also stroll through the nabe and enjoy the beauty of old New York.

Mallory C.
A Manicured UES

Carnegie Hill is a clone of the northwestern parts of the UES. It is a very residential area except for the trendy Museums you'll find in the area.

You won't find the same sort of shopping that you would on the UES, but you will find a quieter nabe with some beautiful pre-wars.

There are plenty of school-aged kids on the weekdays, bunched in their uniforms and by gender.

Vico on 93rd is a nice Italian place to try, but they will treat you better if you have an account with them.

What's awesome

What's not so awesome

not much to do, not many places to shop

Richard H.
Safe, stable, beautiful area -Wonderful place to live

Some families live in Carnegie Hill for years. It is a safe and quiet community. We lived in a beautiful prewar building. All our daughters friends lived in the area and we never had to worry about where she was after-school. There are fantastic restaurants nearby and there's Madison Ave around the corner for all of your shopping needs. There is a lot of community spirit and people look out for each other!

Margie H.
My Aunt has a place in Carnegie Hill that I love to visit! It's super quiet. There are amazing restaurants and cool stores but everything is pretty expensive so I usually just window-shop. In the summer, people hang out in Central Park and in the winter it's fun to go "museum-hopping". They film Gossip Girl around here so if you're lucky you might run into Penn Badgley 😉Carrie C.
In this affluent community, townhouses prevail. The neighborhood is dotted with high-end boutique shopping, restaurants and cultural attractions like the Guggenheim Museum. It is a quiet, residential area with easy access to Central Park and an excellent selection of schools. It is an incredibly ritzy area so those with modest budgets should look elsewhere. There is not much nightlife so a young crowd would feel a bit out of place. Families with small children or older couples would be happy to call this place home.Beverly W.