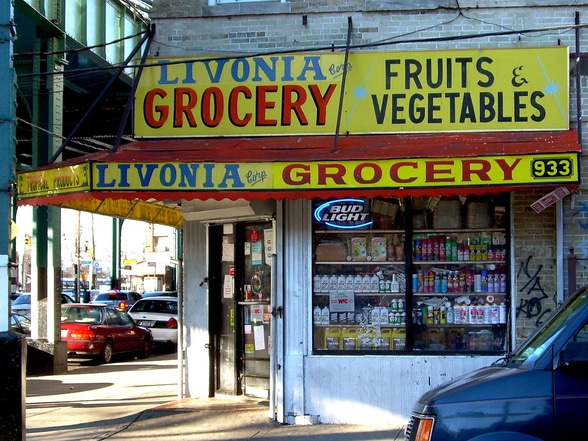 East New York, Brooklyn
by nabewise
Infomation
East New York is the name given to the composite area of five neighborhoods: City Line, Cypress Hill,New Lots, Spring Creek, and Starrett City. Located in eastern Brooklyn, East New York is home to a mix of row-houses, mixed-used buildings, and housing projects. Bordered by major expressways, East New York is only a 20 minute drive to either JFK or LGA airport.
Top Votes – Score out of 100
Lowest – Score out of 100
Top Reviews from Travel Rentals Neighborhoods
not as bad as some say

I lived here for a year and it was whatever. People are always going on about how awful and dangerous it is here but my experience is that if you are smart you can avoid danger pretty much anywhere. The potential for getting beaten up is higher in East New York, but if you are careful it won't happen to you. I was only living here because it was cheap, but if you need to be moving here don't get all worried and start pulling your hair out, you'll be fine as long as you keep your wits about you.

Tom B.
There are some decent spots in East New York

Ok, yes East NY probably has one of the highest crime rates in all of the city but don't be too hurried to judge. To be honest Brownsville has worse housing options and eastern areas of Crown Heights bordering Ocean Hill/Brownsville are just as bad as some of the worst of East NY.

The areas of East New York that are OK and quite suburban in feel though the physical appearance is more liek Astoria or Prospect Height is the area around Linton Park off the Van Sicien stop. Much more of an old time Brooklyn feel. This area has not been overloaded with high density high rise public housing as parts of Linden Ave or fair amount of Brownsville. Not far from this area is a public pool in Brownsvillecalled Betsy Head which seemed OK.

Then again go by Pennsylvania and just below Atlantic or near the Queens border into some spots around City Line and moreso New Lots – there you hit ghetto.

Along Linden Avenue too you must be careful as there are some high crime projects.

SO, during the daytime walking along Pitkin is OK and some of the residential areas to the south, but at night I would be very careful. Know where you are going beforehand – there are some nice quiet, safe residential areas but the problem is you need to go through some very sketchy, unsafe area sometimes – sometimes not.

Pitkin, the main shopping area has offerings similar to Jamaica Ave or Fulton just smaller and mostly mom and pop stores. There is a cool old building there that has a great facade and should be preserved and used – it would be a nice boon to the ave.

East New York, if they can get the crime down could promise to offer subnabes the equivalent of Queen's Elmhurst or the nice parts of Brooklyn's Flatbush and Prospect Heights. Atlantic in this area should be a good shopping area – unfortunately it isn't. Though at Atlantic and Pennsylvania there is a big bakery that offers good pastries (not gourmet but simple and tasty) and the look is rather cool – everyone dressed in white uniforms and spotless with a very white interior – makes me think I am in a 1950's bakery!

What's awesome

Some quiet residential and leafy streets, a cool bakery and a public pool (Betsy Head Rec Center)in neighboring Brownsville

What's not so awesome

High crime areas, some desolate, ghetto areas, in some parts subways bring you closer to Jamaica Queens/Long Island than Manhattan

chris s.
When I made the decision to move to NYC from my parents' place in West Virginia I was understandably looking at lower-priced housing options as I did not have the NYCpay grade yet. I went over to Brooklyn to check it out, saw some of the Bed-Stuy area, and then check out East New York for about an hour. The place depressed me. The sprawled out, industrial grossness did absolutely nothing for me.Danny W.