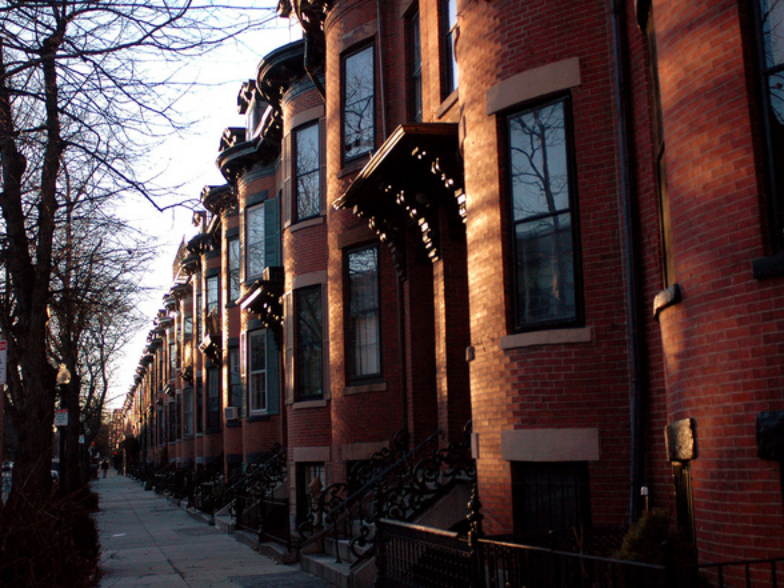 The South End got its name because it's located south of the Back Bay. The area is a mix of residential and commercial zoning that is dense, with a different look and feel on nearly every street. This nabe boasts more public playgrounds per square foot than any other nabe in Boston, and has become a major dining district, thanks in part to its proximity to nabes like Back Bay and Beacon Hill. The area is served by the Orange Line T.
South End Data
Lowest Attributes
South End Articles and Reviews
Alana's South End
Growing up in a very Jewish suburb of Baltimore, the South End is a big change for me. I both live and work in the South End, and I think it's one of the coolest neighborhoods in Boston. Though it is one of the most expensive neighborhoods to live in and feels very safe, it also includes some pockets of low income housing. Still, these areas feel safe because they consist mostly of families.
Everyone here is extremely friendly- it's an odd day if I don't exchange pleasantries with at least two strangers on the way to and from work, especially in the Villa Victoria area.
One of my favorite parts of the South End is the fact that there are dogs everywhere. Even if you don't have one of your own, you can get some dog lovin' simply walking down the street or though one of the many parks.
Pros:
– restaurant variety
– easy access to public transportation
– well lit, safe streets (for the most part)
– full of character
– tons of dogs to play with
Cons:
– a few areas feel less safe
– cost of living
Alana B
Pefection for a price.
I recommend avoiding the South End for this reason: you may never want to leave.
This is one of those perfect nabes you see on TV: quaint coffee shops where you always run into the same characters, restaurants where the chef comes out to say hi, local grocers with fresh fruits and dew-drop spotted vegetables, boutiques with handmade clothes, and spas around every corner (one for your pets too).
Public transportation is lacking (only a few buses go through the neighborhood, and infrequently at that), but to make up for it picture-perfect brownstones with colorful doors and tree-lined sidewalks peppered with parks galore make walking the most desirable mode of transportation anyway.
Sound perfect? It sure is, but perfection isn't free.
The South End is a costly place to live and the South End lifestyle ain't cheap either. Sure, there are sub shops and pizza places, but the sit-down restaurants are pricey. On the plus side there is no lack of options (French, Cuban, Italian, American), and wherever you choose the cuisine and service will likely be top notch. You'd be hard pressed to find anything under $100 at the local boutiques and a day at the spa can cost you a week's pay.
The residents are mostly upper-class families and well-dressed young couples who like to pamper their dogs. Though, despite gentrification, subsidized and low-income housing has kept the area diverse.
The South End is a lovely visit and a great neighborhood to keep in mind for when that pay raise kicks in.
Nikki C
South End: juxtapositions and bakeries
The South End has all the telltale signs of being a neighborhood passing over the first hump of gentrification. What once was the mixed and somewhat rough "southie"when I was growing up is now filled with high-windowed artists lofts, boutique shops, and charming bakeries. The characteristic dark brownstone buildings and quiet streets have made this nabe a magnet for hipster parents along with artists, a thriving gay population, and anyone else who can afford the rapidly rising rents.
Perhaps most famously to the arts and crafts community this is the home of the SOWA market, a weekly bazaar for local crafters and vintage vendors to sell their wares. This year SOWA proudly added a farmers and gourmet market. On that note it serves to mention that the South End is also a great neighborhood for foodies. With two major gourmet markets and dozens of restaurants to choose from, you will always be able to find what you're craving (just watch the price tags!) Of note are The Gallows restaurant, a newly opened gastropub with a focus on local and organic french-inspired cuisine and the South End Buttery, which makes an insane Boston Cream Pie cupcake.
This neighborhood is not, however, Boston's answer to New York's West Village. This area still is the home of a number of low-income housing buildings and numerous medical facilities that belong to the city's major universities. The farther south you travel here the more industrial and sparse the landscape will become until you start moving into Roxbury which has a shady past of it's own.
Sarah G
Vibrant South End
Boston's South End can be thought of as a neighborhood of neighborhoods. The SoWa (South of Washington St.) district is very different from Tremont Street's bars and restaurants, which are in turn strikingly different from the Villa Victoria housing projects. As a result, the most diverse, gay-friendly neighborhood in Boston, is also arguably the most vibrant. Characterized by two juxtaposed resident groups, the working class renters, low-income residents and long-time residents, versus the yuppies, artists, gay community, and upper middle class urbanites, the South End is a classic gentrifying, "up-and-coming" neighborhood. It is well known for its Victorian brownstones – which line picturesque streets such as Union Park and Rutland Square –, for its array of diverse and gourmet cuisine, for the gigantic and equally hectic Boston Medical Center, and for its art galleries in SoWa. In the 1950s, the South End was a hub, home to Boston's African-American community and many jazz clubs. Soon, its reputation morphed, and up until the 1980s, it was known as a dangerous and poverty-stricken neighborhood. This trend reversed, however, with a spike in new business and gentrification that was jumpstarted by the gay community. Now, the South End is a relatively safe neighborhood with low rates of street crime. Nevertheless, there are areas to avoid at night. Generally speaking, the farther south of Huntington Ave. and the farther west of Mass Ave. you go, the less nice and "safe" it gets.There are many things to do in the South End, but in order to fully experience it, you must live there. Food is the nabe's forte, with restaurants ranging from cheap Greek delis to expensive Tremont Street steakhouses. The South End has sizeable Asian, Black and Hispanic populations, and this diversity is reflected in the wide range of cuisines one can find, ranging from Ethiopian to Dominican dining. The art galleries in SoWa are a popular destination during the summer, and the Boston Center for the Performing Arts on Tremont Street is another attraction for residents. Located close to the 
Prudential
 Center and Copley Square, residents and visitors can walk into the heart of the city from most parts of the South End.
There are many pluses to living in the South End. The location is tremendous, just minutes from Back Bay and a short subway ride from downtown. Despite the central location, the residential streets are quiet and relatively tucked away. The architecture is beautiful, though old, and the nabe boasts the most parks of any neighborhood in Boston. The Southwest corridor park, a new project that runs through the heart of the neighborhood, provides amenities such as dog-walking parks, tennis courts, basketball courts, bike paths, and much more. Every area has its downsides however.
Recently, housing prices have become so high that they nearly rival the Back Bay and 
Beacon Hill
 on some streets. On the other hand, there is lots of low-income housing. One common complaint is the lack of access to subway stations, with only three Orange Line stations located on the fringe of the neighborhood. Nevertheless, bus stops are plentiful, and the new Silver Line goes all the way through the South End, almost to Roxbury. Good luck finding non-residential parking any time of the year.
All in all, the South End is worth visiting, and definitely worth living in. The diversity gives birth to exciting business, but also to cultural events, such as the annual Gay Pride parade. Easiest way to get to the South End is to take the orange line to 
Back Bay
 or Mass Ave. station and start walking south.
CelticsPride
Chic, trendy and great eats
The South End is an idyllic place, with rows of brownstones, young couples walking perfectly groomed dogs and adorable boutiques filled with knick-knacks. It's gotten a reputation as Boston's newest hip dining scene where you can empty your wallet on oysters at Myers + Chang or on pecan rolls at Flour. It may seem stuffy (how many boutique dog hotels does one neighborhood need?) but that's a fair enough tradeoff for pristine streets and excellent dining. Some streets are nicer than others—Washington and Tremont are safer than Albany Street—but overall it's a lovely place to live or visit. The SoWA market is a must on Sunday afternoons and Drag Queen Bingo, hosted by the South End Neighborhood Association is always a good time.
What's awesome
dining, markets, brownstones, dogs
Heather V
Boston's Best Pocket Nabe
The South End, not to be confuse with South Boston, is one of the most sophisticated neighborhoods in Boston, in my opinion. The architecture alone: the tidy brownstones with the infamous South End iron work, are well worth the visit. As is expected, the rent is fairly high here although there are some bargains to be had. Despite being so close to downtown, this is a lovely place for children, there are several pocket parks in the nabe, the streets are fairly quiet and its definitely a safe place.
The South End has really become its own Boston nabe, with several well known and fantastic boutiques, restaurants, and bars. Many restaurant owners are catching on and opening South End locations. The way I'm talking about it, it sounds like the nabe is in Boston Siberia, but its right near the Back Bay and close to Back Bay Station and several Green Line T stops. Visiting or moving here, this is a worthwhile nabe!
Mallory C
Lost and Loving It; A Day in Boston's South End
Boston's South End:
Dare to get lost along your choice of brownstone-lined streets in Boston's South End and you'll be pleasantly rewarded. Depending on the path you choose, you might stumble upon any number of well maintained parks teeming with smiling, ball tossing dog owners, and public gardens burgeoning with purple blossoming borage or vine ripening tomatoes. If you're just visiting, arrive early and follow your nose along Union Park to the South End Buttery for a pecan cinnamon bun and a cappuccino; or let the promise of a warm wedge of sweet and tangy sour cream coffee cake lead your legs up Rutland Street to Flour Bakery's South End location. Daytime wanderings along Tremont or Shawmut Streets might mean a stop or two at boutiques like Turtle or Flock where they sell unique, and locally crafted garments and jewelry. And if you're more interested in spoiling your pooch than yourself, take heart; pet-centric shops like Polka Dog Bakery sell fashion-forward fetch tools, along with gourmet flavored rawhide and gluten free doggie truffles that look tasty enough for human consumption. Speaking of dogs, give your barking guys a break for lunch al fresco at your choice of sidewalk cafes. Stephi's on Tremont does a great brunch with a punch packing drink list. Try the Executive Mimosa, (a ballsy undertaking) a mix of Champagne, vodka, and fresh O.J., the likes of which might only be found in your boss's boss's office mini-fridge. Barbara Lynch's diminutive corner restaurant, The Butcher Shop, does a fantastic lunch, offering simple, old world cuisine that will send your taste buds on a whirlwind tour of Italian Salumerias and Austrian wine caves and back in just one sitting. The steak tartare with pickled onions and toasted brioche will make you believe in beef again, and the bartenders and servers are veritable troves of food and wine wisdom. Get off the beaten path a bit after lunch and check out Formaggio Kitchen's Shawmut Ave location. While there, load up on gourmet food stuffs to use as gifts or treat yourself to a complimentary wine, beer, or cheese tasting with one of their knowledgeable (and, it should be mentioned, easy on the eyes) staff members—a chalkboard sign on the sidewalk in front of the store advertises daily events.
The South End is known for its proud and openly gay population. Gay South Enders will tell you that they are the ones to thank for the superb quality of theater, dance, and musical productions offered at the Calderwood Pavilion and the Boston Center for the Arts. I would posit that they also have something to do with the success of above mentioned doggy boutiques and brunch spots. Rainbow flags adorn windows and doorways of many establishments, and in turn, beautiful and well-dressed men add to the aesthetics of the scene around them. Anchovies on Columbus, is known among some as Boston's Gay Cheers; it's a quirky little bar with a close local following. Hit it up before dinner and the theater for a cocktail; while there, take a gander at the bespectacled and mardi-gras-beaded elk's head mounted above the bar and wonder at the animal's existential progressions in life and death. Dinner in the South End means choosing from a long list of joints offering culinary delights. Wherever you decide to pick up fork and knife, be sure to make reservations well in advanced, these places fill up fast. A local favorite for live music, and reasonably priced eats is the Beehive; its hosts and hostesses, donning feathered fedoras and vintage frocks, provide a preview of the kind of people-watching to be done inside. For less scene and more serious satiation, head to Toro for Spanish inspired tapas, where authenticity is in the subtleties, manifesting as pinchos on tooth-pics and wine served in tumblers. The brainchild of James Beard Award winner, and local restaurant tycoon, Ken Oringer, Toro's menu is artfully crafted and fastidiously executed. Go with someone you like and play footsy with them at a high, narrow table while you explore the tastes of Barcelona. Try to put words to the almost religious experience caused by the Medjool dates filled with Marcona almonds and blue cheese, then wrapped in Serranoa Ham, and then resign yourself to the greater powers at work in the world and in your mouth.
Top off your evening at the Boston Center for the Arts' Cyclorama, The space itself is awe-inspiring—a copper skylight dome atop a round, brick-lined 23,000-square foot rotunda—and its uses vary from that of a theater in the round for such contemporary theater companies as the Speak Easy Stage Company, to an exhibition space for local multi-media artists like Richard Bertman, and a community space for public workshops and art-centric family events.
If the Speak Easy's musical got your toes-a-tappin' and you've still got the spirit, make your last stop 28 Degrees. See and be seen amongst Boston's beautiful scenesters and sip a fruity, bold, and straight-up martini in their midst. Be forewarned, the cocktails, the music, the lighting, and the carefully crafted vibe just might awaken the latent sexy beast within you. Let it roar. And hey, keep it out for a while. Let it take in the scents, maybe feed it an organic doggy treat? By all means, sedate it again before the kids wake up.
Living in the South End's trendier parts—streets on National Historic Registers, for instance—will cost you a pretty penny or two, but venture farther down Washington St, into the borderlands where Roxbury and the South End start to mingle, and you'll find affordable housing and reasonably priced (but still very trendy and tasty) shops and eateries. Also an up and coming residential area is that just South of Washington Ave, along Harrison. In this neighborhood, 19th century mill buildings, which once produced pianos, shoes, and confections, have become home to artists' studios and residential lofts. Here you will find the SOWA art galleries—all open to the wandering, wine-sipping public for First Friday Artwalks. On Saturdays and Sundays of summer months, local artists, crafters, farmers, cheese mongers and antique vendors set up tents in an open air courtyard and pedal their wares at the open air SOWA marketplace.
You won't need a car to get around Boston's South End, in fact, the one-way streets and limited street parking make it kind of a hassle for drivers. Residents can get parking stickers that allow them better access to on street parking. If you're driving in from out of town, your best bet is to park in one of the parking garages off Tremont St or Columbus Ave. Public transportation in Boston is always a foolproof and affordable option. Hop the Orange Line to Back Bay and walk South along Dartmouth St for about five minutes and you'll find yourself in the thick of the South End's action. If above ground transport is more your style, Silver line buses also make stops throughout the South End.
caite m
south end still on the rise
Rife with fantastic adventurous cuisine and loads of hip moms and trendy fabulous gays. Amazing though fairly pricey shopping for beautiful statement pieces and party clothes. Many enclaves of artist studios and residences. SOWA Open Market (vintage, produce, fine (& other types of art)) provides a meeting ground for all walks of life May-October on Sundays on Harrison Ave. There are a few methadone clinics, a large homeless shelter, and Boston Medical is nearby so you will need to keep your wits about you. On the flip-side there are a lot of lovely parks, community gatherings, neighborhood watches, and positive gentrification and rehabilitation efforts going on. You can find a $6 burrito and a $30 entree on the same street. Transportation is the Silver Line which runs between Park Street and Dudley Station.
Amanda D
Ex-College Student Misses the South End
I miss visiting the South End! My best friend attend Northeastern University for the past four years and it was always a treat to go visit her. I loved being so close to Fenway, Fenway Bars, and the Back Bay. The place is littered with T-Stops (that's Bostonian for "subway stops") and fun bars. The area is very quiet at night and the streets appear to be empty but that's only because you don't know where to go. Walking a couple blocks anywhere will lead you to some great college bars and drunk Red Sox fans. You can hear cheers and boos from the stadium and can walk (very quickly) to the Prudential (ritzy shopping and a Cheesecake Factory) and Newbury Street (ritzy shopping and nothing like a Cheesecake Factory).
The drinks are just as expensive as around the city unless you are going in the afternoon and a lot of the stores are… typical. There aren't any "mom and pops" or little handmade shops. Just Urban Outfitters, Qdoba, Barnes and Noble… et cetera. But it has wonderful buildings and architecture to look at and it is fun to walk around. Northeastern is certainly a highlight if you are of college age.
The most frustrating aspect of the area is something the plagues the city. The T stops running around midnight but all the bars stay open until well past this. The Taxis love this. My feet did not.
Amanda K
Sleepy Neighborhood with Great Nightlife
In the daytime and early evening, it's a quiet neighborhood with tree-lined streets and brick sidewalks. On the weekends, the area lights up with nightlife and it can take an hour to find parking. It's a very expensive area, and the two main grocery stores focus on selling high end gourmet products on ingredients. But the feel is great, so if you're not a starving college student, it's a good spot to be that's also popular with dog-lovers and families.
The South End is within walking distance to Boston's Copley Square, about a 12-15 minute walk, and the closest T-stop is Back Bay on the Orange Line. Don't be fooled though, make use of the Silver Line's SL4 and SL5, which run frequently and can take you to Chinatown, Downtown Crossing and South Station in 10-15 minutes. If you've had to get to the airport from the Green Line, you'll appreciate the convenience of the Silver Line!
Stella T
Go Explore!
I love going down to the South End. It's a very peaceful place for a city. Though there is still a lively energy about the place, everyone just seems peaceful and happy. The area is full of little boutiques and restaurants that somewhat define the South End. It is hard to talk about the South End without using "quaint" or "chic". Though the area is on the pricier side, I often visit for the cuisine.
I am a huge foodie, and the South End has great options to dine and diverse options to choose from. Ever tried Ethiopian food? You should check out Addis Red Sea. This area has so many great and hidden gems, when you are there, you cant help yourself from exploring!
Derek A.