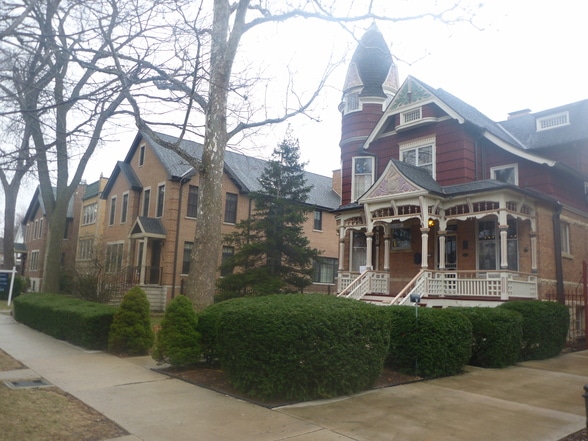 This nabe is known for its incredibly beautiful and historic housing, and for being more of a conglomerate of pocket nabes than a unified community. The houses sit on large lots away from the street and provide ample space–something that's at a premium in Chicago. A vast number of local bars and restaurants keep residents fed and social, and shopping options are nearly limitless. The blue line of The L runs right through the heart of this nabe, which makes getting around the city quick and hassle free. Essentially, Irving Park has it all, and more.
Irving Park Data
Irving Park Articles and Reviews
Residential, But Still Urban
I spent most of my childhood in Irving Park. Growing up here, I loved the residential feel to the neighborhood. This residential feel is the neighborhood's primary identity, and it's what makes a good number of urban dwellers from other areas of the city feel as though Irving Park is a little suburban. Regardless of whether that description strikes you as positive or negative, the assessment is a little lazy. Sure, there are more (and bigger) houses than people are likely used to seeing in the city here, but there's also street food vendors and plentiful public transportation.
Fitting with that theme, there are a good number of parks all across the neighborhood. On warm days they are filled with people walking their dogs or playing soccer, and during the summer there is a weekly movie screening in Independence Park. Many of the neighborhood's parks are in such close proximity that you'll see people walking between them, looking for the most competitive pick up games, or perhaps reviving my childhood pastime of trying to find a swing set with the perfect amount of swinginess.
As I've grown older, my interests have shifted away from swing set analysis towards dining and nightlife. Here, Irving Park can seem at first glance to be lacking. You have to know where to look though, as there is actually a good deal of dining diversity. You can find Moroccan (try the pastilla), Peruvian (delicious ceviche), and Michelin Guide recommended barbeque (the entire menu is great) spread throughout the nabe. As for nightlife, there is not a whole lot here. There are some dive bars that particularly brave and early adopting hipsters have begun to stake a claim to, but on weekend nights my most honest recommendation would be to either take a bus east towards North Center or a train to Wicker Park or Logan Square.
For a long time, Irving Park had one of the most active neighborhood historical societies in the entire city, though that fascination has faltered slightly in recent years. The history of the neighborhood is worthy of a closer examination, particularly as Irving Park's story is also the story of the westward expansion of Chicago. In fact, the mural commemorating the nabe's original billing as "A country home within 15 minutes of the city" perhaps explains some of the "suburban" tag that people have put on it.
Irving Park is certainly not for everyone, but it's very safe, the rent is notably cheap, and you shouldn't have a tough time getting around by bus (primarily the 80 Irving Park) or train (Blue Line).
Colin S.
Charming is one word for it
One of the more residential nabes that still lies close to the heart of Chicago, Irving Park is one picturesque place. Take large Victorian Homes, add some trees and yards, German heritage and BAM you have Irving Park. With the large number of preserved and restored 19th century homes set back from the streets, interesting restaurants and parks galore, I only wish I could afford to live here.
Definitely one of the pricier areas on the north side, it is located conveniently off the Blue Line Addison, Irving Park and Montrose stops.
Marianne L.
Upwardly Mobile
I visit this neighborhood often. If I could afford it, Irving would be on my list of ideal Nabes to settle down in. In addition to a dedicated L stop and the wellspring of commercial activity that tends to surround them, Irving and Damen form a "six-corner" intersection with Lincoln, which provides an uninterrupted caravan of trendy businesses and restaurants from Lincoln Park to the nearby adorable little enclave of Lincoln Square.
Off the main aves, the feel is more residential with single-occupant homes, yards, parks, tremendous public schools and (my god… my god) trees! Trees in Chicago!
There's plenty of variety in the eating. This area was a center for German immigrants way back when and there are still several Brau Hauses and butchers that represent the old neighborhood culture, though the neighborhood is more diverse nowadays. These are the only places I'm really interested in drinking in within the confines of this neighborhood. There is some gorgeous old architecture. Great to visit, presumably great to live there. Maybe when I'm older, wiser and a little bit more flush with cash.
Michael
Humbling, and gorgeous, you want to live here… Just take a quick look
Irving Park is one hell of a conglomerate of nabes. Stunningly beautiful and infinitely humbling, the housing in this nabe creates waves of envy sweeping across Chicagoland. Late 19th century estates and brownstones that have been immaculately preserved give this nabe a unique aesthetic and a sense of history that few others in Chicago can match. The shopping, dining, and drinking options are quirky, interesting, uniquely Irving Park, and ridiculously plentiful.
The schools here are considered some of the best in Chicago, and there are multiple private institutions following all sorts of educational systems. Housing is pricey in this nabe, especially for older houses and estates, but occasionally you can stumble across something that is actually affordable. Nothing in this nabe is a hovel, so anything you find that is affordable is likely worth it, and will probably return your investment quite effectively.
This nabe is awesome, it's gorgeous, it's interesting, it's educational. It's the full package, especially with such convenient access to The L.
John S.