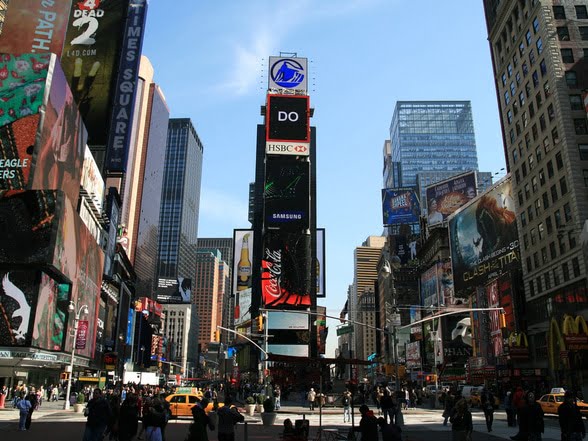 Theatre District/Times Square
by nabewise
Infomation
The Theatre District, also known as Midtown West, is either the heart of New York or a tourist trap, depending on who you ask. Home to Times Square, the Theatre District is a year-round hot spot for visitors flocking to the area's flagship stores, big Broadway productions, and live television studios. One of New York's most bustling nabes, nowhere else exemplifies "bright lights, big city" quite like the Theatre District.
Top Votes – Score out of 100
Public Transportation 91
Nightlife 81
Tourists 76
Shopping 72
Safety 61
Lowest – Score out of 100
Community 16
Parking 10
Quiet 9
Green space 6
Seniors 5
Top Reviews from Travel Rentals Neighborhoods
Amazing!

Times Square is absolutely breathtaking. The people are amazing, and very kind. Its a great place to live if your nocturnal. The area is jaw dropping at nighttime.

What's awesome

Everything! The colors, flashing lights, people, stores, food, etc.

Marissa C.
This is Where the Tourists Go

When I come to Times Square, it is likely only to see a show or musical, but nine times out of ten at the invitation of a suburbian or other non-local.

Times Square is exactly what people think of when they think of Manhattan, but because of this it is built to appeal the spend-happy tourists.

It is noisy and visually loud, filled with people trying to sell you something – whether it's the in-store solicitors or the humongous ads in its center, you likely wont get out of Times Square without spending some dough.

I try to stay away from Times Square, but it is a must for NYC virgins.

What's awesome

Theatre, lots to do, a sight to see

What's not so awesome

busy, loud, sense-overload

bbb
Times Square ,The Coss roads of the world!

Everyone who lives in the US at some time or another has watched the ball drop in Times Square on TV. It is on the bucket list of so many. I personally can't get excited about a ball dropping with thousands of other people I don't know in the cold. But I have been to Times Square to see the ball drop. I did it in 1981.
I can't imagine it is fun any more to watch the ball drop. I did it when I was 18 and haven't been back and I am 47. I understand the security measures that have to be in place especially since 911. But at the same time I can't imagine it being fun any more at all.
http://manhattan.about…
Here is another site that gives information of how to view the ball drop.
http://www.timessquare…
You have to have a strong bladder because if you leave your spot you lose it which means you don't get to use the bathroom the entire time you are there. According to this site you have to be there by the afternoon to get a good viewing spot. I have heard some people go to stand and wait early in the morning. Still if you want to put up with all of that , it is on may people's bucket list. You are there not being able to move for about 12 hours. Plus you can't take food or drinks or a back pack.
It is true that NYC is the center of the Universe and Times Square is the center of it all.
I remember Times Square back in the day when it was full of crime. In the mid-1990s, Mayor Rudy Giuliani (1994-2002) led an effort to "clean up" the area, increasing security closing porn theaters, pressuring drug dealers to relocate, and opening more tourist friendly attractions. Advocates of the remodeling claim that the neighborhood is safer and cleaner. Haters have countered that the changes have Disneyfied the character of Times Square.
I like many have a love hate with Times Square. Going to Times Square is no New Yorkers idea of a night out. But I do appreciate the changes that have been done here. I also like the Hershey's store because they have a Hershey's chocolate candle that smells just like chocolate.
Times Square Church opened up in 1987 The Times Square Church was founded by Pastor Dave Wilkerson in 1987. At the time, the area was known as a center of X-rated films, strip clubs, prostitution, and drug addiction. Pastor Wilkerson opened the church in response to what he described as "the physically destitute and spiritually dead people" he saw among the pimps, runaways and crack dealers who populated the area. The Times Square Church briefly held it's services in The Town Hall on 43rd Street in Manhattan and then in the Nederlander Theatre on 41st Street. In 1989 the church moved to the former Mark Hellinger Theatre, it's current location on 51st Street. The founding pastor did many outreaches in the area to drug addicts and prostitutes helping to change the crime element in Times Square. Pastor David Wilkerson is no longer a part of the daily operations at the church and is 79 years old now. But his influence will forever mark the church and the Times Square area. I was privileged to take part in the out reach to prostitutes in the area under his direction. I was in my twenties at the time and saw the transformation of Times Square which at the time was nick named Slimes Square.
Wholesome families were not able to enjoy Times Square as they can now. In general I feel New York City has lost much of it's flavor since 911 but the changes in Times Square were necessary for tourists and for residents.
I feel a little differently than a lot of New Yorkers having spent so much time in Times Square and having invested time and energy and effort in seeing it change. Because I have seen it change before my eyes over the years for the better in terms of safety I feel a little better about it.
One of the reasons New Yorkers hate this area including myself is the over priced chain restaurants that none of us would ever want to go to. My advice is walk over to 9th Avenue to Hell's Kitchen and get some cheaper better food.
I also suggest to tourists that if you want to get a NYC feel you won't get it here stay in a hotel in another neighborhood. Take the tour buses through Times Square if you want to see it but to experience the true NYC stay in another neighborhood. In between jobs I used to baby sit at the hotels in NYC. In my opinion as far as hotels in Times Square go they are all the same only the names change.
There are so many other areas to stay in Union Square, Soho, so many more.
New Yorkers also hate it because it is fake. If you want to see the real NYC tryBrighton Beach Brooklyn, Dyker Heights Brooklyn, Arthur Avenue in the Bronx,Astoria and Jackson Heights in Queens , China Town in Manhattan, The East Village and so many more.
Still it is a must see for tourists. It is nick named the cross roads of the world.
http://www.timessquare…/

Pinky P.
Good Times at Square?

The Theatre District and Times Square can easily be described as a tourist's haven. That may sound negative, but the main attractions can often be repetitive for locals. With lights flashing from televisions and scrolling banner ads 24/7, it's an area of the city that is always alive and exciting.

Public transportation is teeming, with a subway stop in the heart of Broadway Avenue that connects you to anywhere on Manhattan, and even to the Bronx or Brooklyn. Buses and taxis also run through constantly, as well as pedicabs and horse-rides; walking is an option as well, but the crowds on the street are sometimes worth the extra few bucks for transportation services.

Times Square is also home to some of the most famous delis and restaurants such as Roxy or the Carnegie where you can get the world's largest roast beef or chicken salad sandwich. And if you step off the main drag you'll find some incredible spots to eat all varieties of cuisine from Italian to Moroccan to Chinese. You name it, it's available.

Just off Broadway Avenue is the Theatre District for which New York City is known. All major on and off-Broadway shows come through New York, so be sure to catch a show or two; they are completely worthwhile, even just to see how it's all pulled together.

The Theatre District is also known for its late night eateries as well, just after the shows release their crowds of hundreds. Foods of all kinds are available until the wee-hours of the morning, so don't worry about staying too late!

I wouldn't recommend living in this area, but for someone new to NYC, it's definitely a place to be.

Dave B.
Great workplace, but think twice about living here

The Theater District is, among other characteristics, sandwiched amidst some of the largest financial powerhouses in the city. Morgan Stanley's headquarters are scarcely 500 yards from the Eugene O'Neill Theater and fewer than two blocks from the famed Gershwin Theater. Barclays Capital, Citibank, and what used to be of Lehman Brothers are just around the corner. It's a great perk if you're an employee at one of the dozens of financial, law, media, retail, and hospitality firms in the District – just take off that suit and tie and head a few blocks down to catch the latest rendition of Wicked or Chicago. It's less of deal if you're a resident of the area and don't want to be flattened by throngs of people carrying a six-pack of vanilla chai back to the office at all hours of the day.

Betty J.
This neighborhd is so great, I really feel as if I'm a part of New York wandering in the Theatre District! Such great stores everywhere, and I can pop in and out of any show I'd like to see. It's all here. Before I lived in NYC, I imagined this place and it really has the energy and the people I imagined -it's touristy, true, but I think even New Yorkers love the area a little.Christy S.
Why would you ever want to live in Times Square? Okay, I understand living nearby, if you can afford it, but it is literally as bright as day and just as noisy around the clock. Plus, to have to fight through hordes of tourists all the time just to get out of your building? That seems like one of the most unpleasant ways you could spend your rent. If you're feeling starstruck by Broadway, there are definitely cheaper and more livable options nearby, although rent will still be astronomical.Denny
I am so glad that Times Square isn't the rathole that it used to be! I've lived around here for a while now, moved in just after it was being revitalized, and it has never been a better place to live, minus the tourists. Everything I could ever want is right outside my doorway, and every subway in the city connects here.Vicky H.