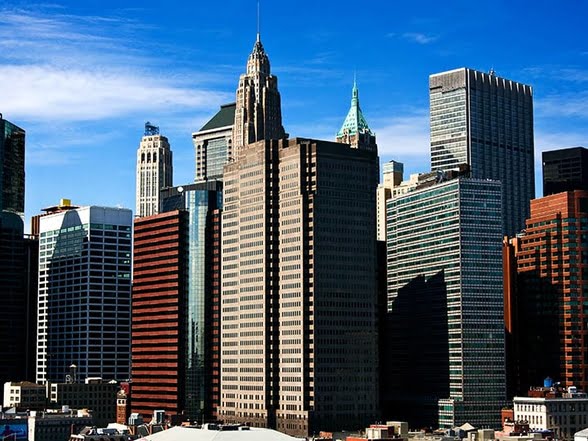 Wall Street/Financial District
by nabewise
Infomation
While Wall Street/Financial District used to be a nabe exclusively reserved for 9 to 5 businessmen, in recent years, this nabe has transformed into a desirable residential area for all sorts of New Yorkers as well. Bustling during the day and relatively quiet at night, this nabe is filled with high rises, historic architecture, and new buildings ready to move into.
Top Votes – Score out of 100
Safety 98
Public Transportation 97
Clean 88
Singles 75
Pet friendly 75
Lowest – Score out of 100
Income 39
Nightlife 29
Parking 29
Seniors 17
Community 17
Top Reviews from Travel Rentals Neighborhoods
Like all New York neighborhoods, this one is changing. It used to be a graveyard after the 9-5'ers went home. There wasn't much in the way of dining or attractions except to see the suits race towards the New York Stock Exchange. But nowadays people are moving into luxury condos, bringing more and more bars and restaurants and attracting more tourists to the South Street Seaport for waterfront views, shopping and the mandatory walk across the Brooklyn Bridge. A lot of people are going to knock living in this neighborhood because of its lack of after-hours activity and what appears to be its distance from the rest of Manhattan. But these criticisms are unfounded. The night scene is rapidly changing, but not so much that the area is raucous at night. There are plenty of local favorites. And because of the number of express trains that run down there, it is a very easy commute to other destinations in the city.Beverly W.
50,000 Residents and Growing

FiDi is one of my favorite places in New York. Brimming with amazing architecture and interesting, winding streets, I love wandering around in the oldest part of New York. There is a lot of high-end shopping, particularly on Wall Street and Broad Street, including Hermes, MySuit, Thomas Pink, and La Maison du Chocolate. The apartments available for rental or purchase tend to be well-sized with sleek modern finishes and the buildings are brimming with amenities like fitness centers and roof decks. The ferry terminal at Wall Street can get you to convenient places like Ikea or the beach relatively quickly.

What's awesome

Nice buildings, luxury shopping, quiet, breezy

What's not so awesome

Christopher M.
This is Wall St.

where all of NYs most important businessmen, traders and entrepreneurs work. It's the center of the financial universe, and is filled with lofty highrises and luxury office buildings.

There is a lot of history here, as well as the makings of our future. It is a great spot to stop in, but unless you're used to NYC's fast paced lifestyle, not worth a tour.

That doesn't mean there is any lack of tourists in this area. During the daytime Wall St. is packed with locals and out of towners. You are bound to run into some foreigners if you spend more than 20 minutes in this nabe.

New residential buildings are sprouting. Even some office buildings are converting to accommodate people living here. Who can blame the realtors, though, just check out those water views!

Richard H.
go have an anthropological experience

Pet the charging bull and then get out. No wait, I take that back. Being in the financial district when everyone's getting to/leaving work is kinda cool—the whole men in suits marching through the streets thing makes u feel like you're back in the 50s

bbb