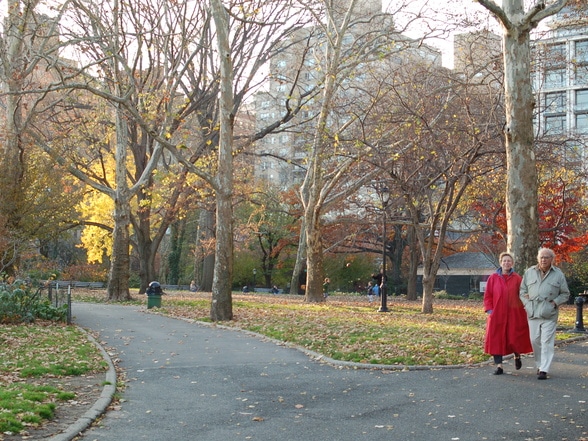 Infomation
Yorkville is a quiet and relaxed nabe that sits in the northern limits of the Upper East Side. Home to such landmarks as Gracie Mansion and Carl Schurz Park, Yorkville boasts close proximity to Hunter College andFordham University, a wonderful variety of restaurants, and easy access to Central Park and Museum Mile.
Top Votes – Score out of 100
Public Schools 86
Students 84
Safety 84
Pet friendly 83
Families 80
Lowest – Score out of 100
Community 46
Income 42
Shopping 39
Public Transportation 36
Parking 33
Top Reviews from Travel Rentals Neighborhoods
The Long Quiet of Yorkville

would seem to wholly define the area when strolling the upper reaches of East End. The two way York avenue appears to stretch out a peaceful escape from the tourist-filled Central Park crew, but Yorkville is a neighborhood with a thriving bar scene and active daytime regime.

Whether you fancy having a picnic overlooking the East River at Carl Schurz Park, or if barhopping (from Aces, to Rathbones Tin Lizzie, to Molly Pitcher's, to Mustang to Bar Vespa) is more of your thing, Yorkville is a suitable environment for anyone with a taste for one the most genuine areas in the city.

The food is great too, with plenty of places open late: including innumerable delis, and diners. There is plenty of sushi to be had around here, as well as great finds for burgers and even French food e.g. Café Dalsace, and Quatorze. Personally, I would make a trip to Tal Bagels for bagels and lox, hit up Genesis for one of the best burger's in NYC, and indulge on dinner at Elio's on 2nd ave.

What's awesome

Bars, The East River, Carl Schurz, East End, Asphalt Green, 24-Hour Food, Movie Theatres

What's not so awesome

No Second Ave. Subway Yet 🙁

Richard H.
A perfect training nabe.

When I up and decided to move to New York, I asked my lone friend here to find us a two-bedroom place in Manhattan before I arrived. I didn't care where it was and wasn't likely to know the difference among nabes.

I'm currently three years an NYC-dweller, and while it isn't what my now-semi-snooty self would choose, Yorkville's the perfect place to adjust to New York. The grocery stores are plentiful and not too crowded, so not so many will witness you crying as you adjust to New York food prices. The least populous part of Central Park is nearby-ish, which is wonderful, though I see everyone else who's reviewed Yorkville mentions Carl Schurz park. Never heard of it, but I'm sure it's lovely.

I lived a block from where Barack Obama once did. My year here was the only one during which I worked out regularly. That's due to the utter magnificence that is theYMHA (92nd St. Y). If you live in Yorkville and aren't a member, I'm ashamed for you.

Other fun Yorkville memories include riding in a cab up 1st Ave. that struck a biker in the bike lane, then nearly being struck on my bike in the exact same spot a week later (do be careful). Also, the park; dear, neighborly friends; and one of the best bars inNYC: Auction House on 89th. But, mostly… the park.

Laura G.
A Stellar Place to Get Comfy in NYC

Yorkville is an overlooked but completely homey and charming spot. Not quite as uptight as the rest of the Upper East Side and definitely more affordable, Yorkville is a great walking neighborhood with many restaurants, easy access to Museum Mile and both Central and Charles Schulz Park (beautiful and right on the water). As a three-year Yorkie resident I can say that I dearly love the livability of this neighborhood— you're in Manhattan, but it's clean, safe, great for walking and quiet at night.

Yorkville is not for everyone and people who live here will probably grant it greater merit than mere visitors. This is one of those great places to become a regular at a cafe, to meet friends on Sunday mornings, and to go about daily city life. Visitors are often distracted by the more chic and eastern parts of the UES, frequenting the museums and shops that line Park and Madison.

Sarah G.
Yorkville, long walk for low-prices

Though Yorkville often seems like such a lengthy schlep from the Lexington Avenue subway lines, it's low real estate prices make the calorie-burning strut well worth your while. Yorkville encompasses the far eastern end of the Upper East Side (Eastern 60's-80's below Spanish Harlem) and derives its name from York Avenue, just east of 1st Avenue. This neighborhood is very quiet, comprised mostly of families and recent college grads, but offers cheap and lively bars, 24-hour diners, luxury grocers and specialty food stores, and wonderful East River waterfront parks. Nightlife revolves around small but fantastic neighborhood restaurants and usually ends before midnight. Weekenders enjoy brunching at sidewalk cafes, purchasing fresh produce from respectable markets, or jogging along the well-kept riverfront esplanade. What this neighborhood lacks in community and subway accessibility, it makes up for in affordability and with the 2nd avenue subway on the way, that schlep might become a mere hop, skip, and a jump.

Andrew B.
Shhh…The neighborhood is sleeping

The epitome of calm, Yorkville is practically defined by its close-knit community and easy access to both Carl Schurz and Central Park (provided you don't mind a bit of a walk).
Though, this solitude comes at a cost – namely transportation. WIth the Lexington Ave line way over on…well…Lexington Avenue, it's a solid hike to get anywhere around town. Even taking the 1st or 2nd Avenue busses can be a bit of a pain. If you have a car, there tends to be plenty of garages to duck into, but that can be a costly way to live here.

Paul S.
Yorkville seems like a nice nabe to settle down and raise kids in if you can afford it. It's got a couple small parks but is in walking distance or a five-minute bus ride away from Central Park. Very classy, fancy place. Lots of great museums in the area, as well as nice restaurants. A bit of a walk to the nearest subways until the Second Avenue Line gets going, thoughdanny
Yorkville is great! The apartments are beautiful and spacious, and you can't help but have a wonderful view of the city (unless you live on the 2nd or 3rd floor). There's any kind of restaurant you could want, and it's so nice to be able to hop on the bus for five minutes and all of a sudden be at the entrance to the Met. I wish there was a closer subway, but give or take five years and the 2nd Avenue Subway line will totally change that.john
Why is the Second Avenue Subway such a disaster?! It's demolished the wonderful quiet that my block used to have, plus now I have to navigate around the big construction sites! And God knows, how much longer it will take before it's finished. It's become a neighborhood joke.Robert B.
I grew up in Yorkville, and have lived here for most of my life. My earliest memories are of going and playing in Carl Schurz Park and standing at the walkway looking over the East River towards Queens. I attended a fantastic elementary and middle school right in the neighborhood, and I couldn't have been happier! I love Yorkville, and I am so thankful that I grew up here. Even though I've moved into Brooklyn, I still think of it as my neighborhood, and always will.Anne B.