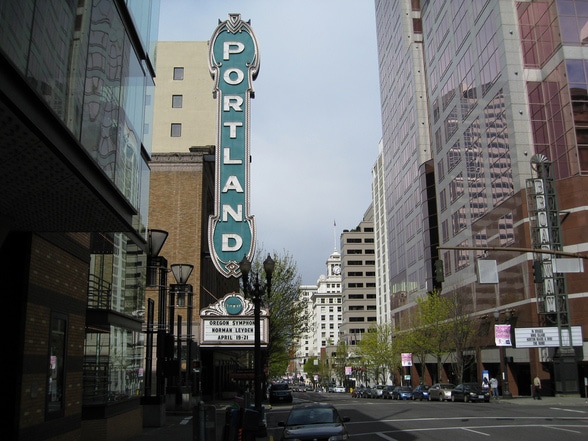 Those looking for a true urban experience in Oregon should look no further than Downtown Portland. It has the high-rises and office buildings that people usually associate with a downtown area, but never feels like a concrete jungle. There is a lot to see and do – fortunately, getting around is as easy as hopping on the free light rail system that circles around the downtown area. Boasting features like the nationally-known food carts, a quirky nightlife, and a highly-trafficked riverside waterfront, Downtown Portland represents everything that makes the city truly unlike any other.
Downtown Data
Top Attributes

Public Transportation

9.3
Lowest Attributes
Downtown Articles and Reviews
A Little Bit of Everything Portland
For first-timers who have heard a lot about Portland, going downtown can be like seeing a celebrity IRL—not as tall as you imagined. But downtown PDX's lack of big-city vibe is actually a good thing, because:
Flicks on the Bricks (movies in the red-brick Pioneer square in the summer) + food cart central + upscale shopping + people jogging through homeless camps on the waterfront + University of Portland + guys in suits + street punks hassling you for change + never being able to turn left + performing arts in theaters and on street corners + Portland's biggest farmer's market in the park blocks
=
Downtown Portland
What's awesome
Portland has finally gotten on the map enough to get big-name national stores like H&M and Sephora downtown.
What's not so awesome
Carrying a shopping bag with something new in it and telling someone sitting on the sidewalk that you swear you don't have any spare change.
Ellen F.
The Best Part of Portland
Okay, so I confess: I'm a city girl. So, I can't help but give raving reviews to Downtown Portland, Oregon. Although I haven't lived in Downtown, I have worked and gone to school (Go Vikings!) in the area, and have thoroughly explored the different venues the area has to explore.
First things first, if you happen to be attending Portland State University, in the heart of Downtown Portland, let me tell you that you will not be disappointed. It's an urban campus and you can experience the city life while still feeling part of a community of students. It may not be the best campus in terms of sports and team spirit (hey, this is why so many Portlanders are for the Ducks and Beavers), but it still has charm and holds a special place in my heart.
Next we have the dining. If you consider yourself a "foodie," you will find yourself in foodie heaven. Not only does Downtown Portland have the growing popularity of delish (oh yes, I said delish) food carts, but there is also a wide variety of must-try restaurants in the area.
And then the shopping. The shopping will appeal to you if you are anything like me and can spend about 8 hours on your feet checking out clothes, shoes, and accessories without blinking an eye (or wincing, or crying out in pain). From the higher end stuff that you can find in Nordstrom, to the more obscure, more hipster shops, you will find yourself spending way more money than you should.
The negatives? Actually living in the Downtown area can get a little steep. Those high rise apartments that you see in the area may look appealing, but they do pose a cost issue and can break your budget (and if the word budget is in your vocabulary in terms of living, you may want to look elsewhere for the neighborhood to call home).
Second downside – the homeless and the occasional protest or two. When a neighborhood makes the national news for its protest, you know it would have to come up in a review. Although the Occupy Portland has pretty much died down, it still can be a growing concern and can increase the likelihood of crimes and decrease safety. The issue of the homeless hanging out in the more populated, trafficked sections of the Downtown area is also a ongoing issue, but I would say that this should be expected for any type of Downtown.
So, I hate to end with a negative, so let me reiterate the positive – in terms of shopping, food, and overall experience, you will enjoy the Downtown Portland area. And if you can afford it, you will enjoy the Downtown Portland area even more. My feeling? This is the best part of Portland.
What's awesome
shopping, restaurants, nightlife, Portland State University, food carts, great for walking,
What's not so awesome
Homeless, High rent cost
Nicole P.
Oh, downtown!
Oh downtown, downtown, downtown. There's a reason people are apt to say "only in Portland," and you contribute to this more than you know. Only you could house both upscale businessmen and women with too much cash and not enough taste and so many roaming homeless people yelling at pigeons and pacing nervously in front of Starbucks. Only you could present one of the world's best bookstores right down the block from a hardcore fetish shop that would make Dr. Frank N. Furter himself blush. Your food carts are enough to make even the most valiant, hardened food critique weaken, and the highly-overrated-yet-never-forgotten Voodoo Donuts never ceases to amaze with it's Nyquil-stuffed donuts and Cap'n Crunch sprinkled sweets. And lets not forget the dirty anime theater next door and the hell-themed bar across the street. Yes, Downtown, I love you, and yes, I am ready for you.
What's awesome
Powell's, an eclectic mish-mash of everything good and bizarre. This holds true for most of Portland, but Downtown tends to get the cleaner, more extreme versions of these things.
What's not so awesome
Parking and driving is a nightmare. Whenever possible—I repeat, WHENEVER POSSIBLE—take public transit.
Tiffany P.
Never Feels A Concrete Jungle
Downtown Portland is basically labelled as the area of "downtown" sandwiched between the Pearl, Goose Hollow, and the Willamette River. In the south you have Portland State University, which is surrounded with plenty of student-friendly locations in it's vicinity. As much of the grungier parts of "downtown" are located in Chinatown, the nabe of Downtown Portland is actually quite pleasant compared to other urban centers.
Never feeling like a concrete jungle, trees are very common throughout downtown and overall, the entire area feels rather welcoming to suburbanites and tourists alike. The real payoff, however, is down at the Waterfront, where Portland the city meets nature. A number of festivals are held in the area throughout the year including awesome food and beer festivals and the celebratory Rose Festival.
But even when there isn't an official festival going on, the people hanging out on the Waterfront always seem like they're celebrating something — perhaps just the fact that they're living in Portland and it's actually sunny outside.
Luke L.
Love Downtown Portland
Downtown Portland has just about everything you need for urban living. Restaurants, shops and grocery stores are easily accessible. There is plenty of nightlight to keep most everyone entertained.
What's awesome
Public transit can get you anywhere in Downtown Portland. What's better, is that the trains are free in Free Rail Zone.
What's not so awesome
It can feel a little deserted at night.
Adam T.