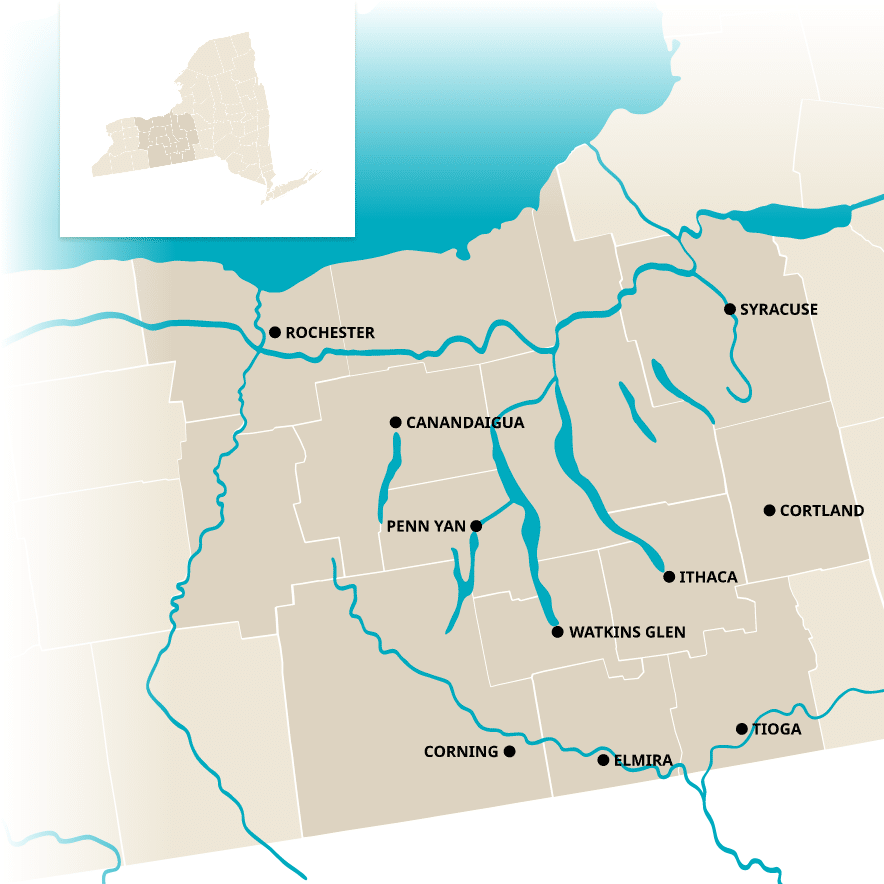 Must See Events at the Finger Lakes of New York
By Nabewise
These are seasonal events not to be missed at the Finger Lakes of New York.
The Finger Lakes of Upper State New York are home to many scenic, winding roads that ultimately lead to the area's most treasured tourist attractions — its wineries. Many wine lovers flock to the Finger Lakes each year to savor all that the region has to offer and with an abundance of tranquil beauty, wineries, wine festivals and fun-filled seasonal activities, it's no wonder why the Finger Lakes are fast becoming year round hotspots among families, honeymooners and an array of people looking for fun without the crowds.
Laid-back charm and a host of activities flourish here. You can either enjoy quiet time with the family or a loved one on your own time or if you prefer you can go horseback riding, kayaking, hot air ballooning, hiking, biking, golfing, fishing, go on scenic and nature tours or see the Finger Lakes in all its splendour while skydiving.
A million activities await you in the Finger Lakes, but activities crucial to experiencing the Finger Lakes like never before is to partake in any of these seasonal activities; they attract tourists like bees to honey in these wine towns.
Spring
Join in the rich festivities of vibrant Keuka Lake at its annual World Tour of Food and Wine. Visiting the Finger Lakes in the spring has never been better. Held annually on April 21 and 22, tourists get to savor wine and a selection of world-class cuisine from all continents. As tourists drive through the wine trail, different wineries along the path serve up samples of food and wine at a cost of $20 in advanced and $25 dollars at the door.
Also another must see event at springtime in the Finger Lakes is the annual Maple Festival. The Maple Festival of the Finger Lakes is held on April 5 and 6 each year in honor of all things Maple syrup. Maple trees are found all over the Finger Lakes, so paying homage to these trees, many events include creating and savoring maple products, there is a pancake contest and even a maple queen is crowned every year. There are also other activities such as quilting contests and family friendly events and entertainment.
Summer
When the temperature heats up in Finger Lakes you know it is time for grilling and chilling. Don't miss out on the famed Keuka Lake event, Barbecue at the Wineries, held on June 9 and 10 and then for a second time on June 23 and 24. Each winery dishes out its finest take on barbecue paired with the best wine. Tickets are $25 in advanced and $30 at the door. If you are traveling with the special person in your life tickets per couple are priced at $40 in advanced and $45 at the door.
Fall
The Keuka Lakes' Oktoberfest in the fall is a number one attraction in the Finger Lakes at this time. Held in mid September, Keuka Lake's Oktoberfest is a favourite event for many. For a price tag of $25 in advanced and $30 at the door, you too can enjoy like the many that come here, the tastes of world-class Germanic style wines produced in the Finger Lakes. And because it is Oktoberfest you can count on German music, food and some beer to wash done your wine!
Winter
The Deck the Halls Holiday Weekend in Seneca Lake is an event that happens on November 17-18 also on December 1-2. Here, visitors go to the participating wineries along the trail where they are given food paired with the best wine. At the first winery visitors are given a recipe book so that they can cook the combination of food and wine offered when they return home, and are also given a holiday wreath that they can decorate with ornaments given at each winery. Tickets are $45 per person and $65 for a couple's ticket.
The Seneca Lake Wine Trail (Polar Passport) runs from December 3 to April 13. Enjoy a great tasting of wine along the wine trail for a price of $10 plus tax. Also, the Wine and Chocolate event in February is a must stop for lovers everywhere.
Tickets at the Finger Lakes events go fast so book your tickets months in advance for whichever seasonal delight you find most appealing. Visit their website for more exciting events not mentioned above.