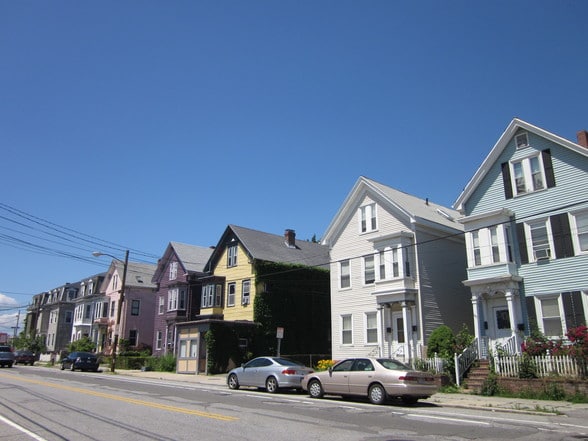 Wedged between Cambridge and East Somerville, Cobble Hill is an itty bitty nabe forging the border between Harvard's nerds and Somerville's hipsters. It's a low key nabe with some industrial smatterings and apartment buildings housing hordes of struggling undergrads. Cobble Hill boasts a park and a fairly well known historical cemetery that brings out the curious local historians. What it lacks in old New England beauty, it makes up for in its proximity to more lively nabes such as Harvard Square and Porter Square, and a convenient red line T stop.
Cobble Hill Data
Top Attributes
Public Transportation

7.5
Lowest Attributes
Cobble Hill Articles and Reviews
Great location
Apparently this nabe has a reputation for being gray and industrial, but I found it to be fairly nice and cheery. That may be because I visited on a gorgeous summer day and not in the midst of a dreary Boston winter, but either way Cobble Hill's a neat little nabe. It's location is killer—right in between Cambridge and Somerville—and for the most part families and students looking for cheap rent live here. There's not a whole lot in the way of restaurants and shopping, but when you're that close to Harvard Square and Porter Square, you can't complain much.
Heather V.
Also called Ward Two, this nabe of Somerville has more to do with Cambridge, thanks to its proximity to Harvard University. Students and the college's staff often rent here for the lower rates, giving Cobble Hill a quasi-campus feel. The dining options are superb, and the Basque restaurant Dali is one that all serious eaters need to explore. For anyone else, it's a great representation of what Northern Spanish cuisine is all about, centered around cheese, meat, fish and wine.
Ryan B.
Good location…
This is one of those neighborhoods that you look at and go, "Well, it's in a good location" and you pretty much stop there. It's true, Cobble Hill is close to Harvard Square and also to Porter Square and is quite conveniently located to the T. It does have a park which is a bonus but for the most part, this nabe feels a bit grey (all the time), bland, and lacking in neighborhoody character. Rent is cheap, location is convenient and you can probably meet some interesting people if you make an effort. Also, if you're into Boston history the Old Cemetery is a cool place to check out, and I'm not going to lie, the "greyness" of the nabe makes the cemetery extra creepy!
Mallory C.