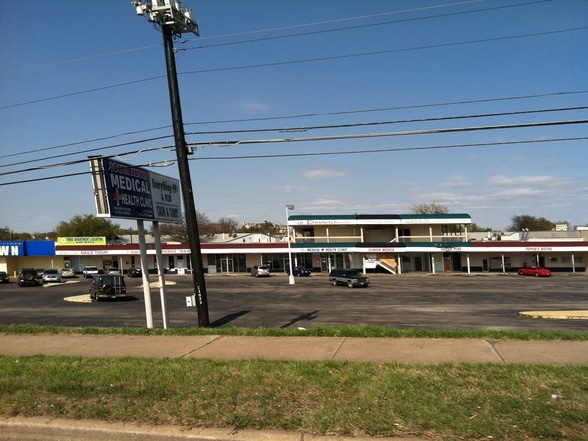 The typical Riverside resident suffers from too-much-to-do syndrome. Ever since the hike and bike trail expanded to the east side, they just can't resist the scenic route leading them towards music, theater, art, parades, festivals, and food in nearby nabes. Not that this nabe isn't a cultural center in its own right: many musicians, artists, and students live here and love it. Strip malls expanding from the west meet the bodegas of the east and keep everyone well-stocked as well.
Riverside Data
Lowest Attributes
Riverside Articles and Reviews
A Little Shady
From my experiences in Riverside, I haven't seen too much that has impressed me. It always seemed like there was something shady going on around me. There are a lot of dark parkings lots with suspicious looking characters doing sketchy things. There are a lot of apartment complexes and strip malls with fast food chain restaurants. Many younger people take advantage of the apartments because it's in close proximity to downtown and UT. There are some nicer places in Riverside though since it is along the river. They're just a little harder to find.
Adam K.
At least its close to the river.
Riverside gets a bad wrap…unfortunately, it kinda deserves it.
It's not all bad though. Riverside isn't called Riverside just because it sounds nice, this nabe is truly next to Lady Bird Lake, which allows for quick and easy trips to Roy G. Guerrero Park.
Austin Community College also has a campus in the nabe, and there is a golf course on the campus. Riverside is also affordable and close to downtown.
So, where did Riverside go wrong? A few reasons would be the sketchy people stumbling on the streets, strip malls stretching beyond the horizon, and a generally run-down facade.
I'm going to take a ride down Riverside and say out loud what I see: liquor store, check cashing store, liquor store, car wash, taqueria, porn shop, quick mart, Taco Bell, liquor store, check cashing store…You get the idea?
David B.
Right on Town Lake!
For such a notorious nabe, it sure is beautiful. It's right on town lake, has elegant houses and apartments, as well as smaller homes that are just adorable. There's lots of green space, parks, waterfront, shady trees, creeks, all that good stuff. Too bad there's so many crackheads.
There's a few streets around here that I would feel safe on though. I mean, it's Austin. Nothing is as ghetto around here as the places you could find in bigger cities.
Katy G.
Apartments….Everywhere.
When I think of Riverside..apartment complexes come to mind. Along East Riverside there are several huge complexes. I wouldn't call any of them terrible, but not particularly ideal either. Many are looking to exclusively house students, requiring proof of enrollment at UT, ACC, etc. The other complexes still seem to be full of students and young people.
I hate to sound like a snob, but a lot of these are pretty sketch. Not "scared for my life every step I take" but more like "wow, that guy is totally shady and I wouldn't troll around at night alone" sketch. Possibly even a "I should carry my mace with me here even during the day" sketch.
However, head towards Townlake and there really are some hidden treasures in Riverside. It's nice to walk the hike and bike trails around here because they are just as clean and pretty but way less people. As I attempt to get more in shape, jogging here is a little less humiliating when I stop every 10 minutes and feel like I am going to keel over and die. Townlake on the south side of Downtown is so full of perfectly fit people that I end up drooling in envy rather than getting my work out on.
Bridget D
Crackheads and Starving Artists
Riverside has earned a reputation. A bad one. Cops patrol this area often, on the look out for people trying to score drugs. And, yet, this doesn't seem to stop anyone.
But, if you don't mind running into some crackheads every once in a while, there are some pretty cool spots in this southeast nabe. The Metropolis is a popular apartment complex for local musicians. In fact, the residents often have little shindigs with live music and general badassery at the pool. Then there are a number of affordable rental homes and extremely cheap apartments that are pit-bull friendly, which tends to be a mark of the antichrist to most landlords around the city.
The expansion of the Lady Bird Lake Hike and Bike Trail connects this nabe to the scenic path that leads to Zilker Park, the bat fest bridge (Congress Ave), and downtown. There is also the little-known largely-underrated Roy Guerrero Park to the east, which covers as much acreage as Zilker Park, but without the bustling tourist traffic. While I definitely wouldn't recommend swimming around here, it is a good spot to put the canoe into Town Lake, and paddle upriver to find live music at the old power plant, or the fireworks show at Auditorium Shores, or the festivals that take place on the Congress Ave. Bridge, or the random jam sessions that happen on the Lamar Pedestrian Bridge… the possibilities are endless.
Yep, I could really see this nabe improving in the next decade or so. It definitely has potential, if you want to be one of the early pioneers staking your spot before the great gentrification trend invades.
Sammy J.