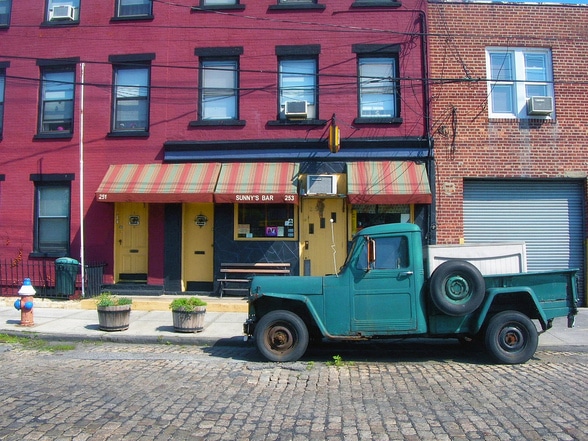 Red Hook, Brooklyn
by nabewise
Infomation
Red Hook is a storied waterfront Brooklyn neighborhood without subway service. Demarcated by the BQE and Gowanus Expressways, which separate the neighborhood from Carroll Gardens, Red Hook gradually garnered the reputation of being isolated when the docks fell out of use. Then the artists moved in, and with them the restaurants and bars. The addition of a large Fairway supermarket and IKEA has brought more visitors, but its remoteness still lends Red Hook the quirky, free and easy feel of an artist's colony and dock.
Top Votes – Score out of 100
Community 88
Hipsters 83
Artists/Creatives 83
Parking 80
Pet friendly 75
Lowest – Score out of 100
Safety 45
Empty nesters 34
Public Transportation 6
Seniors 4
Income 1
Top Reviews from Travel Rentals Neighborhoods
A distant town of it's own identity

A former thriving waterfront that was once home to gangsters, blue-collar workers, and dockmen in the first half of the century that became abandoned once all the shipping and waterfront jobs relocated to the cheaper docks of Jersey.

Red Hook, being inconvenient to most of the rest of the New York unless you have a car, has become a hub of independent artists who have overtaken the warehouses and gritty neighborhood and made it feel homey and inspiring. The neighborhood rallies against anything gentrifying or corporate, even if it sometimes seems to be in the best interest of the neighborhood – including transportation options, supermarkets, and needed retail in the areas. The promise of jobs, or added convenience does not seem to make Red Hookers willing to accept any change. This can be good or bad depending on what you would like to happen to the area.

That said, a resurgence of investment occurred in condo development in the early 2000s which has made it a much safer feeling and cleaner looking area, so bike riders from nearby neighborhoods now come down often in the summer for the killer views of the city and for some awesome sights looking off the open and public piers.

Great day trip location, but maybe a little difficult place to live unless you also work in Red Hook too.

A.C.
Red Hook is an awesome nabe! It's got wide streets that are excellent for binking and not having to worry about being hit by a car, a really cool vibe, and some neat places to go. It would be tough to live there without a car or a bike, or at least a willingness to walk for a while to get to a subway station.Danny L.
What you did not know about Red Hook

I want to be helpful and educate the hipsters who moved here from the M states or Ohio or Kansas as to why we make fun of them. Hipsters are not hip. New Yorkers see hipsters as naive and clueless.
Red Hook is one of the areas that hipsters have moved into. Although I give them credit. They are also pioneers. While people who were born and raised in Red Hook spend their entire lives trying to get out hipsters have made it safer and even "cool" to move in. How do I know this? I used to live in Red Hook as a kid and I was one of the only white people in Red Hook at the time. I was probably the only one and known around as" the white girl."
That was a few decades ago. I am actually Swedish, Hispanic and Japanese. I look mostly Swedish which is why I was refereed to as the white girl. But if you look closely at my pictures you can see in my eyes the Japanese. The Hispanic you can only see in pictures of other family members which I will include in this review.
But I knew what Red Hook was and lived there because I could not afford anything else. I have also lived in Park Slope, and other Brooklyn neighborhoods, Queens, the upper East side of Manhattan, the upper West side of Manhattan and several other Manhattan neighborhoods. But I have roots in Red Hook Brooklyn. It used to be called by residents "Little Vietnam."
Everyone I know there wants to get out and doesn't seem to be able to while the" hipsters" are moving in. I know a few nice hipsters who live in Red Hook Brooklyn. One is a really good person with a high profile career that moved here because his job moved him to Red Hook from an M state. But to those who escaped Red Hook it is funny that people actually want to move there now. I lived at 426 Columbia street. The PJ's. So when I call someone a hipster I have earned it.
Red Hook is the only part of New York City that has a full frontal view of the Statue of Liberty.
I was just moving out of Red Hook when they filmed the movie Straight out of Brooklyn. The family members I know who stayed in Red Hook all died before they reached their sixties either from AIDS related complications or violent death.
Though I really appreciate the renovation that is going on in Red Hook, I know it's roots and would never move back under any circumstance.

Grand Theft Auto IV is based on Red Hook.
http://en.wikipedia.or…

Taz the wrestler is also from Red Hook.
Al Capone is said to be from Red Hook.
In the 1990's LIFE named Red Hook as one of the "worst" neighborhoods in the United States and as "the crack capital of America."
Patrick Daly, the Principal of P.S. 15, was killed in 1992, in the crossfire of a drug-related shooting while looking for a pupil who had left his school. The school was later renamed the Patrick Daly school after the beloved principal.
Red Hook is the site of the largest public housing development in Brooklyn, the Red Hook Houses which accommodate roughly 5,000 residents. Red Hook's current eclectic mix of living artists and industrial businesses create a neighborhood coined "Residustrial" in 2008 by artist and resident John P. Missale. Red Hook also contains several parks, including Red Hook Park.
Red Hook is full of history, most of it colorful and much of it not good. Red Hook was at one time full of Santeria. I suspect that is how they came up with the name Botanica for the bar.
http://newyork.metromi…
A Botanica is where those who practice Santeria get their religious wares.
http://en.wikipedia.or…

In Red Hook Santeria was mostly from older Puerto Rican women who were Catholic and used the magic arts in addition to their religion. It is a religion of mixture. It is mixed with the magic arts, folklore. superstition and Catholicism.
The few original residents of Red Hook call the hipsters the crazy rich white people who moved in and laugh as they pass. If you are one of the crazy white people who moved in now you know why they laugh.
Red Hook is also the location where the transatlantic liner, the RMS Queen Mary 2, docks in New York City.
The beginning of the Red Hook renovation is said to have started with the building ofIKEA which was controversial at the time. The residents were concerned with traffic congestion among other things. Once a free ferry service for shoppers from Manhattan proved more popular than expected.
Now Red Hook is popular for the Red Hook Ball fields.
http://events.nytimes….

The popularity of Red Hook will always be funny to me.
But the renovation is certainly fascinating. I may always laugh when I see the clueless hipsters paying big bucks to live where I tried so hard to escape from but I am also grateful to them for renovating a dying neighborhood with beautiful unique views of the Statue of Liberty.

Pinky P.
Hook. Line. And sink 'er.

When I first stepped off the subway into this neighborhood I swore I was in the twilight zone. "This can't be Brooklyn," I thought to myself. There were so many cute little shops and stores. It was virtually untouched by that impending callous, corporate hand of doom. No starbuck's here. Thank heavens. There was a place untouched by that moldy disease. However, I knew I wouldn't be able to live there because there didn't seem to be any sort of nightlife. I went out with my friend to grab a slice of pizza at 7 pm on a Saturday and the place was virtually empty. There were some families getting pizza. It was very domestic. Scarily domestic. It made my stomach churn a little bit, not gonna lie. All I could say was, "Boy, I am NOT ready for this." It's fantastic, though, for families and people looking for a nice quiet neighborhood. I've heard a lot of complaints about its distance from neighboring fun communities like Williamsburg orBushwick and it is not all unwarranted. Though, I suppose that is the allure to a lot of people. Not everyone has been won over by the overrun-with-hipsters areas. It would also help if you made 6 figures as this place isn't cheap.

Chris S.
Pain to get to

I went down to Red Hook with my buddy and his mother. It was a pain in the ass to get to because it is wicked far away from Crown Heights by train. We went down specifically for these dumplings she had seen on the Food Network and wouldn't you know it, closed on Mondays. It was a whole bunch of malarkey but the area was really rundown and there were some abandoned factories about. The graffiti was really good but if you aren't into that sort of thing there was a fair amount of it.

Nick G.