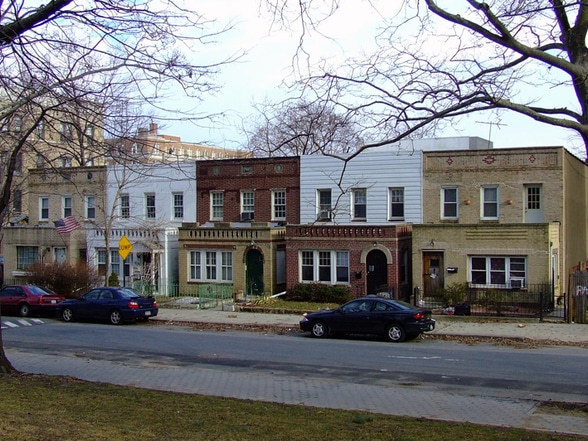 Astoria, Queens
By Nabewise
Infomation
Astoria has become one of the most well-known neighborhoods in Queens. The cafe scene is notable here: coffee and pastries highlight the neighborhood's myriad edible offerings. With Astoria Park, a host of shopping and dining options, and speedy commutes to Manhattan, Astoria shines as one of New York's hidden gems.
Top Votes – Score out of 100
Dining 88
Public Transportation 80
Nightlife 68
Safety 67
Pet friendly 67
Lowest – Score out of 100
Families 45
Seniors 42
Quiet 42
Parking 35
Income 9
Top Reviews from Travel Rentals Neighborhoods
Astoria

This is one of my favorite neighborhoods to visit when I want to get away from the big box stores and Disneyfication of Manhattan. It's a great place to walk, with lots of cozy ethnic restaurants that are filled with locals, not tourists. There are the Greek places the neighborhood is famous for, but much more, including a stretch of Egyptian and other MIddle Eastern eateries, cafes, and hookah bars. I love stopping by the Cronin & Phelan's on Broadway, a real Irish pub where with a great jukebox and an lovely owner who stops by your table to say hello. Astoria Park is great place to hang out and watch the great variety of boat traffic and nice views of Manhattan. Like the rest of Astoria, it's a laid back place, and if you like to swim, it has a cool Olympic size pool built in the 1930s.

Nina M.
Great neighborhood, low prices

Astoria is basically the complete opposite of Williamsburg: It has cheap rents, lots of good inexpensive food and nightlife options, and incredible cultural and age/family status diversity. Also boasting some of the best walkscores possible (www.walkscore.com). Some of my favorite spots include Sweet Afton, Sunswick 35/35, Linn, Taverna Kyclades, Rizzo's, Cronin & Phelan, and of course the amazing 100 year old Czech beer garden.

What's awesome

What's not so awesome

My street (Broadway) is kinda dirty around where I live. 30th Ave is much cleaner.

Sean T.
Nice neighborhood

I really enjoy it out here. Lots of things to do and see. Its full of young professionals and 20 somethings. You can catch most of them at the Beer Garden.

-The people are friendly and its one of the safer neighborhoods.
-There are lots of small Mom and Pops that add to that neighborhood friendly feel.
-The park is big and relaxing with a pool that most people flock to in the summer.
-The commute to the city is quick, just hop on the train and in 15 minutes you're there.
-There are lots of great foods and in all types of flavors.

Its getting kind of populated here, but its still one of New York's best kept secrets. Known for being a lot of singles, I also think it's a great place to raise a family.

Ryan O.
A Story about Astoria.

If you're a recent college graduate from out of state/upstate or have dreams of living in the city, you'll probably end up living in Astoria. Astoria is located in Queens, which is probably the most diverse borough in NYC. Walking up a block in Queens you're likely to pass a Japanese Cuisine, Turkish Restaurant, McDonalds, and a Halal Cart, so it has something for everyone! I've been to tons of neighborhoods in NYC and Astoria is up there with being safe. Astoria also has it's fair share of bars, both hookah and the alcoholic version. The only problem I have with Astoria (Queens) is the way they label their streets. At times it gets really confusing when you're trying to find 30th st and 44th Ave but instead you're on 30th Ave and 44th St. All in all, it's a good place to live.

Kadeem H.
Astoria for Everyone!

Even though I live in the Bronx I love traveling to Astoria multiple times a month. Astoria is a great place for anyone to visit, and live in. This nabe is so close to Manhattan without actually being in Manhattan. But aside from this Astoria has its own nightlife scene that makes it unnecessary to even travel to Manhattan.

On one side of Astoria you get a very Grecian feel. Along 30th Avenue you will come across various stores that are home to Greek cafes filled with delicious Greek pastries like Baklava, Loukoumades, and famous Greek frappes. These cafes include Avenue Café and Grade Café. There are also various Greek restaurants in this area as well including- Aliada (on Broadway), Zenon, and Loukoumi. Like the Bronx has Arthur Ave as its Little Italy Queens has Astoria as a Little Greece. Being Greek I love coming here with some friends to experience some great Greek food at an
affordable rate.

On another side of Astoria (along Steinway) you will find various Indian spots home to some great hookah bars. My friends and I also come here once in a while- usually in the summer- for some hookah and some dancing. Many of these places have a house DJ and offer a great club vibe at a much cheaper price with less hassle of actually going to a club.

Astoria is also home to some cool shopping areas, has a very suburban feel in certain parts, and does house some private and public schools.

Helen C.
Good, clean, centrally located neighborhood

I lived in Astoria for 5 years. I'm always humbled by the graciousness and the diversity of its people. It's safe, clean and a friendly part of town.

What's awesome

Volkan U.
Astoria

Although I do not live in the neighborhood I eat and go to the parks here like many residents in

NYC

.Astoria is a multicultural center for people from every nationality but having roots in Greek, Italian and Irish culture. Long Island City Astoria are some of the safest neighborhoods in all of New York City. The neighborhood's architecture reflects its rich past: a hodgepodge of prewar apartment buildings, renovated row houses, brick tenements, and two family houses combine the old with the new. Partly due to the strong immigrant influence, the presence of the film industry, and the recent surge of Manhattan expatriates, today's Astoria enjoys a variety of small businesses, ethnic dining, bargain shopping, and nightlife.

According to Wikipedia Astoria is a diverse neighborhood, with many immigrants from several countries, including Greece, Italy, Ireland, Montenegro, Albania, Mexico, Ecuador, Colombia, Brazil, India, Pakistan, Bangladesh, Croatia, Egypt, Morocco and Algeria.

Astoria especially has a rich multicultrual restaurant scene. http://weheartastoria….

Astoria has a long history of movie making. http://www.myastoria.c…

http://www.kaufmanasto…/

Astoria is home to Astoria Park and Athens Square Park.

http://www.nycgovparks…

What's awesome

Pinky P.
A Nicer Side of Queens

I spent a month and a half living in Astoria during the summer. With it's big produce markets, its mix of friendly people, and good Greek food, it's a nice place to live. Of course it has its share of dirty corners and places you wouldn't want to be after dark, but there's also a nice neighborhood feel to the place. It's not uncommon to see neighbors meet and chat on the street – particularly among the older folks. (There were several charming old Italian couples that would pull out their plastic chairs and hang out on the sidewalk outside my apartment almost every evening.) There are quiet residential streets, some beautiful churches, and a few small parks nearby. Astoria Park, for instance, offers a nice view of the Kennedy bridge and of the city across the water.

There are a quite a few restaurants with outdoor seating and good options for finding inexpensive produce and fresh fish, and with a mixed population of mostly Greek, Hispanic, and Middle-eastern residents, there's a lot of variety in grocery stores. There doesn't seem to be much in the way of nightlife however, and while there are a number of good restaurants, many are just so-so. Steinway Street is known for its shopping options, but is somewhat of a disappointment.

Housing here is generally more expensive than other areas of Queens, but is probably worth the price. In general the area seems fairly quiet and safe, and it's a great place for a morning run. Several stops along the N,Q,E,M, and R lines make it fairly easy to get to Manhattan from virtually anywhere in Astoria.

What's awesome

What's not so awesome

Chelsey E.
The Next Manhattan

I Love Astoria even though I don't live there any more. My three sons have moved back to Astoria from Long Island after they were married. Astoria has everyhting you want in a neighborhood…..great food, great nightlife, very close to Manhattan, great people, etc. I visit often and definitely would recommend purchasing there, the real estate growth is amazing!

Debra Parisi