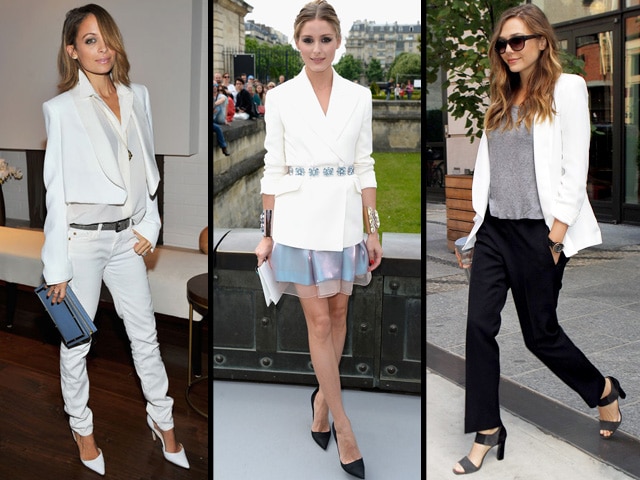 Rock A White Dinner Jacket This Spring
by nabewise
The white dinner jacket has experienced a handsome resurgence, thanks to Jared Leto and Matthew McConnaughey at this year's Academy Awards. Since then, we've been in the mood to give the trend a feminine twist for spring.
White dinner jackets came into fashion as the formalwear of choice for old Hollywood stars like Humphrey Bogart in Casablanca and William Holden in Sabrina. Elvis Presley was also a fan of this tuxedo alternative, which perhaps explains why his granddaughter, Riley Keough, rocked the look at an event for the Whitney Museum last year.
While men have strict rules to follow about how and where they can sport this formal attire, women can dress it up or down for just about any occasion. Nicole Richie recently paired her blazer with white jeans for a monochromatic look while Elizabeth Olsen dressed down her jacket by adding slouchy trousers and an easy grey t-shirt.
Channeling some of that Bogart swagger, Rihanna wore a white dinner jacket and matching satin pants with a black bustier for a New Year's Eve dinner while Cara Delevingne followed suit with a navel-grazing, unbuttoned black blouse.
The right white dinner jacket—whether shawl collar or double breasted—is one of the smartest wardrobe investments you can make this spring. We'll be wearing ours over maxi dresses and boyfriend jeans or even with our crop tops and culottes. Check out how some of the most stylish stars have worn their blazers lately and see how you can add a splash of old Hollywood glamour to this season's wardrobe.