Rewards Programs at Kohl's
by nabewise
Save 15% by signing up for email and text alerts
Now this is a pretty self explanatory reward but you may not have realized that they are offered separately so sign up for one, use the discount offered and then sign up for the second!
Get Discounted Gift Cards
There are people who receive Kohl's Gift Cards and for some crazy reason decide that they rather want to sell them for cash online. Now typically these cards are available at discounts of up to 15% so when combined with coupons and other promos the potential savings are huge! There are a number of sites where you can buy unwanted gift cards online, but two that we like are raise.com and giftcardrescue.com
Kohl's ever After Rewards
Kohl's loves love so if you, or someone that you know, is getting married then Kohl's Ever After Rewards are a perfect way to start the happily ever after. With Ever After Rewards you earn 10% cash back of the amount purchased from your registry. So if your friends and family purchase $1000 worth of items from your registry you get $100 to spend on other items. And you'll also get a 15% discount on any items that remain on your registry.
Kohl's Cash Rewards
If you are a Kohl's Charge Card Holder and can shop during a Kohl's Cash earning period then do because they are probably the best way to make your shopping worthwhile and fortunately they happen fairly often. The only thing is that Kohl's Cash can also only be spent during certain periods so make sure you check your Kohl's Cash coupons then diarize them or set reminders somewhere so that you don't miss out on a whole lot of savings! And Kohl's Cash can be stacked with coupons so there is a chance that you'll be able to buy something, without actually spending anything!
And although the official promotion is $10 in Kohl's Cash for every $50 you spend, the actual figure is $48 so you don't have to worry about buying a bar of chocolate or something to push you over that $50 mark. Kohl's Cash is actually store credit and is usually valid a week after an earning promotion ends but it can be used online or in-store so you don't necessarily have to return to spend it. Spending periods usually coincide with other promos so remember to stack wherever you can!
Kohl's Charge Card Holders
Now normally I would stay as far away from store charge cards as you can but with Kohl's I think waiving this advice is truly beneficial because card holders get exclusive discounts that are actually worthwhile! For example, card holders can earn discounts of up to 30% at least once a month. That means there are 12 annual opportunities to save big! Also charge card holders often get free shipping discounts so online shopping costs no more than in-store shopping!
kohls 30 off coupon code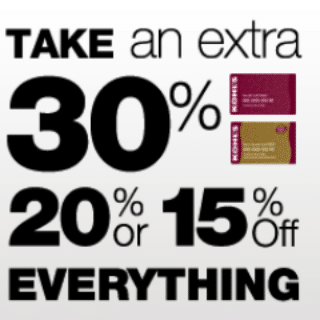 Reward card arrive in the mail within 7-10 days but you can immediately start earning points if you just give the cashier your phone number or email address. Now while you can enroll in-store you will need to go online to complete the process and to fill out your profile. And if you're spending more than $600 a year then you get placed into the Most Valuable Customer category where you'll receive even more rewards and coupons during the year.
Yes2You Rewards
With Yes2You Rewards you earn points on every single dollar that you spend at Kohl's and it is their simplest rewards program of all. For every dollar you spend, you will get 1 point. Once you reach 100 points you will be rewarded with $5. So basically Yes2You gives you $5 Kohl's Cash that is valid for a year for every $100 that you spend! Plus you'll get eight exclusive savings offers every year and a special birthday gift! Of course there are several opportunities for you to earn bonus points and more! And to check your points balance you can either check your online account or call the customer service department.
When you reach that 100 points mark a rewards certificate is sent to your email address and can be redeemed in-store like any other store credit, or else you can enter the certificates barcode when checking out online. They do have expiry dates though so be sure to check that before trying to redeem yours.
Kohl's Mobile Wallet
Yes2You rewards are linked to the mobile wallet within the Kohl's store app and allow customers to quickly access their rewards via their phone and redeem them at checkout. It also keeps track of how many points have been used and how much the customer has saved. The mobile wallet is Kohl's response to a decline in store traffic and is a way for them to connect their digitally mided customers with their brick and mortar stores.