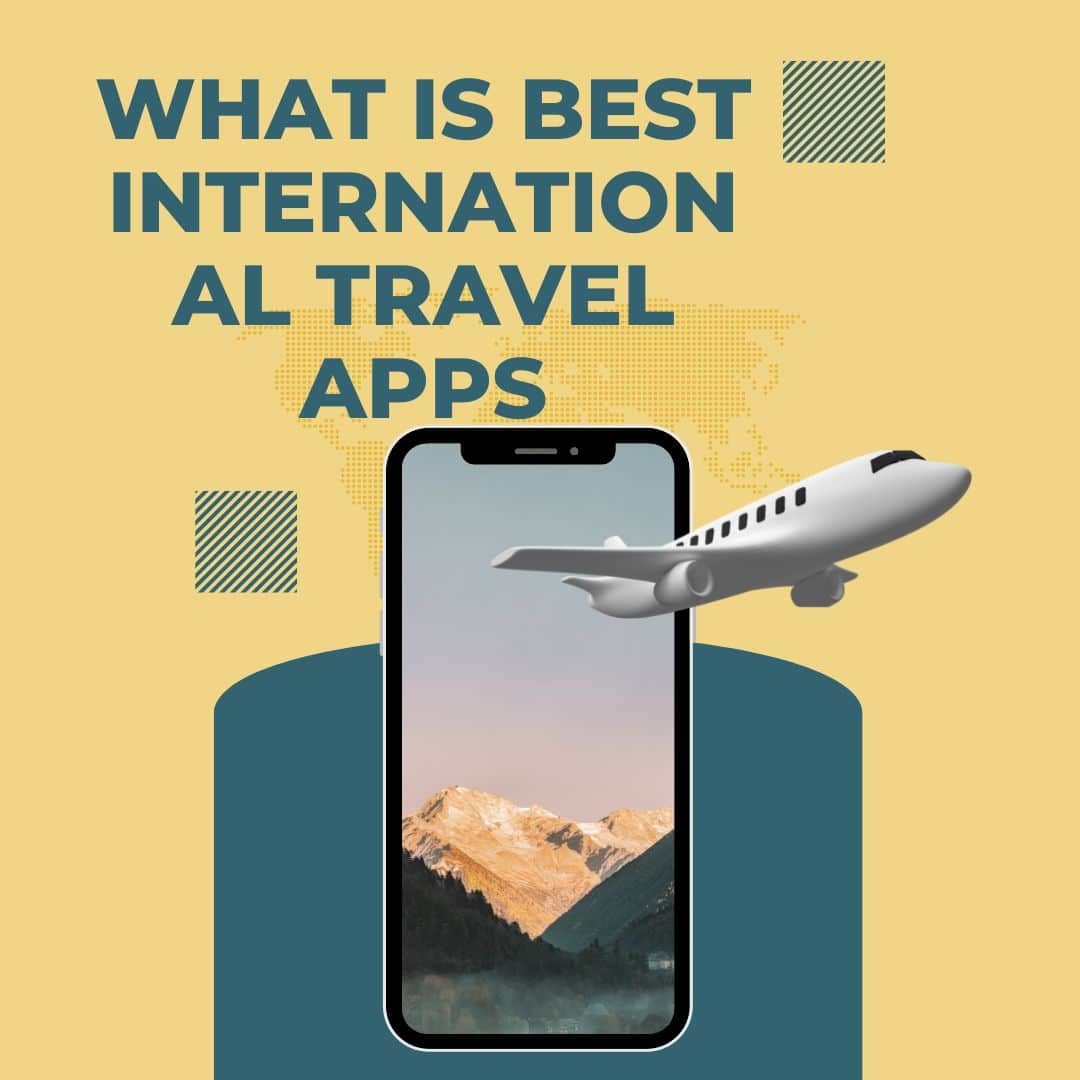 Best International Travel Apps
by nabewise
Traveling is an exciting adventure but it can also be a major headache. With all the planning and logistics involved taking off for far-flung destinations involves more than just packing your bags. Fortunately technology has come to the rescue with some of the best international travel apps to help make navigating the world a breeze. As they say "it's like having the world at your fingertips."
From booking affordable flights to finding great hotels in obscure places – there's an app for that! We've rounded up our top picks of international travel apps that will get you where you want to go without breaking a sweat (or your budget). Whether you're a jetsetter looking for insider tips on unique experiences or a backpacker looking for ways to save money while exploring new places – these are must-have apps every traveler needs.
We'll tell you about each one so read on and discover how easy it can be to explore the world from wherever life takes you!
Best International Travel Apps
Google Maps
As an avid traveler I'm always looking for the best travel apps to help me explore new places and get around quickly. One of my go-to applications is Google Maps – it's a must-have for any international journey! With this app you can see detailed maps of countries all over the world as well as important landmarks attractions and points of interest. You can plan your route in advance or discover new areas that weren't on your itinerary. Plus with its Street View feature you can easily find restaurants shops and other amenities near your destination.
Google Maps also provides real-time traffic updates so you never have to worry about getting stuck in gridlock while traveling abroad. And if you're ever lost or confused by public transportation systems in unfamiliar cities just open up the app and let it guide you back home. No matter where in the world I am headed next Google Maps will be sure to get me there safely—and without too much hassle! Now let's take a look at Skyscanner…
Skyscanner
When it comes to finding the best deals on flights nothing beats Skyscanner. As an international traveler this app has been a lifesaver–it helps me quickly compare airfares from hundreds of airlines and find the lowest prices available. I can even set up fare alerts for specific destinations so that I get notifications about any changes in pricing or specials being offered. Plus with its flexible search engine I can explore different flight dates and times without having to enter my route over and over again. And if I need help deciding where to go next Skyscanner's 'Explore Everywhere' feature is great for discovering inspiring new places!
Skyscanner also makes planning trips faster and easier by allowing me to book hotels directly through the app. With just one click I have access to millions of accommodations around the world—from budget-friendly hostels to luxurious resorts. This way I'm always sure to find exactly what I need at a price that fits within my budget. Thanks to Skyscanner planning my next trip abroad doesn't have to be stressful—it's actually fun! Now let's move onto Hopper…
Hopper
My search for the perfect international travel app continues with Hopper. When it comes to planning trips abroad this app is a traveler's dream come true! With its sleek and intuitive interface I'm able to quickly find flights within my budget and decide when is the best time to buy—all at the touch of a button. What sets Hopper apart from other apps is that it uses artificial intelligence (AI) technology to predict future airfares so that I can get the most bang for my buck. This way I don't have to worry about overspending or missing out on great deals.
But what really makes Hopper stand out is its 'Watch' feature. By monitoring prices and making recommendations based on current trends this function helps me save even more money by alerting me when fares drop below certain thresholds. In addition its push notifications keep me updated on all the latest flight info so that I can make sure everything runs as smoothly as possible. Thanks to Hopper finding cheap flights around the world has never been easier–now let's move onto Rome2rio…
Rome2rio
When it comes to international travel Rome2rio is another app that I can't do without. It's the perfect tool for getting around foreign cities and finding transportation options in unfamiliar places. With just a few taps on my phone this app helps me quickly figure out how to get from point A to B—whether by car train bus or boat—while comparing prices so I can save money too!
What really sets Rome2rio apart is its 'Explore' feature which allows me to discover interesting destinations nearby. Whether I'm looking for something off-the-beaten path or simply want to find an incredible place to eat dinner this function provides helpful suggestions based on my current location. And with access to up-to-date timetables and maps of transit networks worldwide I no longer have to worry about getting lost while sightseeing abroad! Onward now to Google Translate…
Google Translate
For anyone who has ever tried to navigate a foreign city Google Translate is a lifesaver. With the simple tap of a button this amazing app allows me to easily communicate with locals in their own language—which can be invaluable when I'm trying to get directions or make reservations. Plus its camera function enables me to quickly translate printed text on menus and signs for added convenience.
Not only does it help bridge communication gaps between myself and others but also offers audio pronunciation guides so that my accent won't interfere with comprehension either! Google Translate's voice recognition technology even helps me understand what people are saying back—making it one of the most useful international travel apps out there. Now onto Cisco AnyConnect…
Cisco Anyconnect
With the world becoming ever more connected having a secure and reliable way to access my personal information is essential for any traveler. That's why Cisco AnyConnect is such an invaluable tool—it allows me to stay securely connected no matter where I am in the world! This app provides both virtual private network (VPN) and Wi-Fi security while also offering up two-factor authentication as an extra layer of protection. With these features I can rest easy knowing that my data is kept safe during my travels.
On top of its robust security measures Cisco AnyConnect also has other handy tools like being able to set mobile device policies so that all devices within your organization are compliant with corporate standards — perfect for business travelers. Furthermore it enables remote access which means that I can continue working on projects even when I'm away from the office. All in all this powerful app makes staying connected abroad worry-free and simple! Ready now to explore Smart Traveler?
Smart Traveler
Smart Traveler is the ultimate app for any international traveler looking to save time and money. From finding nearby attractions to booking hotels and flights at a fraction of the cost this comprehensive tool has everything you need to make your travels as stress-free as possible.
First off Smart Traveler offers detailed maps that allow me to quickly find my way around unfamiliar cities—no more getting lost! Plus it shows me local transportation options like buses and metro lines so I can easily get from point A to B without wasting precious time or energy. And if I'm feeling adventurous Smart Traveler even helps me discover new places by pointing out lesser-known attractions in the area.
Furthermore this amazing app also gives me access to exclusive discounts on activities such as guided tours and museums — perfect for budget travelers who want to save some cash while still having an unforgettable experience. Additionally its integrated chat feature makes it easy for me to stay connected with friends and family back home in real-time. All these features combined make Smart Traveler an essential part of every traveler's arsenal! Now onto Concur – an innovative business travel management platform…
Concur
From the ease of finding my way around a new city to staying connected with loved ones back home Smart Traveler has certainly made international travel less stressful. However it doesn't stop there — I can also count on Concur to keep me organized and efficient while on business trips abroad.
As an all-in-one solution for managing corporate expenses Concur is truly revolutionary. It streamlines the process of booking flights and hotels by integrating seamlessly with other apps like Expedia and Airbnb—saving me time and energy in researching the best deals. Plus its automated expense tracking feature makes sure that I never miss out on any reimbursements from my company or forget about any potential tax deductions. This level of organization helps me stay focused on what matters most: making sure that each business trip runs smoothly so I can achieve maximum productivity without worrying about paperwork! Now onto Duolingo – a fun language learning app…
Duolingo
Duolingo is my go-to app for learning a new language while on the go—no matter where I'm headed. With its simple intuitive design Duolingo makes it easy to pick up key phrases and words in no time. Plus with its gamified approach to language learning it's actually fun too! I love how I can keep track of my progress as well as interact with other learners who are also mastering the same language. As someone who loves traveling abroad having multiple languages at my disposal has greatly enhanced my experience around the world.
On top of that Duolingo gives me access to helpful conversation tips and cultural information that I wouldn't be able to easily find elsewhere. All this helps me feel more connected with the people I meet during my travels—not only do we get along better but they often show me hidden gems off the beaten path which you won't find in any guidebook! Speaking of finding great deals when traveling…next up is GasBuddy – an essential tool for budget-savvy globetrotters like myself.
Gasbuddy
Have you ever arrived at a new destination only to find out that the gas prices are astronomical? With GasBuddy I can easily compare fuel costs across different locations and plan my route accordingly. This app helps me save money by showing me nearby stations with the lowest prices—allowing me to maximize my budget for other experiences during my travels!
What's more GasBuddy also provides real-time updates on traffic conditions so I don't waste time getting stuck in jams or having to reroute around construction sites. Plus it allows me to search for amenities like car washes and convenience stores along my journey which is super helpful when I'm looking for something specific while on the road.
Popular Types Of Apps
When it comes to apps for travel there's something out there for everyone. From map-based applications that help you find the best route from point A to B to language translators and currency converters – these tools make traveling abroad a breeze. Many of them even offer 24/7 customer support so you can get answers quickly should any issues arise during your travels.
Trip planning is made easier with several types of app designed specifically for this purpose; they allow users to create detailed itineraries and save money by comparing prices on flights hotels and car rentals in one place. Plus many also come with helpful features such as alerts when flight details change or tips on local attractions which are worth checking out!
Finally social media networks have become an invaluable asset for travelers looking to stay connected while away. Platforms like Twitter Facebook and Instagram not only provide up-to-date news but also enable travelers to share their experiences with friends back home – making every trip just a bit more special.
Benefits Of Using An App
As the old saying goes "time is money" – and that has never been truer than when it comes to travel. With the right apps in hand you can make sure your trips run smoothly without wasting precious time or resources. Here are some key benefits of using an app for international travel:
Convenience: Apps provide travelers with access to information on-the-go allowing them to plan their itineraries quickly and easily. From finding a hotel room at the last minute to locating nearby attractions or getting directions – all this can be done with just a few taps on your phone.
Accuracy & Reliability: Having reliable data is essential while traveling abroad; apps are designed to deliver accurate results based on user input so there's no need to worry about any misunderstandings due to language barriers. Plus many also come with real-time updates which help ensure accuracy even when conditions change suddenly.
Cost Savings: Travel expenses can add up fast if you don't know where and how to save money. Luckily most travel applications offer discounts for booking flights and hotels through their platform as well as other exclusive deals! So you get more bang for your buck without compromising quality or service.
Cost Considerations
Traveling abroad can be a costly endeavor so it pays to do your research. Before you book any flights or accommodations make sure to compare prices across different apps and websites. You may even find that some of the smaller less well-known services offer better rates than their bigger counterparts! Additionally many travel applications have loyalty programs where users who frequently use their platform get rewarded with discounts and other exclusive offers.
Another cost consideration for international travelers is currency exchange fees. Some credit cards come with no foreign transaction fees which makes them ideal for international trips as they save you money when converting currencies. However if your card does carry such fees then using an app like Revolut can help reduce costs by providing access to multiple currencies at competitive rates.
When budgeting for your trip always remember to factor in unexpected expenses that may arise; from getting lost in a new city to medical emergencies – being prepared will give you peace of mind while traveling abroad.
Reviewing User Ratings And Reviews
Buying a ticket for an international trip is no small investment so it's important to make sure you have the best information available before making your decision. Reviewing user ratings and reviews of various travel apps can be incredibly helpful in this regard as they provide honest insight into how each app performs.
When reading through reviews pay attention to any common complaints or issues mentioned by multiple users over time – these could indicate potential problems with an app that may not be immediately obvious at first glance. Additionally look out for features specifically designed to help travelers on their journey; from currency exchange rates to flight booking capabilities – all of these details should be taken into account when considering which application suits your needs best.
Finally try reaching out to other experienced travelers who have used the applications you are interested in and ask them about their experiences – hearing directly from those who have been there and done that is one of the most valuable resources you can use!
Offline Maps And Navigation Assistance
When traveling abroad it's essential to have access to reliable navigation tools and accurate maps. Not only can they help get you from point A to B with minimal fuss but they also provide invaluable insight into lesser-known regions that may not be marked on traditional paper maps. To make the most of your journey experience then having a dependable travel app with offline mapping capabilities is an absolute must.
Many applications now offer advanced features such as GPS tracking route optimization algorithms and real-time traffic updates – all designed to keep travelers informed and safe while navigating unfamiliar terrain. Additionally some apps even come equipped with augmented reality (AR) technology which allows users to hold up their phone or tablet camera viewfinder in order to see nearby locations superimposed onto the live image in front of them!
Overall these new technologies are revolutionizing how we discover unknown places around the world – giving us unprecedented freedom and exploration potential along our journeys. As such when selecting a travel app for international trips it's important to ensure that it includes comprehensive offline map support so you can have peace of mind knowing there will always be directions available no matter where your wanderlust takes you.
With this in mind let's take a look at accommodation bookings and management tools – another essential component of any successful trip abroad.
Accommodation Bookings And Management Tools
When it comes to accommodation bookings and management having access to a reliable app can make all the difference. From finding the best deals on hotel rooms or Airbnb rentals to scheduling your stay in advance – there are many benefits associated with having an intuitive booking platform at your disposal when traveling abroad. Here's why:
1) Easily compare prices between different providers so you get the most bang for your buck.
2) Access detailed descriptions of each property complete with amenities reviews and photos before making a final decision.
3) Add extra services such as car rental and airport transfers directly from within the app itself.
4) Receive notifications about changes to check-in times or cancellations so you can always plan ahead accordingly.
With these features travelers have more control over the entire experience – allowing them to focus their energy on exploring new cultures rather than worrying whether they've made the right decision when booking accommodations! Plus some apps even offer exclusive discounts when signing up which is great news for those looking to save money while seeing the world.
Given how important lodging is during any international journey investing in an effective travel app that takes care of this aspect is essential if you want peace of mind throughout your travels. With that said let's move onto discussing transportation options available around the globe – another key factor in planning successful trips abroad!
Transportation Options
So you've booked your accommodation and now it's time to think about transportation options. Thanks to some innovative travel apps jet-setting across countries is easier than ever! With a few simple taps of your smartphone screen you can find all sorts of ways to get from A to B without breaking the bank – leaving more money for sightseeing and enjoying local cuisine.
Take Uber for example: with their low cost rideshare service available in over 65 countries worldwide you no longer need to worry about dealing with taxis when exploring a new city. Or why not try out BlaBlaCar instead – perfect for those seeking an affordable way of getting around Europe and beyond. And let's not forget about bike rental services such as Lime or Mobike which provide users with an eco-friendly option wherever they may roam.
Finally there are even aircraft charter companies dedicated to helping travelers book private planes at competitive rates – giving them access to remote corners of the globe in just a matter of hours! In short living life on one's own terms has never been so easy – whether by land sea or air these revolutionary apps make discovering the world simpler than ever before.
Frequently Asked Questions
What Are The Best International Travel Apps For Budget Travelers?
Many of us dream of taking an international trip but budget constraints often become a roadblock. Fortunately the right travel apps can make planning and executing your journey much easier – even with limited funds! Whether you're looking to discover new destinations or just need help finding cheap flights and accommodation there are plenty of great options available. So what are the best international travel apps for budget travelers?
One great app is Skyscanner. This user-friendly platform allows you to compare flight prices from hundreds of airlines at once – helping you find the cheapest flights around the world. With Fare Alerts Price Calendar and mobile exclusive deals this app will give you peace of mind when it comes to booking your tickets.
Another top choice for budget travelers is Hostelworld. It offers access to thousands of hostels in more than 180 countries across the globe – many of which offer discounts for long stays or group bookings. And if that wasn't enough users have access to detailed reviews so they can get real feedback on their potential accommodations before committing. Plus its easy-to-navigate interface makes it simple to navigate through all these options quickly and efficiently.
For those who want a comprehensive solution for managing their entire trip TripIt is worth a look. From hotel bookings and car rentals to creating custom itineraries – this tool has everything needed for organizing an affordable vacation abroad. Plus with its handy "share with friends" feature you can easily coordinate plans with other travelers without needing multiple emails back and forth!
Are There Any Travel Apps That Provide Discounts On Activities Or Attractions?
Are you a budget traveler looking for discounts on activities or attractions? With the right travel apps your dream vacation can become a reality! Whether it's discovering new places to eat finding interesting things to do or planning out an itinerary – there are plenty of options available.
When it comes to international travel having reliable and cost-effective tools at your fingertips makes all the difference. From booking flights and hotels to navigating city streets – these apps help make traveling easier and more enjoyable than ever before. And best of all they often offer great deals on activities and attractions too!
So if you're ready to plan your next big adventure be sure to check out some of the most popular travel apps around. You could find yourself getting exclusive discounts on everything from sightseeing tours to museum admissions. Your wallet will thank you – and so will your wanderlust spirit!
Are There Any Travel Apps That Provide Reliable Customer Service?
In this tech savvy age reliable customer service is a must-have for any travel app. Whether you're about to embark on an international trip or just make the occasional weekend getaway having access to helpful and easily accessible support can save time and make your experience more enjoyable. But with so many apps out there how do you know which ones will provide the best customer service?
The answer lies in understanding what makes good customer service great. It should be available 24/7 be easy to reach via phone email or chatbot have multilingual support and offer knowledgeable agents who are happy to help resolve any issues quickly. Additionally:
• Quick responses – A swift reply from a live agent shows customers that their concerns are taken seriously
• Proactive assistance – If an issue arises while they're travelling abroad customers need to feel secure knowing they can find a solution without too much effort
• Personalised interactions – Agents who show empathy towards customers by remembering details of past conversations builds trust and loyalty
To ensure travellers get the most out of their trips – both financially and emotionally – it's essential that they use apps backed up by quality customer service. Doing research ahead of time can help them identify dependable services that won't let them down when they need it most. By taking into account the features mentioned above along with reviews from other users travellers can select trustworthy platforms which enable smooth sailing all throughout their journey!
So if you're looking for a hassle-free way to stay connected during your adventures then remember these key elements for exceptional customer service when choosing your next travel app.
What Are The Best Offline Travel Apps That Are Available?
When it comes to travel having reliable access to information is a must. But what if you're in an area with no signal? Thankfully there are great offline travel apps that make planning trips and getting around easier than ever before.
Offline travel apps provide travelers with a wealth of resources right at their fingertips—no matter where they go. With these apps users can get up-to-date maps of the local area find nearby restaurants and attractions or even book flights and hotels without needing an internet connection. Plus many of them offer helpful features like currency converters and language translators for those looking to explore different cultures abroad.
All this means that you don't have to worry about being lost or unable to communicate when traveling overseas—all thanks to these amazing offline applications! So whether you're visiting another country for business or pleasure be sure to download one so you can stay informed and connected wherever your journey takes you.
Are There Any Travel Apps That Provide Real-Time Updates On Flight Statuses?
Are there any travel apps that provide real-time updates on flight statuses? This is the ultimate question for modern jet-setters who want to stay updated with their flights. And what a time we live in! Technology has advanced so much that you can now find an app for just about anything including one that will give up-to-the minute status reports of your airline journey.
Do you ever feel like you're constantly playing catch-up when it comes to planning your trips abroad? With all the new restrictions and ever changing policies due to COVID-19 having access to accurate information right away can be incredibly helpful. That's why apps that offer real-time updates on flight statuses are such a godsend – they keep you informed every step of the way without requiring too much effort from your end.
No longer do travelers need to worry about being late or missing out on important details regarding their flights; these amazing applications take care of everything from tracking routes and delays to giving notifications if something changes suddenly. You'll never have to wait until you reach an airport or check-in counter again – simply open up your phone and get the latest info right then and there! It's almost like having a personal assistant guiding you through each part of your trip ensuring nothing gets overlooked along the way.
So if staying informed while traveling is key for your peace of mind make sure you download a reliable travel app today! Real-time updates won't only save you time but also help ensure that no issues arise during your journey – allowing you to focus more on enjoying yourself instead of stressing over potential problems down the line. Don't hesitate: get ahead of things by getting connected with a top notch travel application now!
Conclusion
Traveling internationally can be an exciting and rewarding experience but it can also be a bit overwhelming if you're not prepared. That's why having the right apps on-hand is so essential for budget travelers. From flight status updates to real-time discounts on activities there are plenty of travel apps that make navigating foreign countries easier and more affordable than ever before.
By choosing the best international travel apps for your journey you can feel at ease knowing that reliable customer service and helpful advice are just a few clicks away. Not only will these tools help you save time and money while exploring abroad they'll also provide peace of mind—which is priceless when traveling in unfamiliar places.
So don't let the fear of getting lost or missing out on deals keep you from embarking on your next great adventure; with the perfect combination of top-notch tech support and unbeatable savings opportunities today's mobile applications are sure to take your travels to new heights!