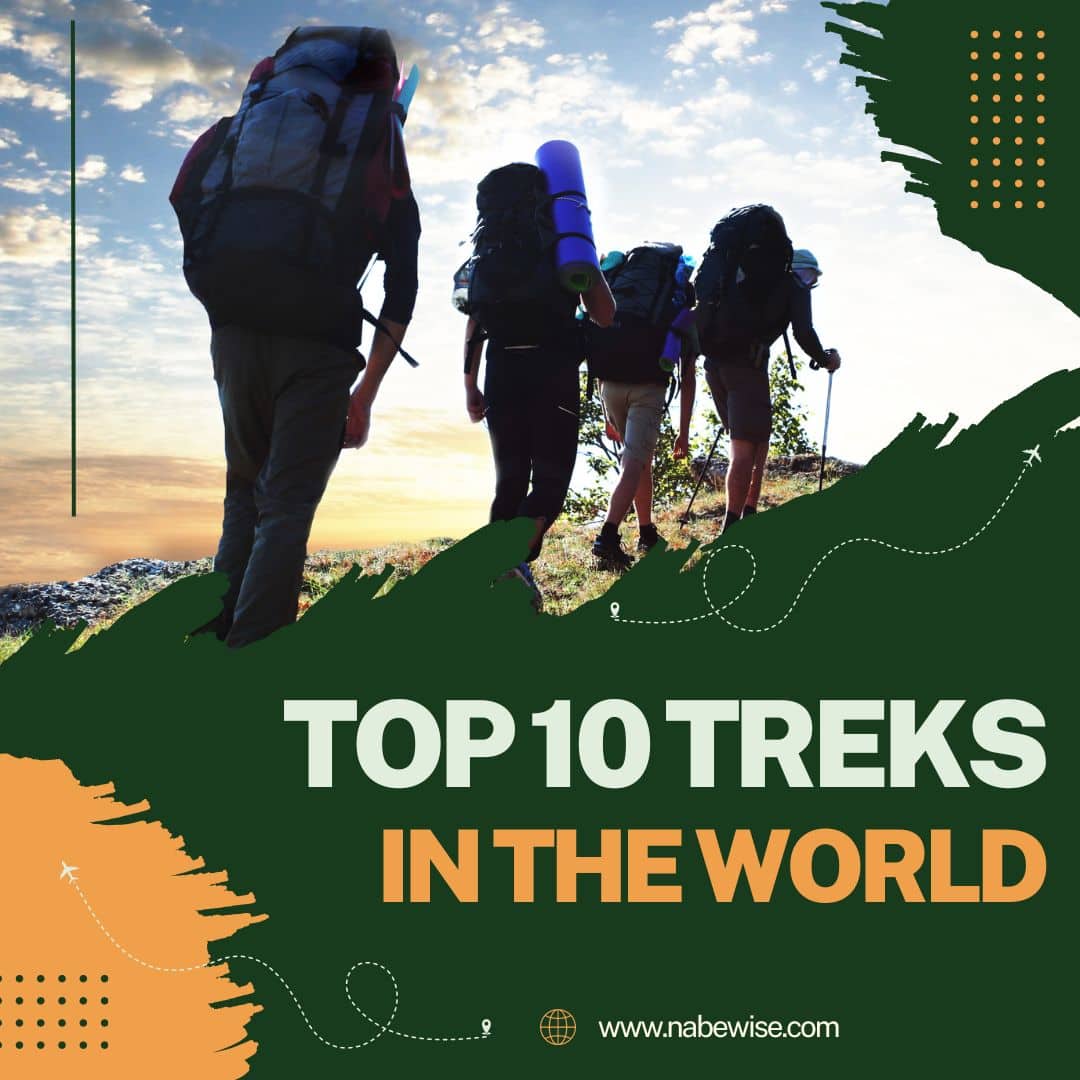 Top 10 treks in the world
by nabewise
If you're one of those who thinks "I'd love to", when someone tells you to take a hike, we've got just the thing for you. Spanning countries and continents, we've compiled a list of trails waiting for you to take up the challenge.
1. Torres Del Paine – Patagonia, Chile
This one's for the physically active not hardcore mountaineers so be ready for some slight 'Paine', though it will all be worth it to explore parts the lesser visited parts of the Torres del Paine National Park in Patagonia. Expect glaciers and icebergs that will make you feel like you're on another planet!
A post shared by Falando de Viagem (@falandodeviagem)
Difficulty: Moderate
Things to remember: Visiting is recommended between September and April for long days and warm weather.
2.Cinque Terre – Italian Riviera, Italy
more than
Set in the idyllic mountains of Italy, this one-day trek known as the Blue Trail is one of the most beautiful in Europe. Whether you're a hiker or just looking for a bit of exercise to break up all that pasta and pizza, this hike is sure to provide unparalleled coastal views with pretty seaside towns along the way.
A post shared by Henrike (@h_men)
Difficulty: Low
Things to remember: You need to purchase a Cinque Terre Card as this hike is ticketed.
3.Inca Trail – Peru, South America
We can't talk about hikes without mentioning one of the most famous trails of all; the Inca Trail to Machu Picchu in Peru. There are a variety of options available; longer, shorter, cycling or even a bus for the harder parts if you're feeling lazy. However, once you get there, all those steps will feel more than worth it.
A post shared by Bucket List Adventures (@bucket.list.adventures)
Difficulty: Moderate (depending on the option you choose)
Things to remember: Access to the Inca Trail is heavily restricted, with only 200 permits allocated to trekkers a day. They sell out super fast, so be sure to book months in advance. Alternatively, check out the Lares of Salkantay trek.
4.Base Camp – Mount Everest
The highest peak in the world has become an achievable goal for us regular folk thanks to guides and porters. Acclimatisation days are important, miss them out and you'll have a bumpy ride to the top. Slow and steady is the way to go to reach the summit so you can feel on top of the world (literally).
A post shared by 'Nepal' 8th wonder of world (@nepal8thwonder_)
Difficulty: Hard
Things to remember: Solo treks are dangerous and are in the process of being banned, hiring a guide provides money for the local community and you get to enjoy the full cultural experience.
5.Pays Dogon – Mali
"The land of the Dogon people" is one of Africa's most breathtaking regions. The Bandiagara escarpment stands five hundred metres high and you can see the Dogon villages cut into the rock face above you. A fascinating habitat for fascinating people known for their mythology, masked dancing on stilts and intricate carvings.
A post shared by The Daily Hype (@dailyhypeafrica)
Difficulty: Moderate
Things to remember: With a large tourist circuit in Mali, be mindful and take time if choosing a guided tour of Dogon Country.
6.The Snowman Trek – Tibet
Possibly the greatest trail on Earth, this trek covers the mountain kingdom of Lunana, one of the remotest inhabited valleys in the world. No matter how much you want to see Tiger's Nest, this is the holy grail of treks for seasoned walkers, so proceed with caution!
A post shared by Jean-David Laurence (@allez.jouer.dehors)
Difficulty: Hard
Things to remember: Book as early as possible! One for serious trekkers, this trek can get booked up a year in advance.
7.Overland Track – Australia
Australia's most famous trek sits in the national park in Tasmania. This trail winds through diverse terrain from mountain faces and rivers to rainforests. 40 miles in distance (65km), you can expect a wide range of terrain but an equally diverse range of weather. Keep your eyes pipped for cute possums, Tasmanian devils and wombats while you walk!
A post shared by Phoenician Spirit (@phoenician_spirit)
Difficulty: Moderate
Things to remember: Between June and September you do not need to book or pay the Overland Track fee, but you must have a National Parks Pass.
8.Cotswold Way – United Kingdom
If you fancy more of a ramble than a hike, then the Cotswold Way is for you. This 100-mile footpath runs along the Cotswold Edge Escarpment in the idyllic Cotswold Hills. For cute village churches and lots of grass and sheep, the Cotswold Way hike is just the ticket not forgetting English pubs making rest stops irresistible.
A post shared by Gary Ellis (@mrgaryellis)
Difficulty: Low
Things to remember: It's not hard but it is long, pick and choose the must-see spots if you want something shorter.
9.North Drakensberg Traverse – South Africa
Cited as one of the world's must-do trails, this is a walk, hike and a climb crossing cliffs, ridges and gorges. A tough trek across remote mountain tops, be prepared for a slog but know there are plenty of rewards in beautiful vistas. Not forgetting the wide array of animals and plants you'll see on the route.
A post shared by Alecia Christine (@aleciaadventuresagain)
Difficulty: Hard
Things to remember: As a wilderness trek there is no luxury of footpaths or nearby accommodation – all provisions are carried in and out of the mountains.
10.Chadar Trek – Tibet
This trek connects villages in the Zanskar Valley to Chilling, via the frozen Zanskar River when the roads become inaccessible due to snowfall. The river runs through a steep canyon so if the idea of walking on a few inches of ice with a large bag on your back and no possible escape sounds terrifying, we won't judge.
A post shared by Trekkers Of India™ (@trekkersofindia)
Difficulty: Moderate
Things to remember: A guide is a must! You have around five years to get this trek under your belt as this route is due to be replaced by a road.