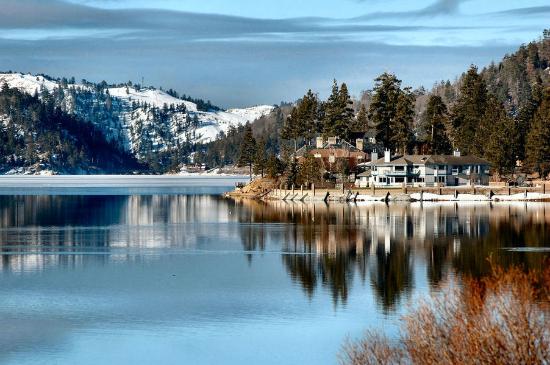 Exploring Big Bear Lake, California
By Nabewise
Visit this picturesque alpine lake in San Bernardino County for four season family fun.
We had wanted to try rainbow trout fishing at Big Bear Lake, but we were aware that the picturesque lake, which sits at 7000 feet in the San Bernardino Mountains of Southern California, is both a summer and winter playground for several million people living in the Los Angeles area.  That's why we decided to drive to the lake during the off-season.
There's a special time of year between early September when the kids go back to school, and the middle of November when the snow-bunnies start to appear on the slopes surrounding Big Bear Lake.  During that period, you will find both the lake and the village downright quiet, –and when compared to the summer and winter seasons, the price of lodging is much more appealing.
On our first morning at the lake, we opted to get our bearings by taking a narrated boat tour.  When we checked into the lakeside Lagonita Lodge, and inquired about tour boats, the front desk clerk assured us that we could depend on the captain of the 'Big Bear Queen' to provide us with pertinent information and interesting tidbits about the lake and its history.  The 'Queen' turned out to be a Mississippi paddleboat replica that took us around the more than 22 miles of shoreline in complete comfort.
We boarded the Queen soon after breakfast and introduced ourselves to the ship's captain, Chris Bellows.  The weather was excellent, with a pleasant temperature in the mid-70s.  Big Bear boasts sunshine 320 days a year — a good reason why the location is a favorite of Hollywood filmmakers and TV producers.
About 15 minutes into our excursion, we were fortunate to see an American bald eagle soaring high above our boat.  The eagles migrate to Big Bear Lake each fall from the colder climates of Wyoming, Montana, and Idaho.  We were surprised to learn from captain Bellows that our national bird has a wingspan up to eight feet, and weights between 10 and 14 pounds.  He also said, "It's not unusual to see several bald eagles on any given winter day."
Half way through our tour, we pulled into one of the lake's many coves, where our captain called out to a waterfront cabin owned by the late Mel Blanc, who you will remember was the voice of Bugs Bunny, Daffy Duck, and other famous cartoon characters.  The captain's call brought a jolly looking fellow out of the cabin and onto the front porch.  He lifted a waiting megaphone and replied to our captain in a loud voice, "badeep, badeep, badeep, that's all folks."  It was Mel Blanc's son Noel.  He takes great delight in greeting excursion boat tourists with some of his dad's famous dialogue.  Nice guy — good impersonator, too.
We took note of a sizeable marina as we passed by another sheltered cove.  We thought it might be a good place to rent a boat for an afternoon of angling.  Captain Bellows suggested that if we planned to fish, we should make inquiries with Big Bear Charter Fishing.
After disembarking the Queen, we drove the short distance to Holloway's Marina where we found Mike Marzell, the operator of a pontoon boat for Big Bear Charter Fishing.  Among other things, Mike told us "The rainbow trout are hitting well on worms today."  Mike also seemed to know where the fish were biting, so we decided to hire him and his boat for a few hours.  We brought our own fishing equipment, but didn't need to fetch it because rods, gear, and bait, were all provided with the charter.
Mike's lovely wife Trish joined our party to help with the deep water trolling rigs the couple preferred for catching trout.  It didn't take long before we had our first rainbow flopping around on deck.  Five more one and two-pounders quickly followed our first catch.  Mike and Trish seemed to be having as much fun watching us, as we were having catching the fish.  It was a great outing.
Our fishing time was up a little after two in the afternoon, and we decided to seek out the Visitors Center in the village to see what attraction might fill the rest of our day.  The center's affable Manager of Marketing and Public Relations, Dan McKernan, suggested we try a late afternoon off-road tour.  Not the kind of thing that would normally appeal to us, but we thought it would be interesting to write about, so we signed up.  We were glad we did.
We hooked up with Big Bear Off-Road Adventures.  The off-road vehicle utilized by owner Doug Walton and his crew is really something.  It looks like a khaki painted convertible panel truck without sides, but there the resemblance ends.  This machine has big tires and is awesome in appearance and performance.
Within minutes of departing the parking lot at Big Bear Village, we were dashing along a dirt road and heading for the mountains on the north shore of the lake.  It wasn't long before the dirt road turned into a bouncy narrow boulder-strewn trail.  It was an exciting ride.
We asked our guide Doug if he knew of any old abandoned gold mines in the area.  He replied, "There are a good number of them in the San Bernardino National Forest wilderness."  In a short time, we found and investigated three mines, circa 1850.  We were surprised that the openings to the mines were so accessible to the public, but the mines are in remote locations, so we guessed that was the reason for not having safety fences.  Gazing into the seemingly bottomless mineshafts, one could only wonder of the difficulties the miners faced as they worked deeper and deeper into the dark earth.  We were also impressed that these 150+ year old mines had wooden superstructures still in place and relatively intact.
The sun was beginning to set as we exited the third mine, so we headed back to the Lagonita Lodge for a well-deserved rest.
The next morning we packed up and started our drive down the mountain and on to our next destination.  We reminisced about our fun filled day at Big Bear, and talked about how we would be recommending it as a first rate family vacation destination to our readers.  If you haven't been there, -be sure to give it a try.