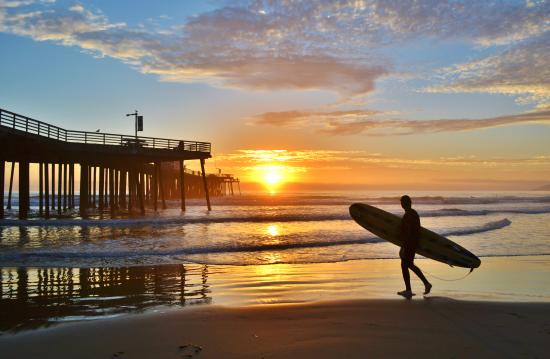 Pismo Beach's Monarch Butterfly Grove: An Autumn Eco-tourist Delight
by nabewise
Butterfly migration is an eco-tourist delight that begins in October and extends into spring.
Thousands of radiant winged orange and black Monarch Butterflies are currently en route to California from as far away as southern Canada.  Escaping from the coming northern winter, the butterflies' final destination is the Monarch Butterfly Grove near the sunny shore of Pismo Beach.  This is California's largest populated monarch butterfly gathering, and the annual fly-in guests begin to congregate in the grove in late October, where they remain until early spring.
The vibrant visitors cluster on the branches of the sweet smelling Eucalyptus trees like fluttering leaves.  Others clump together like bananas, each butterfly's wings covering the one below, which helps keep the colony warm, and hold it together during the central coast's chilly bouts of rain and wind.
When comfortably settled into their winter haven, the butterflies wait for daylight temperatures to approach sixty degrees before venturing away from the group to search for nourishment from flower nectar and water.  As evening approaches and the temperature begins to drop, the butterflies return to the grove to form their protective masses once again.
The monarch butterfly has a summer lifespan of little more than six weeks, but at the Pismo Beach Monarch Grove in winter, they will live for several months.
Pismo Beach is a popular family destination in the summer months, but by October, the hotels, streets, and restaurants are pleasantly uncrowded.  All become easily accessible, and available to the many curious 'butterfly peepers' who come from far and wide to see the monarchs.
If you are interested in eco-tourist attractions, and enjoy the tranquility of off-season destinations, Pismo Beach is the place for you and your family in the coming weeks and months.  Visit the butterfly grove and experience the fascinating behavior and beauty of these amazing colorful insects.
The Monarch Butterfly Grove is located on State Highway 1, on the south side of Pismo Beach, – near the city limits.  During the monarch season, the Grove is staffed daily between 10am and 4pm.  There are docent walks and talks at 11am and 2pm, weather permitting.  There are also plenty of comfortable accommodations offering off-season rates, just minutes from the Grove.