Perth: Pride of Western Australia
By Nabewise

Proud Perth, Australia's Indian Ocean Paradise awaits you.
"Perth: Pride of Western Australia," is fifth in a series of Web pages dedicated to Australian Capital Cities, from smallest to largest, in inhabitants.
Perth: Australia's Indian Ocean Paradise
Perth, Australia's most Westerly Capital City is Australia's only major Indian Ocean port.  The world's remotest city, Perth's unique feel is a draw-card for visitors or migrants.  Imagine a city with endless sun, beaches for days, plenty of room to move and grow and friendly folk, and then you understand the pride of place. Perth loves newcomers.
When Should I Go!?
For this city, of one and a half million people, the best time to visit is spring or fall. Perth's is a desert climate; be prepared for cold nights and hot days. Also, the wind is strong. The, "Freemantle Freezer," wind picks up each afternoon, chilling Perth. Winds always give an edgy feel to anything so dress for draughts. Perth is a great place to visit at anytime making Perth a year-round adventure.
Dress for hot days and cold nights – mild most of the time.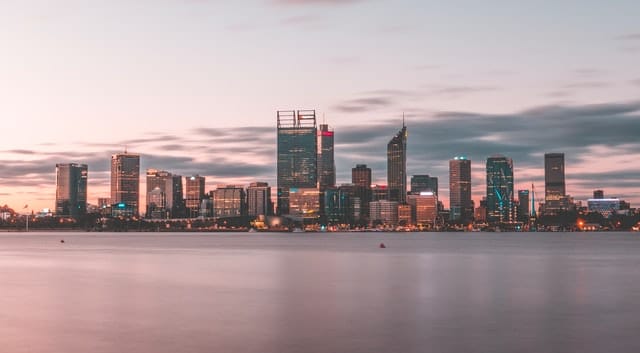 Proud Perth Panorama
Why So Proud?
Locals in West Australia's Capital City love their city.  With sweeping boulevards and a great public transport system one friend quipped upon return, "It is Canberra by the Sea." Point taken – the place is a futuristic city – similar to the nation's capital. That is where comparison ends as Perth people loathe any comparison to Canberra. In fact, Perth people dislike their tax being siphoned to Canberra. Perth people love their independent, isolated city and are more than happy to proudly share her with newcomers.
Perth Holds Interesting Facts
Perth is the world's most isolated major city
The State's symbol, the black swan, originates from Perth
An unprecedented economic boom has swept Perth in the last ten years
Sweeping boulevards
Why me? Why Perth?
Perth is perfect for its' genuine Australian beach adventures.  Surf and beaches are Perth. Here, the typical Australian beachside holiday waits. Western Australia has also witnessed a great economic boom in the last decade. This is another reason to migrate to Perth. This state is rich in mineral wealth the whole world wants. Rumors of McDonald's counter hands earning $120 000 per annum are not uncommon.  The reason? A population of a few million people spread across an area half the size of the USA, why the sums just add up, and Perth's streets are paved with gold.
Get Me There Now!
You can get there several ways –
Fly direct from other Australian Capital Cities
"The Indian Pacific," train odyssey from Sydney or Adelaide will bring you to town
Freemantle is a major seaport, so consider sailing into Perth
Drive across the Nullarbor Plain, ( Trans: The No-Tree Plain ) from the Adelaide
However you choose to arrive, Perth won't let you down.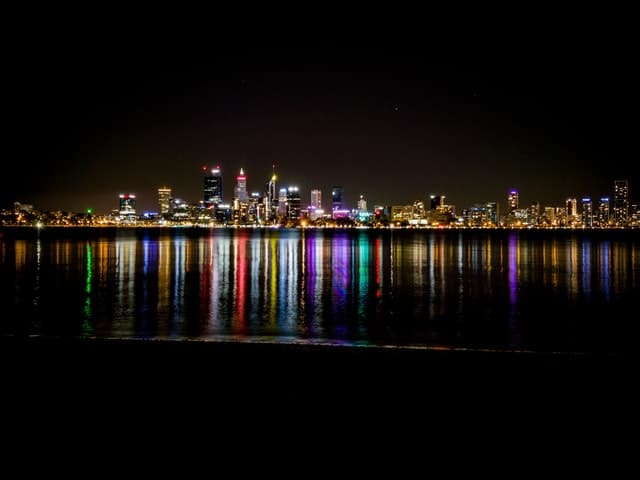 Perth City at Night
Margaret River, Wave Rock and beyond…
If holidaying here take a bigger view of Perth and environs.  Margaret Rive, near Perth, is one of the world's best wine regions. Drive there through primordial forests with giant stands of ancient trees.  The whole of South-Western Western Australia is just fantastic. The area around Perth also has the world's most clement climate. Or, visit famous Wave Rock – an ancient and unique rock formation. The Pride of the West, Perth, is simply a gateway to a mind-bending holiday in the surrounding country.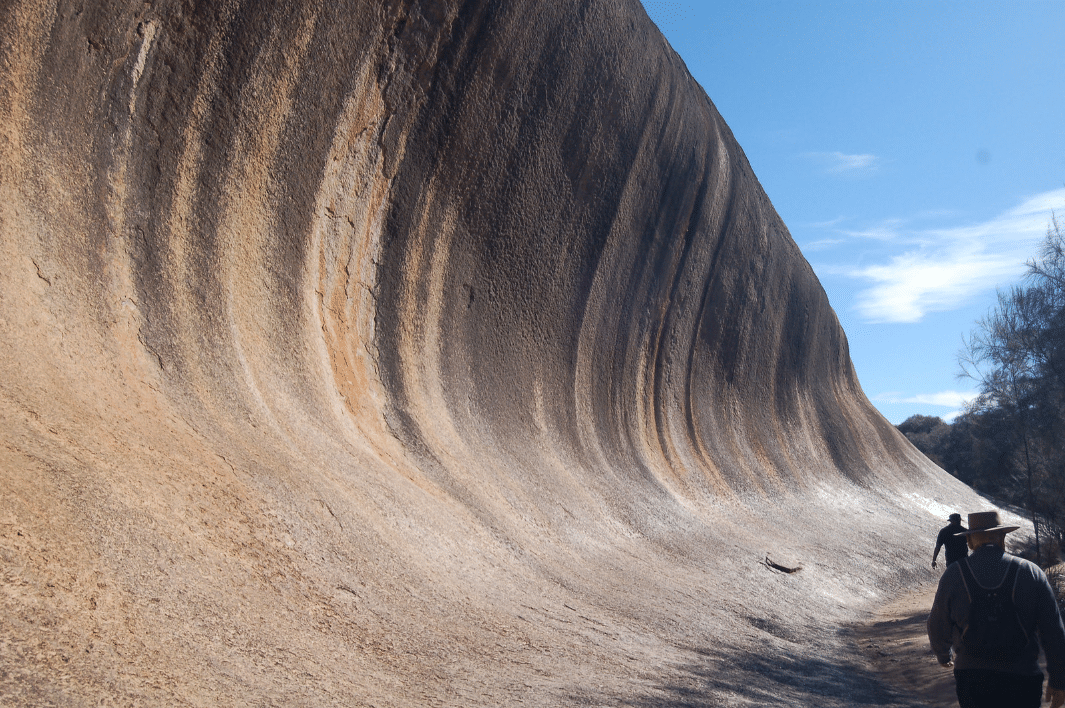 Sensational Wave Rock
Between a Quokka and a Rat's Nest
Rottnest ( Rat's nest ) Island is a quick boat ride from Central Perth and home to one unique marsupial – the Quokka.  Similar in stature to a small hamster, with hind legs, this cute little fella befuddled the Dutch who visited this realm those many years ago.  So, the island, to the Dutch was simply a, "Rat's Nest." and nothing more.  Those, "Rats," were, in fact, Quokkas another curious creature calling Proud Perth home.
It only takes a few hours to get to this Quokka Island.  Upon arrival you will notice them, well, everywhere.  These critters love nothing more that rummaging through discarded lunch packets thrown away by the many tourists who flock here just to spy them.  When you see them, they don't see you. They are completely oblivious to you.  Your immediate reaction is, "Oh, How Cute!"  They are really cute – it's hard holding the girls back from petting them. But Quokkas avoid the avid hand.
Quokkas love food
Quokkas could be mistaken for a rat. They look like a cross between a wallaby and a rat. The Quokka stands just a foot tall, with their head raised, just like a wallaby or kangaroo.  Their cute natures are such that they couldn't give a rats ( pardon the word-play ) about you being there.  Their only interest? Food.  They hop around all over the island, hungry to find it. Lucky for them, all the obliging visitors keep them pretty well fed indeed.
If you ever find yourself on Quokka Island ( Rottnest Island ) enjoy the company of these cute marsupials as this is the only place in the world you will find them. It makes for a really fun and interesting family day out, just a hop-skip-and-jump ( get it? ) from Perth.