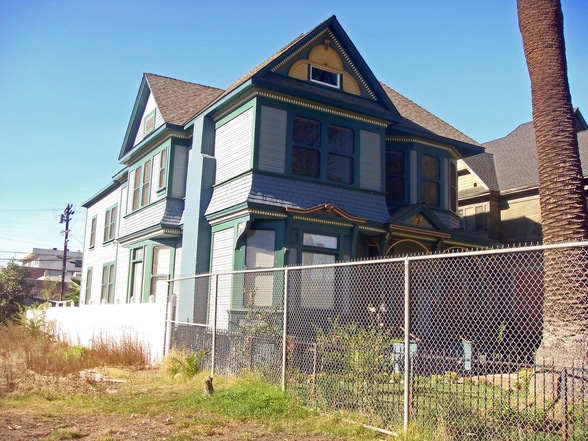 West Adams has long been a mecca for old house lovers, and appropriately so! The turn-of-the-century homes in this nabe are stunning examples of Colonial and Craftsman architecture. Through the years, these majestic buildings have stood proud as surrounding streets have sprouted new businesses and eateries, making West Adams not only a much-desired residential area, but a place of commercial growth as well. Proximity to University Park, Mid-City, and Downtown LA guarantees there's always something going on near this nabe–whether it's a music festival or bike marathon. Both historic and hip, West Adams is definitely one of the coolest nabes in Los Angeles!
West Adams Data
Lowest Attributes
West Adams Articles and Reviews
urban suburbia with actual character
I really like this neighborhood. The housing here is really gorgeous and the relative amounts of crime (which suck, but hey, you're in the city, so what did you expect?) keep the housing prices at a low, which allows for people with not tons of money to live in some really beautiful real estate. I think this is a true urban-suburban neighborhood with a character that's really all its own. Being gritty can be dangerous, but there's also something to be proud of here—ther's no conformity, there's no suburban blahs, this place is rocking it. There are a lot of cops around, which can be a good and a bad thing, probably mostly good. Def. not a place where it's really safe to walk around at night.
That said though, there's lots of people raising families here. If nothing else, drive around this neighborhood and check out the houses.
What's awesome
really cool houses and really diverse
What's not so awesome
still kind of dangerous, but theyre working on it!
Jack A.
Club Fais Dodo, a Great Venue in West Adams
One of the main attractions in West Adams is the Club Fais Dodo, where the lineup is as diverse as the residents and makeup of this nabe: One night you can have a jazz and blues lineup and the very next day it's a mod-revival and punk and garage rock mix.
There's also a club next door that has a goth/electro night for some reason. Don't ask me how I know (that, my friends, is a whole other story).
The surrounding area, with some boarded-up homes and abandonded fields, is relatively nice with historic quaint homes, Spanish colonial-style residences and single-story multi-unit bungalows that are rented out at an affordable price. It's a great area for students interested in finding housing close to USC.
What's awesome
Club Fais Dodo, cultural spots, nice houses
What's not so awesome
abandoned lots, crime
Luis R.
Beyond the grime
A lot of people see West Adams as kind of grubby, but architecture buffs look beyond the grime to the history and eccentricities of the neighborhood. And of all the nabes in LA, West Adams is probably the most jam-packed with historic goodies. The concentration of 1800's architecture here is almost overwhelming. While some areas are beautifully kept, others are just plain run down. It's really a toss up, but definitely worth a walk around! Oh, and don't expect restaurants to look particularly appealing in this area, but DO expect to find some great hole-in-the-wall eateries (especially in the soul food department, mmm mmm).
What's awesome
Amazing architecture, delicious carne asada fries from Chano's
What's not so awesome
Some areas are pretty dirty, and the closer you get to South LA the grittier it gets
Simon A.