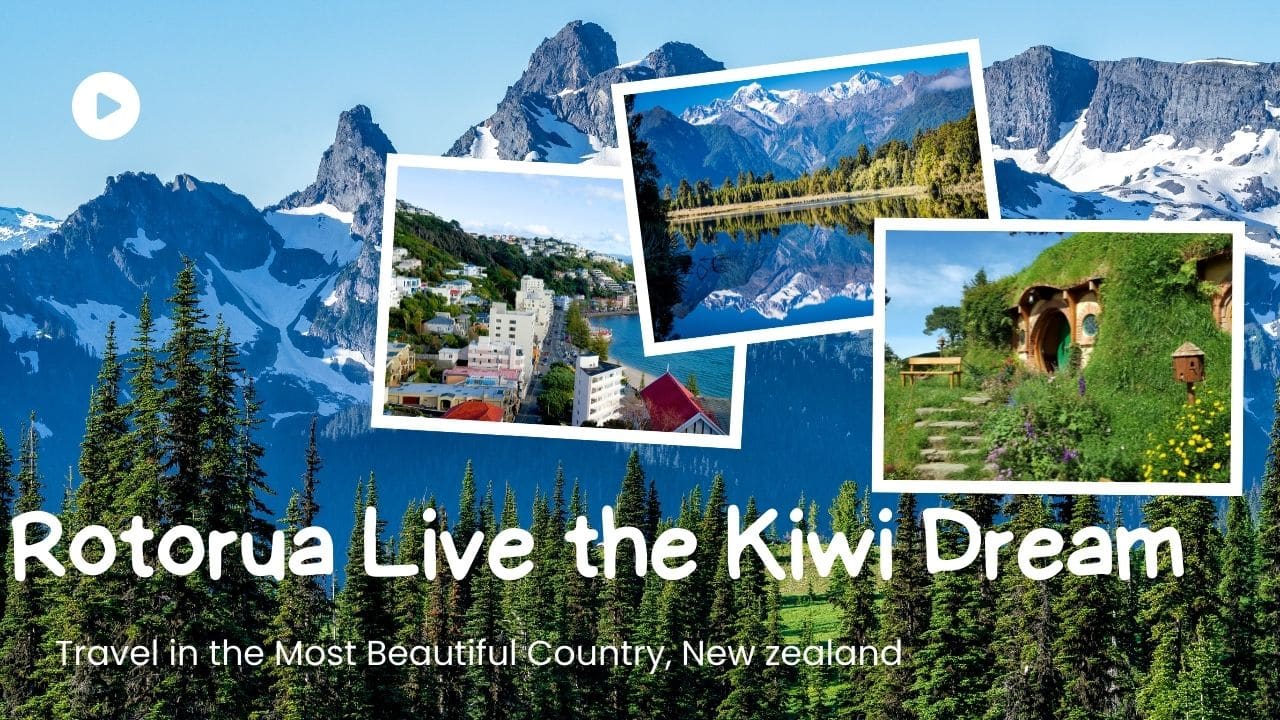 Rotorua | Live the Kiwi Dream
by nabewise
From hot pools to the Haka, Rotorua is a bubbling mix of mud pools, explosive geysers, white-water rafting, and Māori culture. To discover what Rotorua is all about and live the Kiwi dream.
Soak It Up
Soak up and enjoy Rotorua's geysers, colorful hot lakes, and bubbling mud pools. You might even feel like you've stepped onto an alien planet. There are loads of geothermal pools to enjoy.
Rotorua, New Zealand, is home to several geysers, which are hot springs that periodically erupt boiling water and steam. The most famous of these is the Pohutu Geyser, which spouts water up to 30 meters high and can reach temperatures 100 degrees Celsius. While the geysers are a popular tourist attraction, they are also an essential part of Maori culture. For centuries, the Maori have used the geothermal waters to cook, bathe, and heat their homes. Today, Rotorua's geysers continue to offer a unique experience for visitors from all over the world.
South of Rotorua, relax in the naturally heated waters of Kerosene Creek, where a hot spring and freshwater streams meet. Set amongst lush native bush, Kerosene Creek is popular among visitors and locals alike, offering a natural bathing experience like no other.
Kerosene Creek is one of the unique natural hot springs in New Zealand. The creek gets its name because it was used to power a kerosene lamp factory in the early 1900s. Today, visitors can enjoy soaking in the creek's naturally heated waters, rich in minerals and said to have therapeutic properties. The stream is also home to various native plant and animal LIFE, including eels, ducks, and herons. With its picturesque setting and abundance of wildlife, Kerosene Creek is a must-visit for anyone in Rotorua.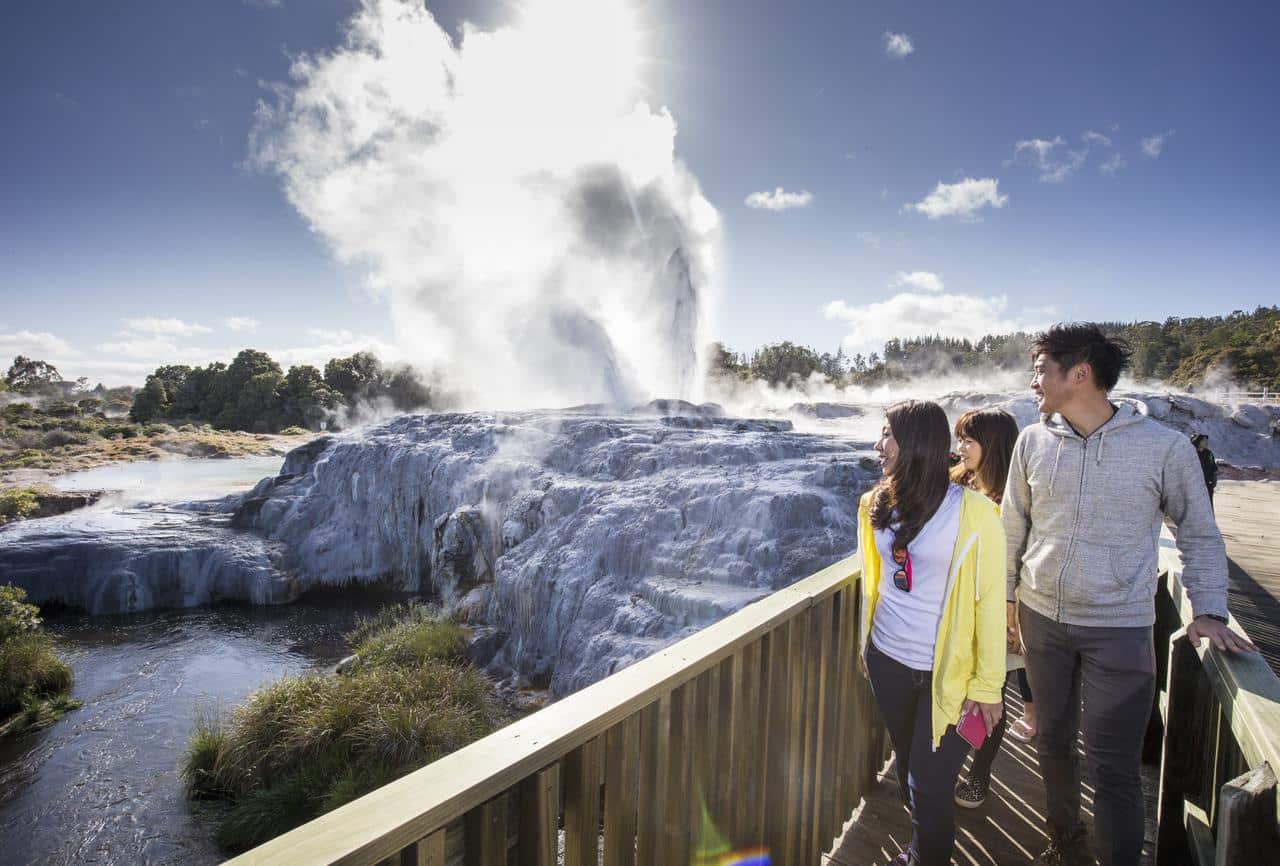 Get Steamy
At Te Puia, you can watch the Pohutu Geyser erupt to a height of 30m (100ft), and at Orakei Korako take in the colorful silica terraces and mysterious cave; either choice will offer excellent Instagram opportunities. Also, lest we forget, Wai-O-Tapu is home to an impressive bright orange 'champagne' pool, and it's not to be missed!
Te Puia is a geothermal park in New Zealand that is home to some of the country's most active geysers. The park is also home to a Maori village, and visitors can learn about the culture and history of the Maori people.
The park is also a great place to learn about Maori culture, as there are many opportunities to interact with the local people. It is home to the world-famous Puhutu Geyser, which erupts every few hours. The geysers and hot springs at Te Puia are powered by a super-heated aquifer beneath the earth's surface.
The water in the aquifer is heated by magma, which is molten rock that the earth's hot interior has heated. The magma heats the water to over 200 degrees Fahrenheit, causing it to boil and rise to the surface. As the water cools, it deposits minerals such as silica, forming the white sinter deposits found around geysers and hot springs. Te Puia is a fantastic place to see the power of nature at work.
Orakei Korako is one of New Zealand's most unique geological sites. Located in the heart of the North Island, Orakei Korako is home to a series of geothermal features, including hot springs, mud pools, and steam vents. The area is also renowned for its rich Maori heritage; according to legend, it was here that the great Maori explorer Kupe first landed on New Zealand shores. Today, Orakei Korako is a popular tourist destination, and visitors can explore the site on foot or by boat. Whether you're interested in its history or geography, Orakei Korako is definitely worth visiting.
Make a Splash
Go white-water rafting on Rotorua's Kaituna River. Kaituna's 23-foot-high waterfall is the highest commercially rafted waterfall in the world, but the river is also home to smaller, more manageable rapids and white water. You'll have the time of your life. Get your adrenaline pumping for the day on a rafting or sledding adventure in Rotorua. You won't regret it.
Rotorua's Kaituna River is one of the most popular tourist attractions in New Zealand. And for a good reason – the river is known for its spectacular natural scenery and thrilling white-water rapids. But the Kaituna River is also home to something else – a unique eel species.
These eels, native to the Kaituna River, are known as 'pātiki.' And they're pretty different from other eels in the world. They're much smaller than most other eels, measuring just 30cm long on average. They also have a distinctive appearance, with bright orange spots dotting their bodies.
But the most exciting thing about pātiki is their life cycle. Unlike other eels, which spend their lives in freshwater rivers and lakes, pātiki migrate to the sea to breed. After spending several years in salt water, the eels return to the Kaituna River to live out their lives. This fascinating life cycle makes pātiki one of the most intriguing creatures in New Zealand – and a must-see for any visitor to Rotorua.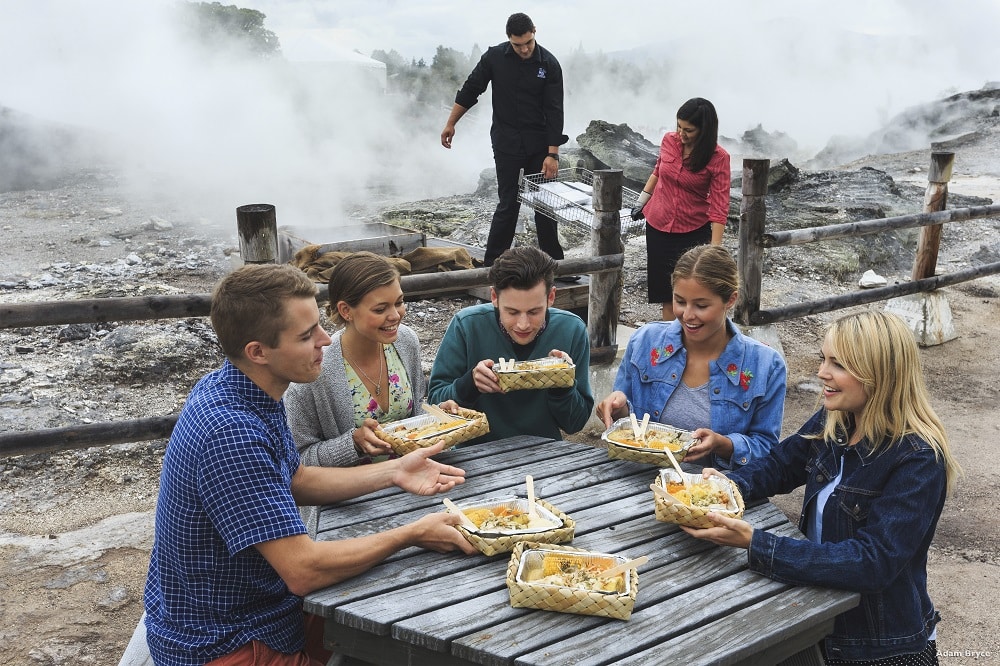 Embrace the Unknown
Rotorua is home to indigenous Māori people who live amongst the geothermal activity. They use boiling water for cooking, bathing, and warming their homes. There's no doubt that you need to experience the spirit of Manaakitanga (hospitality) and join a cultural experience like no other.
A Māori cultural experience in Rotorua is a classic stop on the Kiwi Experience. You'll enjoy dramatic performances, traditional Māori villages, and delicious Māori food cooked in a conventional way underground called Hangi. If you're up to it, try your hand at learning the Haka… ka mate, ka mate!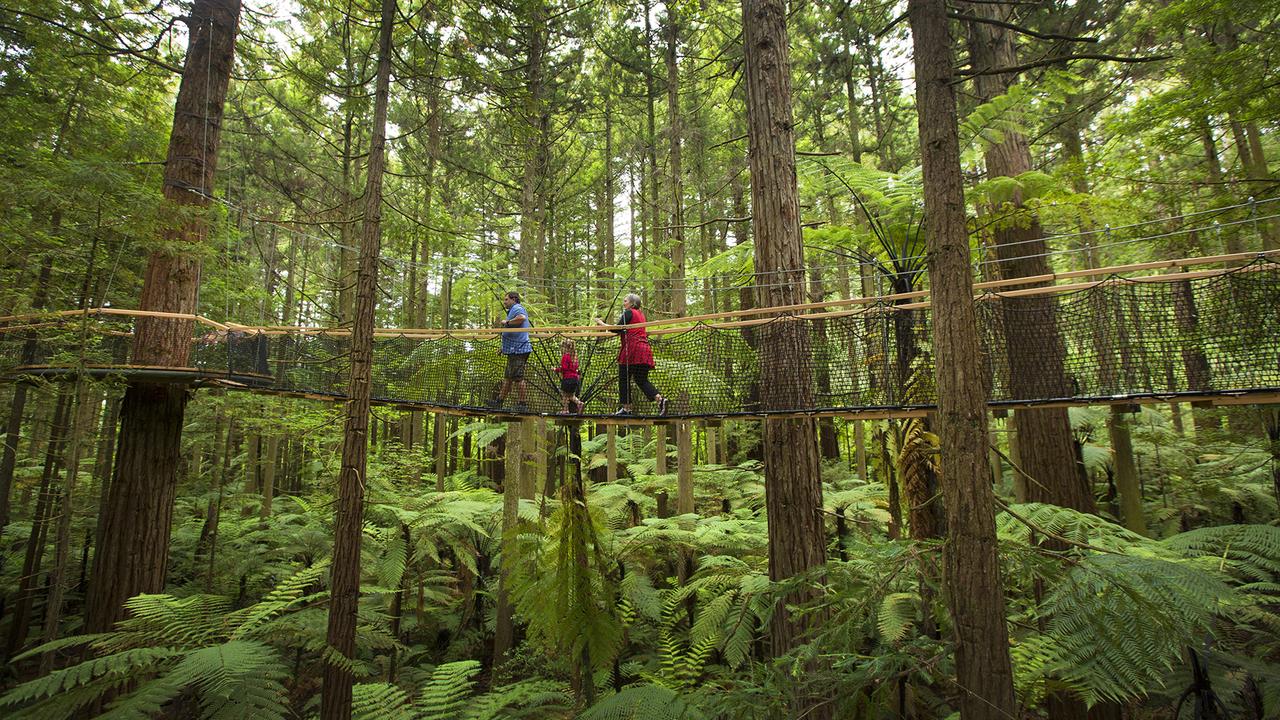 Walk Through the Sky
Just a 5-minute drive out of town lays the beautiful Whakarewarewa Redwood Forest. Gain a whole new perspective of the Redwoods by taking a Treewalk. The new TreeWalk consists of 21 suspension bridges traversing 22 Californian coastal redwoods. It gives walkers a unique view of the native undergrowth below from up to 40 feet above the ground. You'll have plenty of time to appreciate the beauty of the forest, which is quite different from what you experience on the floor.
Whakarewarewa Redwood Forest is a special place. As the name suggests, it's a forest of redwoods. But that's not all that makes it unique. The forest is also home to several other species, including eucalyptus, beech, and pine. And if that wasn't enough, the forest is also home to several animals, including birds, deer, and bats.
But what makes the Whakarewarewa Redwood Forest special is its history. The forest was once part of a much larger forest that stretched across the entirety of New Zealand. However, over time, the other trees in the forest died out, leaving only the redwoods. Today, the Whakarewarewa Redwood Forest is all that remains of this ancient Forest.
And it's all because of one simple fact: the redwoods are immune to disease. So when you visit the Whakarewarewa Redwood Forest, you're not just seeing a bunch of trees, buta part of New Zealand's history.
The Whakarewarewa Redwood Forest is a place like no other. Nestled in the heart of Rotorua, this forest is home to towering trees, bubbling mud pools, and steaming geysers. It's also one of the only places in the world where you can see all these natural wonders in one place! The forest was formed over 150 years ago when a massive eruption of Mount Tarawera destroyed much of the surrounding landscape.
Conclude:
If you're looking for a place to get your geothermal fix, Rotorua is the place for you. This small city in New Zealand's North Island is Sitting on top of a volcanic hot spot, and it's home to bubbling mud pools, steaming geysers, and plenty of other geothermal features. It's also one of the country's most popular tourist destinations, so if you're looking to soak up some culture along with your sulfurous soak, Rotorua is the place to be. Just make sure you don't forget your sunscreen!