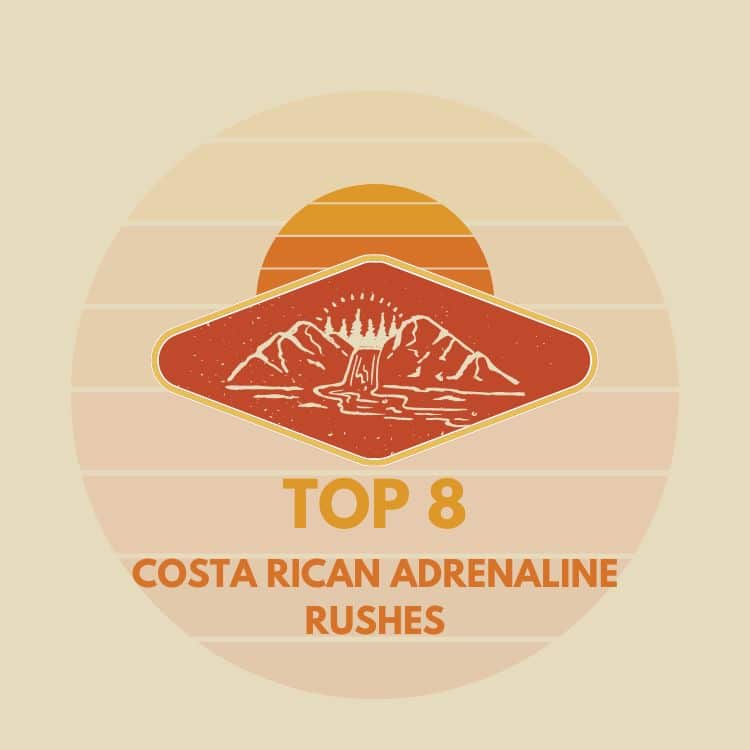 Top 8 Costa Rican Adrenaline Rushes
by nabewise
This blog comes from David Broadley, a Travel Expert in our Sheffield UK branch. 
We thought we'd share the top 8 adrenaline-pumping activities from this passionate Central American hideaway. Nestled between Panama and Nicaragua, the lush paradise has long been a popular destination for adventurous types, full of activities amid stunning scenery.
With its modern infrastructure, perfect climate, and super friendly locals (Ticos), it's fast becoming one of the most popular heart-racing trip-aways. Oh, and let's not forget that it has sloths too.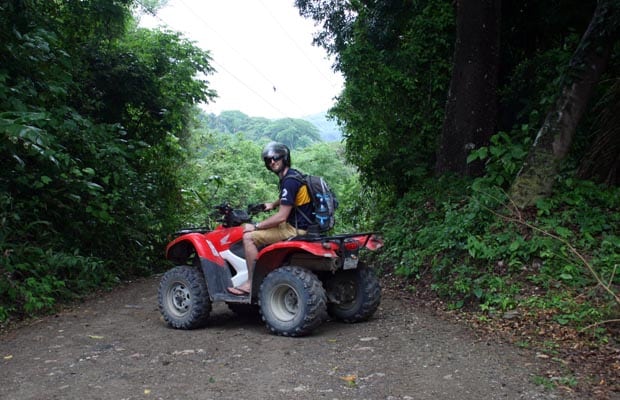 WHITE WATER RAFTING
With everything from family-friendly class I's to fear-inducing class V's, Costa Rica doesn't lack white water. The Central Valley's Rio Pacuare is the perfect place to break your rafting duck, with experienced guides sending your raft spinning backward through churning rapids and treating those of you clever (or stupid) enough to sit in the front to a face full of water at every opportunity. You'll barely have a chance to spot the incredible jungle fly past, but you'll have plenty of time to appreciate the warmth of the water (as it repeatedly hits you in the face).
Top tip: Don't bet the guide he'll fall in before you. You'll lose.
SURFING
With the roaring Pacific on one side and the stunning Caribbean on the other, Costa Rica isn't short of coastline. And with that comes excellent surf spots. Novices and experienced surfers alike flock to Costa Rica, lured by the opportunity to surf two oceans in one day and enjoy the lifestyle that comes with it. On the Pacific coast, the bohemian towns of Mal Pais, Santa Teresa, and Montezuma are the ideal settings for those looking to catch the perfect wave during the day and settle into the surfer lifestyle at night.
Top tip: Heed local warnings; surfing unknown waters can be dangerous.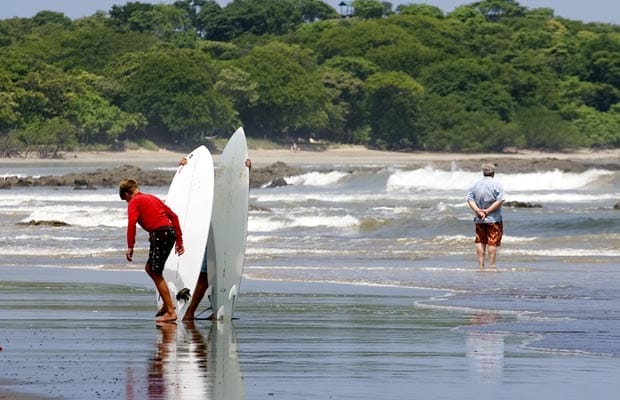 BUNGEE JUMPING
Whenever the word adrenaline is thrown around, the phrase bungee is never far behind. From its cautious beginnings in New Zealand in 1989, commercial bungee jumping has increased in the past two decades, and now you can throw yourself off various structures worldwide. Costa Rica is no different, and there are few better places to ruin your underwear than this beautiful country. Head to La Fortuna, nestled under the hulking Volcano Arenal, for your leap of faith.
Top tip: Don't look down. Just don't.
VOLCANO EXPLORATION
Sitting on the Pacific ring of fire, Ticos live daily with several mountains of fire. Thankfully some are extinct, but others, notably Volcano Arenal, are more lively. In 1968 this peak erupted, killing 87 people and drastically altering the surrounding landscape. Since then, it has been quietly muttering away like a moody teenager (only with lava and ash rather than dark moods and acne). 2010 was the last time it was visibly active, but who knows how long this will last? Please make the most of it, walk in the footsteps of the eruption, take in impact craters from giant boulders flung out of the earth, and marvel at the almost perfect cone-shaped volcano, now entirely off limits to visitors!
Top tip: Get up early – cloud covers Arenal most days from late morning onwards.
ATV RIDING
Whether you call it quad biking, ATV riding, or four-wheeling, it's buckets of fun! In the more off-the-beaten-track areas (or places without tarmac roads…), there's a heavy reliance on the nimble, powerful, all-terrain quad bike. You can hire one for a small amount, from a few hours to a few days in various places, but head for the Peninsula de Nicoya for some true adventure. Pick one up early in the morning, head out for breakfast on a deserted beach reminiscent of Jurassic Park, then spend the day pootling about through National Parks and towns full of dreadlocked surfers before bouncing back through rolling scenery and down dirt roads. Be prepared for a mouthful of flies, and don't wear your Sunday best…
Top tip: Wear a helmet. You might not look cool, but do you know what's not cool? A trip to the hospital, that's what.
ZIPLINING
Have you ever wondered who had the idea to sling a rope between two trees and zoom across them? Nope, I  haven't, either. And you don't need to know  – all you need to know is its bags of fun, and Costa Rica has perfected the practice, with an abundance of ziplines threading through the rainforest canopy. Eco-friendly Monteverde is the heart of this spiderweb of lines, with some companies offering ziplines spanning over 1500 meters! There are a few better ways to appreciate the entire forest canopy than gliding through it or soaring over it as you make your best superman impression.
Top tip: Time your trip for sunset for a truly unforgettable panoramic view.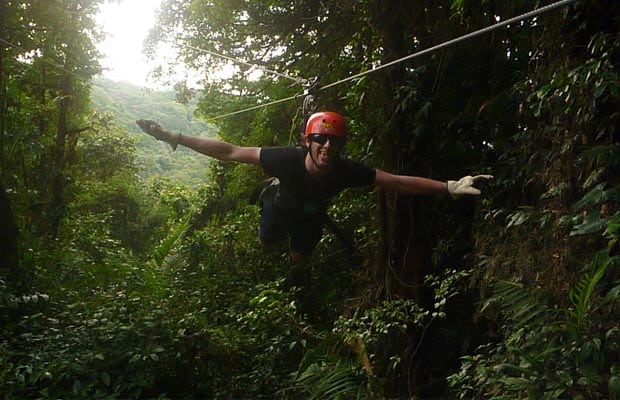 HORSE RIDING
There'll be the opportunity to see it from the back of a horse everywhere you go in Costa Rica. It's a great way to view the fantastic flora and fauna this country offers, allowing you to glide serenely around (or awkwardly cling to your ride), spotting howler monkeys and toucans in the forest.
Top tip: Make friends with your horse – you may think you're in control, but you're not…
SLOTH SPOTTING
I know what you're thinking – how can searching out one of the slowest moving, laziest creatures on this planet be an adrenaline-pumping activity? Well, head off to Monteverde for a night-time nature walk, and you'll find out. Here in this ecological wonderland, you have the opportunity to be guided by a very exciting local deep into the darkening wilderness as night falls and the forest comes alive with the sounds of various nocturnal beasts. Spotters with radios hunt out all the best sights (anteaters, vipers, giant stick insects, porcupines up trees – yes, I'm serious!), and you rush around with a flashlight getting more and more excited until, if you're lucky, the call comes in. You stumble over giant roots and deep vegetation to glimpse that oh-so-loveable creature. And once you've found him, he's not exactly going anywhere…
Top tip: Take a camera, and you'll come away with some photos you'll treasure forever.