Beautiful Alamere Falls Drops Into The Pacific Ocean
by nabewise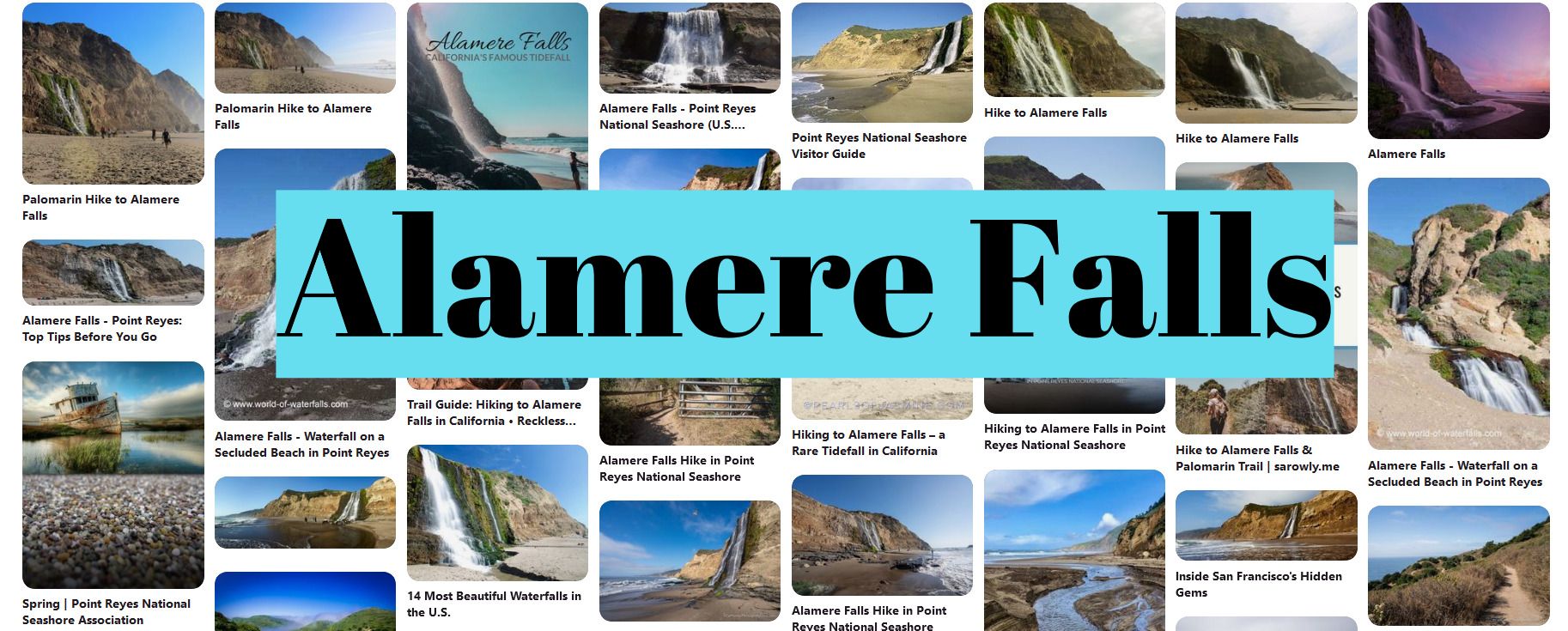 If you like waterfalls and oceans then Alamere Falls is for you as it beautifully flows right over a coastal cliff and into the Pacific Ocean along the California coastline.
Alamere Falls drops into the Pacific Ocean from a 40 to 50 foot high bluff along Alamere Creek above Wildcat Beach in Point Reyes National Seashore in Northern California north of San Francisco. Wildcat Beach and Alamere Falls are located in the southern portion of Point Reyes National Seashore.
Access to Alamere Falls is not particularly easy but the shortest way is via a 7.5 mile (one way) hike along the gorgeous California Coast Trail which can be reached from the Palomarin trail-head just north of Bolinas at the end of Mesa Road. One can also reach Alamere Falls by hiking or biking along the Stewart Trail from Five Brooks off Route 1. After 6.7 miles Stewart Trail reaches the Wildcat Campground and from there it is another mile south to Alamere Falls.
A la mer means "to the sea" in French which applies to both Alamere Falls and Alamere Creek. There are actually a number of smaller waterfalls along Alamere Creek just upstream from the main falls. 
Waterfalls that drop onto a beach or into the ocean are called tidefalls. Alamere Falls and McWay Falls are reportedly the only two perennial tidefalls on the California coast though there are other waterfalls along the coast that do flow onto beaches and into the ocean but whether they flow all year or not I cannot say. Alamere Falls itself flows best during winter and spring when the rains come to the area and tends to have less flow during the dry months.
While Alamere Falls is difficult to reach many people like to say that McWay Falls along the Pacific Coast Highway is much easier to reach but technically this is not true. While it is easy to see McWay Falls it is virtually impossible to climb right down to the top or base of McWay Falls. Even though Alamere Falls is hard to reach once you are there you can access both the top and base of the falls.
Along with Burney Falls which Teddy Roosevelt called "the Eighth Wonder of the World", Alamere Falls and McWay Falls are perhaps the most scenic waterfalls in California outside of the Yosemite National Park waterfalls.
The hike along the Coastal Trail to Alamere Falls passes two pretty freshwater lakes called Bass Lake and Pelican Lake
and also offers many awesome views of the California coast along the way.
Alamere Falls is difficult to reach but once there the vast majority of visitors are more than happy they made the trip.