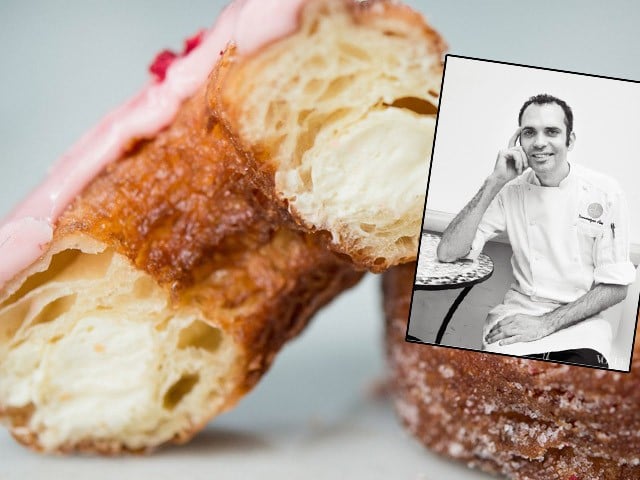 Exclusive: Dominique Ansel On The Cronut's First Birthday
by nabewise
TREATS WORTH TRAVELING FOR
It should come as no surprise that Dominique Ansel, the man who ignited an international revolution with the Cronut™, was awarded this year's Best Pastry Chef at the James Beard Awards on Monday. If the Oscar's of the food world hadn't recognized him, his massive following would've likely thrown a fit. And rightfully so. His doughnut-croissant dessert has inspired millions of imitations, an entire hybrid food movement and a cult-like obsession never quite seen before.
We caught up with Ansel at his eponymous bakery as the inventive treat approaches its first anniversary this Saturday. Even a year later, Ansel is in awe of its runaway success. The small shop in New York's SoHo neighborhood sees visitors from Asia, Africa, South America and other farflung destinations around the world every day.
"People plan a trip just to come here," he said incredulously. "The other day a group from Australia stopped by and left for a flight right away."
If that story seems crazy, then you haven't heard the absurd lengths people have gone to get their hands on this masterpiece. According to Ansel, the pastry sold out in just 15 minutes on the second day it was sold leading to the establishment of a veritable online black market to allow people to pay hundreds of dollars for a taste of the $5 treat. To this day, an estimated 100-250 people line up each morning for the chance to buy a maximum of two Cronuts. The bakery's website advises customers to arrive before 7 a.m. and most oblige with tailgating gear and sleeping bags in tow.
Sitting in the back garden of the bustling yellow and white bakery, Ansel gleefully points to a far corner by the fence where the line stretches each morning.
"Sometimes I come out just to wave hello," he said. "People really like that."
As if on cue, his words are proven to be an understatement. A local couple timidly approaches the chef to take a picture, giving others nearby the gumption to follow suit. Over the course of a half hour, the award-winning chef and Daniel vet poses for four photographs and graciously takes the time to answer a young pastry chef's many questions. One got the feeling that she was working up the nerve to approach this master of her craft. No need. Ansel is as modest as they come.
"Of course it's not expected," he said adamantly about his international fame. "It's every chef's dream! I put as much love into every creation I make and from the beginning, it was just really surprising. Really unexpected."
Since launching the Cronut™, the French chef has squashed any notion that he's a one-hit wonder by consistently rolling out new and noteworthy culinary inventions. Attendees at SXSW nearly had a conniption when he unveiled the Chocolate Chip Cookie Milk Shot and his ingenius Waffogato instantly made national news. Did we mention the Frozen S'more is now a thing? This modern-day Willy Wonka seems to have an endless amount of kooky, yet incredible ideas.
It all starts with the look, he explained. Ansel firmly believes that food is visual and should be just as pleasing to the eye as it is to the palette. He finds his inspiration everywhere: architecture, design, fashion, watching Project Runway ("They do so much with so little!") and even nail art.
"I find it fascinating that people use these small tools and make tiny paintings on such a small canvas as the nail," he said. He even follows a few nail artists on Instagram and tries to mimic certain techniques.
"I love to be challenged. Making pastry is very technical, pulling sugar is like blowing glass," he said, gesturing with his hands as only a true artist can. His eyes light up as conversation turns to yet another incredible invention: the Magic Soufflé, which combines the fluffly texture of a fancy soufflé with the convenience of being baked inside a brioche. "I can't tell you how to make it, but it's in the book."
That's right, Ansel will share his wildly creative recipes in an upcoming cookbook aptly named "The Secret Recipes." Those who dare attempt to recreate his brilliance can pre-order a copy now and try their luck come October. Ansel swears that about 60 percent of the recipes included are ideal for a novice chef, including his own personal favorite, the DKA.
"Dominque's Kougin Amman" is everything a pastry was meant to be. Carmelized and crunchy on the outside and soft and airy on the inside with a delectably sweet center. It's no wonder that the baker says he eats one himself every morning. With that, he can't help but bring out a sample. And a Cannelé de Bordeaux. And a mini basket of fresh-from-the-oven Madeleines.
"Eat them now," he insists. "They have about a 15-second shelf life before the butter hardens." He watches on with glee as every last fluffy cookie with a perfectly crisp exterior and powdered sugar topping is consumed. Worth every minute of the burnt mouth after effect.