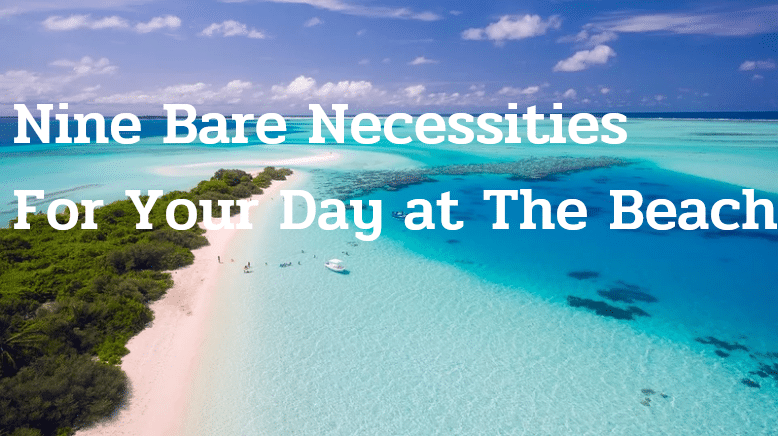 Nine Bare Necessities For Your Day at The Beach
By Nabewise
It is summer and time to hit the beaches. The last thing you want to do is resemble your Grandma carrying everything except the kitchen sink. Here are some great ways to keep you cool and hip.
Travel Light with the Basics
Sundress or Sarong
Ladies, this is your chance to make a great first impression with that hot guy laying on the sand as you pass by. Show off those sexy legs of yours and a little cleavage too. You will want a loose fitting sundress or sarong. Comfort is as important as style and color.
Bikini or Swimsuit
The most important thing about your bikini is that it fits properly. Head to the local bikini shop or at your nearby mall. Select a design that works well with your body type. Then look for colors and patterns. Guys seem to love vibrant colors and especially when on a string bikini.
Sandals
Your shoes should compliment the rest of your attire. The beach is all about sand and water. Flats are most appropriate for this occasion. Rubber beach thongs, or leather sandals are fantastic!
Towel
Beach towels come in a large variety of colors and patterns. Lightweight towels dry faster than the thick plus ones. You will be laying on this for the good part of the day. It is your choice. Matching your swimwear never hurts.
Sunglasses
You get what you pay for, especially with sunglasses. The $5 pairs you find at the gas stations do not protect your eyes. Invest in a good pair of polarized sunglasses. A larger frame is especially nice for the beach.
Sunscreen for body, face and lips
Hawaiian Tropic, Tropical Blend, Banana Boat, and Coppertone, are all good brands of sunscreen. Bring a minimum of SPF 15 and apply frequently. For those hard to reach areas, ask one of the guys for assistance.
Hat
Beach hats are practical and stylish. Go neutral tones to match everything or something bright to match your outfit. We must protect our beautiful skin.
Limited cash
Stash your credit cards in the trunk of your locked car, but try to carry less than $20 cash on hand. It is easy to return to your car for more money if needed.
iPad and Cellphone
Like American Express cards, never leave home without them.
Anytime you park your car whether it is at the beach or a mall, never leave anything in plain sight. Leave your valuables at home or secure them in the trunk. Remember, "out of sight, out of mind"!
Be safe and enjoy your day at the beach!