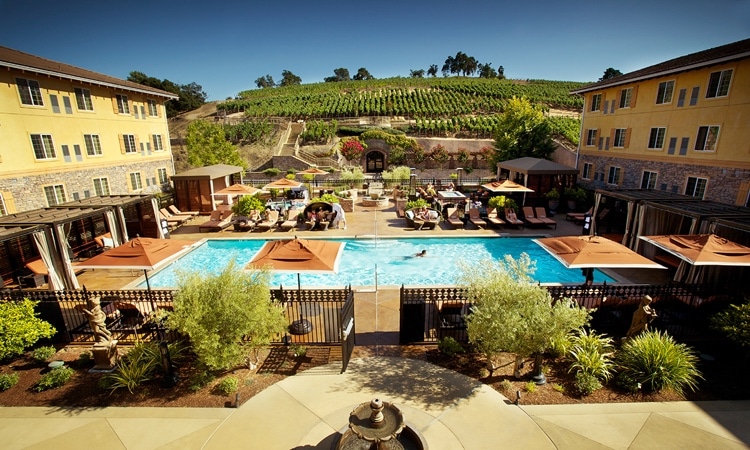 Review: The Meritage Resort in Napa, California
by nabewise
Among the hotels, inns and bed and breakfasts in the Napa Valley wine country, it is refreshing to find a really well-done property at a reasonable price.
Staying in California's Napa/Sonoma wine country can be quite pricey. Most nice places to stay in the Napa area run upwards of $300 per night, especially on weekends during high season. In an effort to keep the price "reasonable" during our recent visit, I did some research to find what I thought would be a travel bargain plus, being a bit of a snob, I wanted a really nice resort.
I'm over spending unreasonable amounts of money for a room just because an area is thought to be posh or trendy. So, after searching a bit and asking some questions, I came up with Napa's Meritage Resort and Spa Terra. Our room, a King with terrace, was just over $200 per night.
The Meritage is not in one of the "cute" areas of the wine country like, for example,Sonoma or Yountville; and it isn't in the thick of the winery tasting rooms, but it is a pretty location and a beautiful property. It is supposed to be a renovated property, but the entire resort looks as if it was newly built yesterday, rather than renovated.
As you drive up to The Meritage, the beauty of the architecture and the demeanor of the resort are immediately apparent. The weather when we arrived was windy and chilly for the time of year, so we headed indoors to the roaring fire in the lobby's lovely rock fireplace, while the staff handled the car and bags.
The lobby is classic upscale,"country-home, " and beautifully appointed with couches and comfy chairs clustered in conversation groupings. We were greeted quickly; check-in was fast and simple and our bags arrived with us to our room.
My first impression of our room was that it was pristinely clean and newly decorated. The décor was tasteful and inviting; my eye was drawn to the far end of the room, to the French doors, which led to a small terrace. We did have to fight for a terrace room, as there are not many rooms with terraces at the resort.
I have to say that the King bed was very comfortable. Although not up to the standard of the Westin's "heavenly bed," the quality was very nice and the bedding was well done. The most apparent evidence of the Meritage's remodel is found in the bathroom. Although nicely remodeled, and beautifully clean and new, the only drawback is the tub/shower combination. Otherwise, the marble and tile bath was so well done that it would be difficult to find errors typical of a remodel.
The rooms offer a complementary bottle of wine, (a nice touch!) and Bare Mineral personal products. These products were a really wonderful surprise. As Bare Minerals/Bare Escentuels are my absolute favorite makeup products, I was pleased to be able to try out their line of shampoo, conditioner and body lotion.
Every room also has a small refrigerator and complementary bottled waters. After lots of wine tasting, a bit of food is a very good idea, so the refrigerator came in handy! Speaking of food; there is one restaurant on the property, and room service. I'm not sure what was up with the restaurant. It seemed to me to be understaffed and that, perhaps, since the tourist season isn't really happening yet, maybe the restaurant is not all that it will be once it is in full operation.
The people who served in the restaurant and the room-service folks try very hard to be accommodating, but the menu leaves much to be desired and they need more staff to be able to handle things more efficiently. I will look forward to seeing what improvements have been made in this department when I return next time. One staff member, a typical "guy," told us that the best thing on the menu was the burger. I was surprised, but when we did order the burger, it was FABULOUS! I'm not a burger-person, but this was Harris Ranch Beef, as I recall, and tasted more like ground steak than a burger. SO GOOD!
I have saved the best for last! My favorites of The Meritage were the Pool area, The Estate Cave Wine bar, and best of all, the Spa Terra. The pool was large, quiet and not crowded. The lounge chairs were super comfortable, and the hot tub, very nice. I did think the hot tub needed to be monitored a bit more; foam on top isn't a good thing! Management could be a bit more on their toes, here.
When I ordered lunch from the pool phone, the room-service staff seemed a little surprised. Although they did deliver my dry turkey sandwich rather quickly, it arrived wrapped in plastic wrap, not on a plate, and no condiments were on the tray. Again, management in the restaurant needs to get it together a bit more.
Directly across from the pool area is the Estate Cave and wine bar and Spa Terra. This is a beautifully done architectural achievement; the entire building which house the Spa and Cave is underground…sort of. As you look across to the Spa Terra and Estate Cave entrance from the pool, you see a huge "mount," topped with a vineyard. The designers built the spa under this vineyard mound. The design provides extra privacy for the resort as well as it is be stunningly beautiful.
As you enter the Cave, itself, through two, huge heavy oak doors, the spa entrance is to your right and the Estate Cave Wine Bar is to your left; under very, high arched ceilings that do indeed make one feel as if in an ancient wine cellar. The wine bar is lovely and the staff, friendly. You do pay, however, for a "run" of tastings. If you join the Estate Cave's wine club, tastings are complimentary.
The wine itself that is offered here is varied. Five wineries are involved and the products served here. Some are impressive, like the Trinitas, 2006, Pinot Noir, some, not so much. I'm not a wine pro, but I love and drink ONLY wines; I found the offerings nice, and after a few tastes, joined the wine club! OK, so I'm easy. I don't listen so well after a bit of the grape, so, it seems I signed up for delivery of wines with each new season. Again, I'm easy. I wondered why I gave them a credit card?….
On to the Spa Terra. The Spa Terra is fabulous. I've been to spas all over the country including Pebble Beach and the Boulders in Arizona.Spa Terra stands with the best of them and, in my opinion, much nicer than the spa at Pebble Beach.
You arrive and are checked-in and escorted to the locker room. The ladies locker room at Spa Terra was beautiful with all of the usual amenities; hair dryers, lotion, shampoos, etc. are all provided, but the showers and locker room are very, very new and sparkling clean. The robes are decadent and you are escorted to my favorite place where one waits to be picked up for one's treatments; the aromatherapy relaxation room. This room is so welcoming and relaxing in multi-shades of deep greens, that I didn't want to get out of my chenille, over-stuffed chair for my massage.
I'm so glad that I did get out of my chair, however comfortable, because the massage was wonderful…in fact, in the top two of my all-time best massages. This masseuse, David, I believe, was amazing. I was left feeling invigorated, not drained, as I sometimes do feel. I heard other people rave about their massages, also. The facial, however, out of the corner of my ear, I heard was not as wonderful. (Who gets facials on vacation, anyway? That's maintenance, far as I'm concerned!)
We were encouraged by a staff member to dine at a nearby restaurant, Brix just up the road a bit, in Yountville. It was an excellent suggestion and our meal was wonderful. Brix, it seems, is a locals favorite.
I would recommend The Meritage for those who like a nicely done resort with all of the modern amenities at a reasonable price.