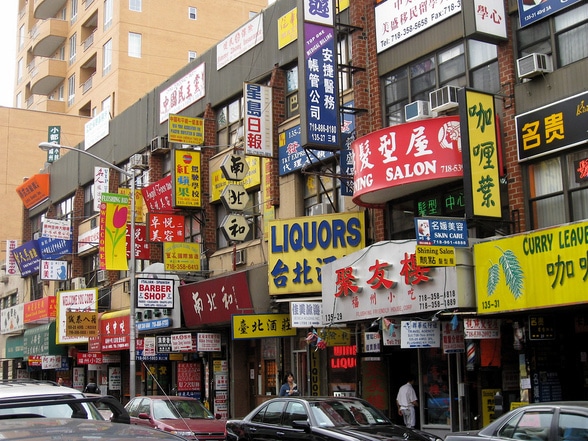 Flushing, Queens
by nabewise
Infomation
In recent years, Flushing has come to host one of the NYC's three Chinatowns. It's said to be quieter, cleaner, and even a bit more high quality than its twin in Manhattan. This eclectic residential center has sections of houses as well as apartment complexes, and of course, absolutely delicious food. The intersection of Roosevelt Ave and Main St. in Flushing is said to be one of the busiest intersections in the entire city.
Top Votes – Score out of 100
Dining 81
Safety 64
Green space 64
Public Schools 63
Public Transportation 61
Lowest – Score out of 100
Nightlife 39
Quiet 38
Singles 19
Parking 18
Income 6
Top Reviews from Travel Rentals Neighborhoods
Home for over 20 Years

I've lived in Flushing almost all of my life from the age of 7 and it has changed drastically since then. One thing to note is that there is much more to Flushing than the Main Street/7 Train area. Growing up, I only went to Main Street to catch the 7 to get into Manhattan or Long Island City for work. I soon discovered I much preferred taking the LIRR (Port Washington branch) instead which was a much shorter commute. There are stops all along North Flushing – the closest to me being Broadway.

It was a wonderful place to grow up. I have fond memories of playing sports (baseball, hockey, tennis, etc) in the street (I lived on a block between Northern & 35th Ave), riding bikes to Bowne Park, or rollerblading towards Bayside. I always felt safe and my sister and I would often set up an Ice Tea stand in the summer selling cups for 25 cents, or try to get as much money for our baseball/basketball collections. There were times we'd beg my mother to allow us to go down the street to see a movie at the Quartet (now a Chinese supermarket) or have lunch at Dion's Coffee Shop (now Kimora Kim's Lingere shop). The parking lot next to the supermarket is where The Reception House used to be, which my uncle owned. We went to countless family parties there. I went to school at St Andrew Avellino until the 7th grade which was a couple of blocks away from my parent's house.

On Northern between 160 and 161st there has been a video game store – where I remember my sister buying a Sega Dreamcast, and a record store – where I remember buying cassette singles of Guns N Roses, Cypress Hill, and other music I can't remember. There was a store on the corner of 161st and Northern – can't remember the name, that sold snap bracelets and pogs! Now almost all of the storefronts are in Chinese/Korean and it is a very different environment from when I was younger.

When you move away from Main & off of Northern Blvd and explore the side streets – you'll find beautiful tree lined blocks with some really gorgeous homes. The area where I grew up contains a diverse mix of Asians, Italians, Greeks, Irish, etc. Much of my immediate family from my mother's side all still live in the area within a 10 block radius. I, myself, almost moved just a few streets away until the night before lease signing when I realized it wasn't the right choice for me.

It is still a relatively safe neighborhood (certain parts), but for anyone new to the city – I wouldn't recommend it as a place to live. If you need to commute to Manhattan and don't want to spend the $180 a month on the LIRR pass – you're only viable option is to find a place in South Flushing. South Flushing to me, while it has great food options, is not really an enjoyable/trendy place to live. It gets insanely crowded, dirty, lots of pushing and shoving, not as safe, and doesn't have much in terms of a nightlife. After a certain hour, it's pretty quiet with most places closed.

I would most definitely recommend it for couples who perhaps drive, have a little more money – want a more suburban lifestyle, and don't care so much about going out a lot. I then would advise looking to North Flushing/Bayside.I'll always have fond memories of Flushing but I can't help but miss the Flushing of 15(ish) years ago.

What's awesome

diverse, relatively safe, good food options, parks, easy access to highways (for anyone that drives)

What's not so awesome

crowded, 7 train, far from Manhattan (especially downtown), not much nightlife, not good for singles

Daniela A.
Like Another World

I lived in Flushing for a good month or so. Every evening when I came home from work in Manhattan – only half awake after a long ride on the 7 train – I'd emerge from the darkness of the subway station into the hubbub of downtown Flushing. I was repeatedly struck by how different this place was than where I'd stepped on the train, or anywhere else in New York for that matter. If I didn't know better, I might think I'd slept too long on the train and ended up on the other side of the world. The walk down Main Street is a collage of pleasant (and not so pleasant) sights, sounds, and primarily, smells: dozens of tiny hole-in-the-wall places pumping the aromas of meat and soy into the air, street food everywhere, and in some of the larger shop windows, whole roasted ducks hanging in tempting display. Of course one also gets the occasional whiff of garbage or a smelly grocery store. And everywhere you hear Chinese.

Off the downtown streets, things are a little quieter, a little cleaner. If you keep an eye out for them, you might even see some mulberry trees with sweet black fruit dangling above your head in early June. Check out the bakeries in the morning for sweet (and some savory) treats and milk tea. (Just don't look for a good cup of coffee!) And keep an eye on the produce on display outside the grocery stores: there's often a great deal to be found. (I once snagged 3 pounds of ripe peaches for $1). The historic post office downtown is also worth checking out – a charming relic of what was probably once a quieter neighborhood.

Flushing is a nicer sort of Chinatown than what you find in Manhattan, but it's probably not somewhere you'd want to live your whole life. Housing is a bit cheaper here than elsewhere in New York, but not by much. It seems to be a busy, transient neighborhood without a great sense of community. Nevertheless Flushing feels very alive and isn't a bad place to experience for a few weeks or months.

What's awesome

Good food, cheap produce, access to the 7 train, a unique atmosphere.

What's not so awesome

Last stop on the 7 train (takes forever to get to and from Manhattan), hard to find good non-asian food, sketchy at night.

Chelsey E.
A Collection of Neighborhoods – The Best of Both Worlds

Flushing is a widely misunderstood part of NYC, mostly because it is many things to many people. The broadest interpretation seems to be relevant only to its downtown area. Flushing has a variety of many neighborhoods in addition to that downtown, including residential neighborhoods like North Flushing (or Broadway), Auburndale,Murray Hill and, closer to the downtown area is Waldheim. I live in Waldheim, and it is one of the oldest residntial subdivisions in NYC.

It is a commonly repeated myth that South Flushing is all that can be found outside Broadway, Murray Hill and Auburndale neighborhoods. Aside from the downtown area, is Waldheim. Southeast from there is East Flushing and the Kissena Park neighborhood—specific parts of this neighborhood also have several tree-lined blocks of large, historic homes.

Flushing has at least 4 LIRR stops. While those living in the suburban part including Broadway, inded a beautiful and rather affluent suburban neighborhood, there are other areas including Waldheim that are walking distance from the downtown area (the #7 subway) and very liveable. I personally was taken immediately by the historic and unique character of this neighborhood, but would agree that if an active nightlife is important it may not be the ideal option. That said, it is very accessible to tons of shopping, dining, and mass transit. The #7 express is 22 minutes from Grand Central.

Basically, the diversity Flushing offers is by no means limited to the ethnic groups that occupy its various neighborhoods. The Broadway and Murray Hill neighborhoods have large historic homes (and the residents who can afford them). Waldheim is made up of a unique collection of turn-of-the-century achitecture of all kinds. Downtown and surrounding blocks are high density, buzzing areas with tons of conveniences. The building and neighborhood in which I live has a strong sense of community and is a great place to live.

It is also worth mentioning that Flushing Meadows, site of two Worlds Fairs, is one of the largest parks in NYC, not to mention Kissena Corridor Park, Bowne Park and others.

Flushing is convenient for young, upwardly mobile New Yorkers who do not require trendy clubs in their HOME neighborhood, and is great for families given the variety of safe, quiet neighborhoods with a range of housing options that tend to be more affordable than Manhattan neighborhoods.

George H.
don't judge the nabe by its main street ;)_

Aside from the dirty and crowdy streets of the main intersections, you will find hidden gems of restaurants, cozy bubble tea shops north of roosevelt and into Northern Boulevard. I've lived here and I love the accessibility of a lot of things from restaurants, coffeeshops, grocery stores, etc. Only a few blocks away from the bustle and hustle of Main Street, Kissena Blvd. and Roosevelt Blvd. are quiet, clean and tree-lined streets where residents of Flushing reside.

Pauline A.