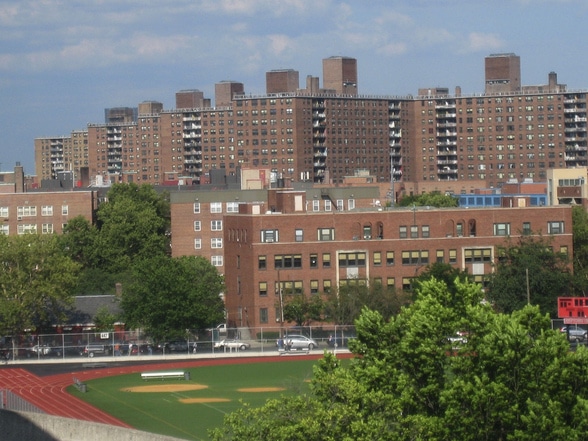 Corona, Queens
by nabewise
Infomation
Bordered by Flushing Meadows to the east, Corona is a contemporary NYC nabe, with brick and wood frame single-family homes rising in price and giving way to two and three family units. The location of the 1939 and 1964 World's Fair, Corona is presently home to Citi Field, the official stadium of the New York Mets, as well as the annual US Open tennis championships
Top Votes – Score out of 100
Community 80
Green space 69
Pet friendly 67
Dining 63
Public Transportation 56
Lowest – Score out of 100
Seniors 34
Parking 31
Empty nesters 23
Singles 5
Income 3
Top Reviews from Travel Rentals Neighborhoods
Lots of hispanics have moved into Corona

Dangerous? No. Shady? Absolutely. Corona's one of the busiest places in Queens -lots of people and traffic. It's going to take some getting used to for people not accustomed to the type of rowdiness that goes on out here. Nothing dangerous, though. It's a safe place. The more dangerous areas are farther away from 111th street.

johnny w.
I Only Come Here for the Mets

The only reason I have for being in Corona is to come see my NY Mets play baseball every year. I come out here about 4-5 times a season, but make sure to leave immediately after the game is over. I love Citi Field I think it's awesome, and watching my Mets play (no matter how bad they are sometimes) it's worth the trip for me.

However outside of Citi Field I would not travel. Corona creeps me out a little with its many industrial buildings, and its overall dingy look. I would not be caught in Corona after hours.

What's awesome

Helen C.
My Mexican Oasis!

As a proud Mexican-American (Español es mi lengua materna!) whose memories of growing up include more tamales and pan dulces than turkeys and cupcakes, I was rather horrified with what passes as Mexican food in New York City ($10 for "street-style" tacos!?!?!) when I arrived here in 2008. True, the Mexican population in New York is rapidly growing, but it is still overshadowed by the dominant Carribean Hispanic cultures—and the food reflects that.

But then I discovered this hidden tesoro in Queens! Right off the 7 train, I found not only numerous Mexican bakeries (or "panaderias") with the pan dulce I had up to that point been forced to have mailed from home, but I found authentic Mexican food in the deliciousness that is Tortilleria Nixtamal (they make their own tortillas here, their tamales are amazing, and they even have pozole—a must-have staple of Mexican cuisine if you've never tried it!)

The neighborhood is noisy along the 7, but quickly gives way to small apartments and townhouses. Linden Park lies only a block south of the 7, and it itself takes up an entire block! It's a beautiful, family-friendly green space.

Overall, the neighborhood is amazing!

What's awesome

Tortilleria Nixtamal, the panaderias, the local bodegas that sell Mexican staples, Linden Park

What's not so awesome

It's not a touristy neighborhood, so be prepared with at least some knowledge of Spanish!

Also, the area is safe during the day but it can get a bit sketchy at night so plan accordingly.

Carlos A.
Corona, Queens

I lived in Corona for about two years between 2005-2007. One trend that was happening while I lived there was that many older residents were selling their homes to developers and one-family homes would soon make way to three-family+ homes (think Fedder houses). Needless to say, it got more crowded.

What's awesome

Some of the most authentic poblano Mexican food

What's not so awesome

The population here is pretty poor, there isn't much to do in terms of entertainment, and it can be dirty.

Shannon Lee Gilstad