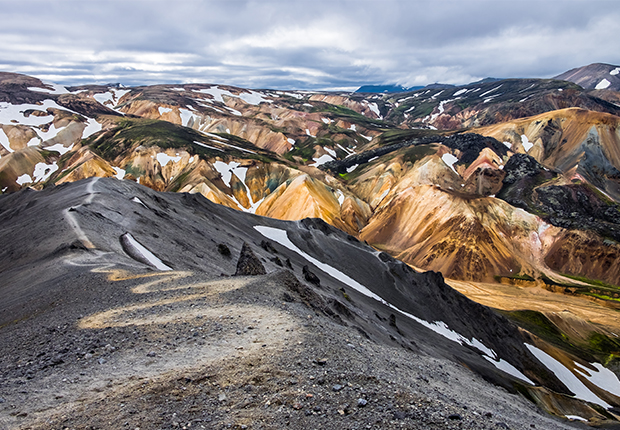 Hiking in Iceland – Four Lessons in Four Days
by nabewise
Today's blog comes from Nathan a born explorer capturing the world through the eye of his Fujifilm camera lens. Let's hear how he got on trekking the Laugavegurinn trail in Iceland…
Iceland is a powerful country. Its raw coastlines, staggering peaks and sizzling geothermal valleys are unlike anywhere on earth. It's a mythical place where stories of trolls lurking amid volcanic boulders in the morning mist give a healthy dose of wonder to even this most ardent of sceptics.
Perhaps the jewel of this inspiring place is the legendary Laugavegur Trail (the Laugavegurinn) in Iceland's Highlands region. Nestled among the staggering inland volcanic peaks, this 55km trail is the longest hiking trail in Iceland and is without a doubt the most varied and beautiful. It stretches from the small outpost of Landmannalaugar to the equally modest Porsmork, dotted along the way with small huts at Hrafntinnusker, Álftavatn and Emstrur. These quaint wooden shelters are for the wary hikers who are lucky enough, or perhaps foolhardy enough, to tackle the gruelling four-day trek.
Rather than describe the trek day by day, each of which is worthy of its own dedicated blog, I wanted to simply share the four things I learned during our four days on the Laugavegurinn.
1.Stop and Take a Picture of the Flowers
Smelling them is fine too, but I discovered my love for photography along this trek. The magical scenery, the deep colours, the breathtaking vistas; everything you point your camera at will deepen your appreciation for the unparalleled beauty of nature. Just make sure your hiking partner is endlessly patient and willing to sit idly by as you spend a half hour lying in the mud trying to get "that perfect shot". Or, at least, that was my experience.
2.Know your Neighbours
There were two options for staying the night: 1. the mountain huts or 2. tent camping. Camping was the cheaper of the two but also the loneliest. The chilly evenings and downright frosty nights meant that the campers were huddled away, shivering in their tents by sundown. The huts, on the other hand, were bustling with activity and merriment well into the evening. On our third night, giddy with exhaustion and squeezed in like sardines in our little shack, we bonded with our bunk mates by staying up late singing songs and holding bizarrely nerdy mock parliamentary elections (which I won). Of course, late night snoring and eye-watering body odours also have a small part to play in these back country huts, so I suppose there's also the risk of getting to know a little too much about your neighbours.
3.Cotton is Death
I read that phrase somewhere but I didn't really appreciate it at first. Iceland and especially the Highlands region is a fickle vixen indeed when it comes to the weather. It can change. Drastically and dramatically. Proper equipment is an absolute must, with Gore-Tex, wool, synthetics, great boots and layers being all your very best friends. On day three it began to rain… really rain. Rain like I've never seen it rain before. Naturally, and rather wisely, my fiancé invested in an expensive Gore-Tex jacket whereas I, the frugal chump that I am, opted for the more affordable option. Needless to say, she was dry and comfortable after eight hours in the merciless downpour whilst I was rather the opposite well into the next day. Luckily for us, it was merely disagreeable dampness, but in a place where a snow squall can sneak up on you at any moment, proper gear can mean the difference between life and death. Scattered memorials to lost and fallen hikers along the trail are a sober reminder of that.
4. Dehydrated Food is Terrible
Don't get me wrong, I'm sure dehydrated food technology has made leaps and bounds in recent years and I was sure thankful to have a low weight meal option, but the lustre of yet another freeze dried beef stroganoff for dinner wore off pretty darn quickly. By the time day four rolled around, I literally dreamt of fresh tomatoes and a cool salad, only to wake up to the bleak reality of oatmeal with raisins. Again. Bring an apple, you won't regret it.
So there you have it, some thoughts from the Laugavegurinn trail in Iceland. Hopefully you feel inspired to tackle this legendary trail, trolls and all. With a little preparation and fortitude, you'll walk away with cherished memories, new friends and a healthy appreciation for a fresh, home cooked meal.