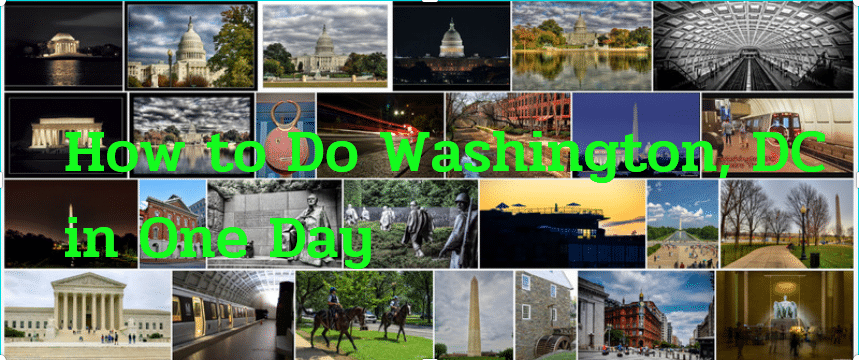 How to Do Washington, DC in One Day
by nabewise
On a rainy spring Saturday, we did a whirlwind tour of the "must see" sites and had a wonderful time.
First time visitors to Washington, D.C. will inevitably discover that there is more to see and do in this great city than their schedules can possibly allow.  Indeed, the city is chock full of historical and political significance; couple that with a bevy of wonderful restaurants, and you will find metropolitan DC to be a veritable vacation paradise.  Around every corner one can find something to watch or read or eat.
The importance of this city is not lost on the rest of the world, and on any given day the casual observer will see visitors and hear conversations in languages from all over the earth.
Recently, my family drove up to DC for an overnight trip to visit a niece who happened to be in DC for the weekend.  She had never been to DC before and wanted to experience the richness of it, and we were delighted to be able to spend a day with her touring the city.
How does one even begin to see DC in only a day?  We decided to take the approach of a little depth and a lot of breadth.  That is, we opted for spending a fair amount of time at one site and then to go quickly through several others.
In my opinion, the most marvelous adventures in Washington, D.C. are found in the Smithsonian.  The Smithsonian, a series of museums comprising history, science, technology, and art, is free to the general public and is so vast that it would take weeks to thoroughly appreciate everything it has to offer.
With that in mind, our plan boiled down to taking the subway (the "Metro") in to the Smithsonian, located on the Mall; spending a few hours at one of the Smithsonian museums; and then visiting several of the monuments and memorials also on the Mall.
The Metro is clean, safe, and affordable.  Weekend rates are reduced, and a round trip fare from the West Falls Church Metro station to the Smithsonian (and back) is currently only $3.70 per person.  Parking at the Metro lot is free (on weekends) as well.
The American History Museum was closed for renovations the last time we were in DC (a year ago), so we decided to spend our time there.  We're glad we did!
The museum is beautiful and is filled with a plethora of artifacts and displays, covering everything from the presidents to famous scientists, from entertainment stars to sports heroes, and from technological advances to elegant gowns worn by the country's First Ladies (wives of presidents).
We saw Thomas Edison's notebooks and Dorothy's ruby red slippers from Wizard of Oz; an early General Electric steam turbine and Hank Aaron's baseball bat; and Abraham Lincoln's overcoat and Kermit the Frog.
We also saw the flag that was flying over Fort McHenry in Baltimore in 1814 when Francis Scott Key penned the lyrics to Star Spangled Banner.
The four hours spent in the museum were not nearly enough for everything we wanted to see, but we were getting hungry so we journeyed forth to find something to eat.
The Old Post Office, just north of the museum, is now a massive food court with a wide variety of affordable options, and you can dine while enjoying the beautiful architecture of the expansive atrium.
Off to one side of the atrium is a glass elevator, and free self guided tours are available to see the old bell tower (still operational).  From the bell tower, one can get quite a view of the city.
After seeing the bell tower, we hiked back to the Mall, and we walked from Washington Monument toward Lincoln Memorial, enjoying the cherry blossoms along the way.  The blossoms were just starting to come out, and as pretty as they were when we saw them, it will be absolutely spectacular when the blossoms reach their peak.
Situated at the midpoint between Washington Monument and Lincoln Memorial is the World War II Memorial, honoring the U.S. men and women who gave their lives in that great conflict.
From there, we went to the Korean Veterans War Memorial.  I had not realized until this weekend that the United States lost nearly as many lives in Korea as in Vietnam; the numbers are approximately 54,000 and 58,000, respectively.
Then we walked to the Lincoln Memorial.  I've always loved this tribute to our nation's sixteenth president, and as you can see from the photo below, the rainy weather did not keep the crowds away.
And then we hiked to the Vietnam Veterans Memorial.
I always feel both an immense sense of gratitude and profound sorrow at the war memorials.  A cousin of mine was killed in Vietnam, and I have several other friends and relatives who fought in Korea or Vietnam and were deeply affected by combat.
From the Vietnam Veterans Memorial, we decided to walk to the Foggy Bottom Metro station because it was closer, and we found a statue of Albert Einstein.
We left the city at 6:00 pm for our car ride back to North Carolina.  It had been a whirlwind day and we were thoroughly worn out, but we were delighted to have made the trip to see our niece in this wonderful city!
Washington, D.C. needs to be on your must see list!