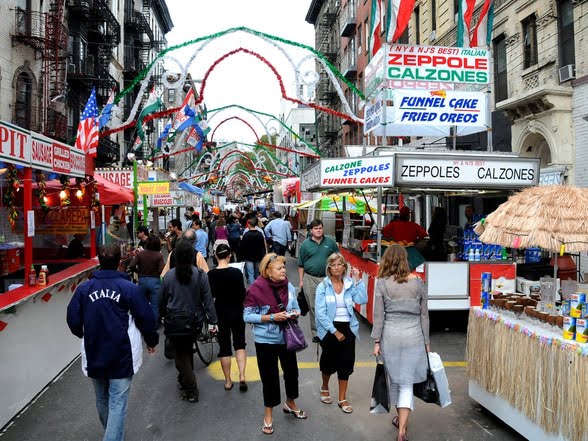 Infomation
An iconic NYC nabe, Little Italy is composed a few bustling streets packed to the brim with colorful decorations, vendors toting their wares, and tons of authentic restaurants with a slightly kitschy vibe. Little Italy certainly is a little nabe–its borders have been shrinking lately, giving way to Chinatown and Nolita. One of NYC's biggest tourist hot spots, Little Italy is easy to get to and sure to provide folks with fun and entertainment.
Top Votes – Score out of 100
Public Transportation 75%
Dining 72%
Tourists 71%
Nightlife 67%
Public Schools 63%
Lowest – Score out of 100
Empty nesters 33%
Families 33%
Parking 29%
Pet friendly 25%
Income 0.4
Top Reviews from Travel Rentals Neighborhoods
it's kitschy, but let's not hate.

Little Italy's the first place I remember visiting in NYC. I came here when I was 11 and remember being shocked by all the street vendors, x-mas lights hung everywhere, the crazy hunt for parking, and the intense swells of people. I also saw the brilliant art of haggling for the first time (over a pair of white platform sneakers, mind you. Go 90s!).

After a night of mediocre Italian food in some restaurant's backyard and 6 or 7 Shirley temples, Little Italy had me hooked—I was an urban girl for life.

Look, there's a point to all this nostalgia: Little Italy may be tacky, over-crowded, and pretty ishy/expensive when it comes to food, but there's still something kinda magical about the place that new yorkers tend to forget really fast. Festivals in the summer here are so much fun, and I alway get a big kick out of the waiters trying to lure you into restaurants. Next time your out of town friends beg to go here, humor them! Who knows, you may have a great time.

Living right in Little Italy may be a little frustrating because of the constant crowds, but you're also in an awesome location and have soho and chinatown just steps away.

Katie P.
Suspend your disbelief…

This place is Italian-American Disneyland, for sure. Watch out for the cheesy restaurants, any NYC local will tell you. But really that's kind of like saying Times Square is for tourists. Everyone knows it, so just come here and have fun. Have a cannoli and an espresso at a cafe. Bring your out of town guests who don't know any better to a cheesy restaurant with an accordian player. As far as living here goes, you're in Soho or the LES for all functional purposes. I'd live here in a heartbeat

NYC L.
People considering moving to Little Italy should also beware of the San Gennaro festival held annually. The streets of the area are swamped, packed end to end and the noise carries on into the night. Little Italy is good for a day's visit, or perhaps just a quick look around.bbb
Little Italy isn't really much more than a couple of blocks around Mott Street between Brrome and Bleecker. There's a lot of community pride in those few blocks, but it's mostly touristy at this point, and shrinking in the face of Chinatown's rapid expansion.Danny L.
The tiniest neighborhood! It's so densely packed now, especially during the afternoons and evenings in the summer. Lots of tourists like to come here, but a lot of people I know avoid it. It's pretty expensive to eat there, and since it's in prime territory in SoHo, rent is pretty high. Kitschy, but kinda fun to walk by sometimesShawn F.
This neighborhood used to be the haven for Italian immigrants coming to New York. It truly was a little Italy. This is no longer the case. The food? Mediocre. You can find far better Italian in many other neighborhoods. The crowd? Tourists. Most people coming to Little Italy are visitors, seeking what they think is classic Italian cuisine and culture.Carrie C.